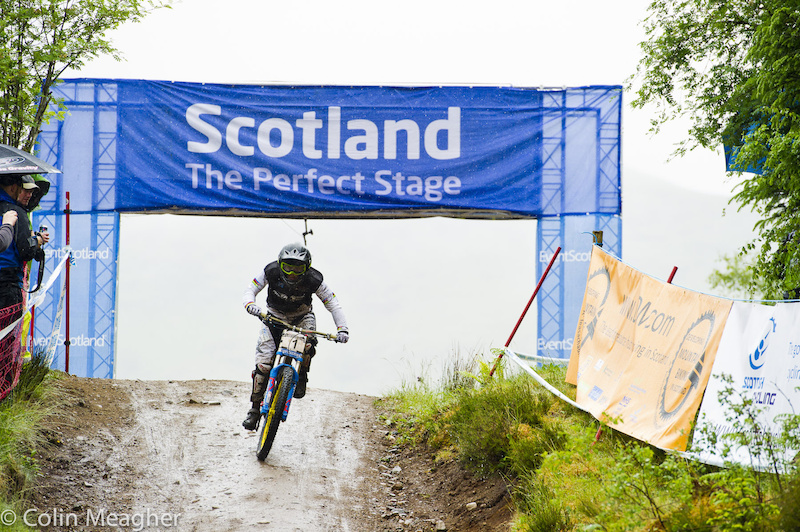 Emmeline Ragot on her way to the win...
Women's Top 5
1. Emmeline Ragot
2. Rachel Atherton
3. Myriam Nicole
4. Floriane Pugin
5. Tracy Moseley
Complete results at bottom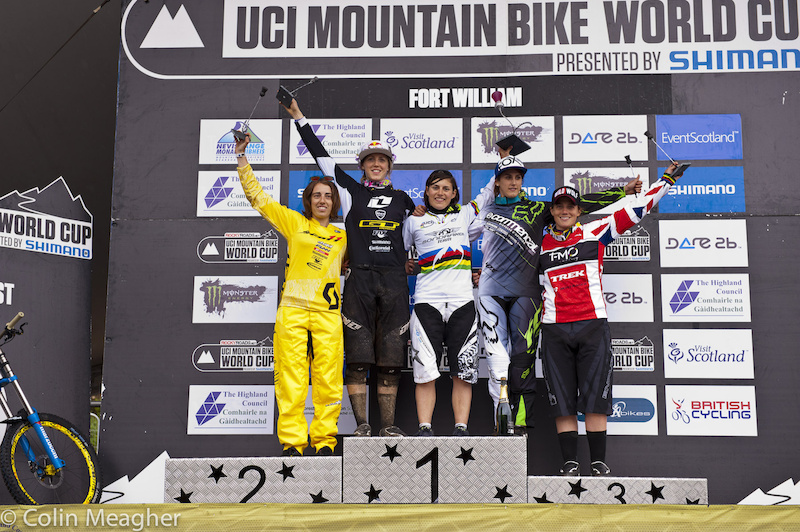 The rain started several hours before finals today, making for a dramatic change in course conditions. Emmeline Ragot flatted in qualifying and had to start mid pack with 10 riders to go. Her time put her in the hot seat early on, and while her time was slower than Rachel's qualifying time, rider after rider came down slower in the wet conditions. The live feed showed only the bottom sections of the course and really didn't tell the whole story. Jill Kintner looked solid on the screen, but they didn't show her crash as she slid off the wall ride and into a tree in the wet. Last years winner Tracy Moseley had what seemed a good run but still ended up fourteen seconds back of Emmy to move into second spot. Tracey Hannah looked really fast on the bike, but wasn't fast enough, moving into third spot. Floriane Pugin came down charging through the bottom section, looking faster than any of the girls so far, but ended 11.6 back to move into second. Myriam Nicole, the French national champ, was faster yet, but still over 9 seconds back and into second with Rachel Atherton yet to come. Rachel was 2.3 seconds back at the split but looked like she was killing it through the lower jumps, not quite enough though, she finished 1.3 back to claim second spot. Emmeline's win puts her solidly in the lead overall, 120 points up on Rachel who has moved up into second overall now after missing the first round in South Africa.
42221 DHI WE Results
42221 DHI WE Standings