Perspective: Cross Training
The value of cross training is without a doubt one of the most important building blocks of mountain biking for me. Although riding is a great workout in itself, keeping your brain and muscles guessing can increase your skills, focus, stamina, and overall health to a whole new level. Cross training doesn't have to be agonizing either. There are many different ways to go about it and many people that can help with getting you started on your own training regiment.
Hitting the gym helps rebuild.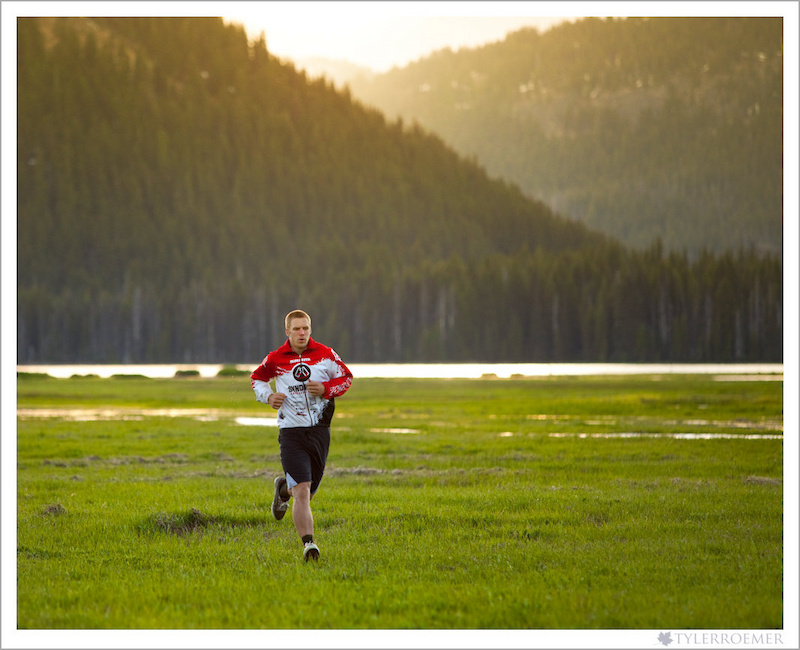 Running is also great for the body.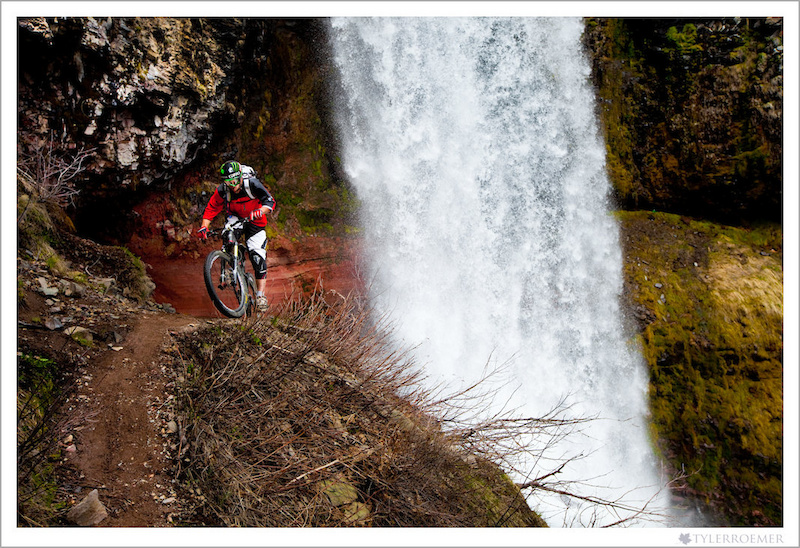 Getting out on the bike is cross training in itself.
Cross training means something different to everyone I know. Some think gyms and muscle milk, some think other sports, some think yoga, running, swimming, the list is endless. I like to mix it up as much as possible to keep from getting bored with the same old thing, day to day. Here are a few things that I get out and do with some reasons why I think they could help you as well.
A fun aspect of cross training is other sports. For example, let's talk about snowboarding. For me, snowboarding has helped in a couple different aspects of my riding. Riding through the trees as fast as you can on a bike requires a great deal of focus, but on a bike you're on a trail and generally you know exactly where you're going. When I'm on my snowboard anything goes, every run is filled with quick decisions, body adjustments, and lane changes. On Mt. Bachelor you're constantly thinking about the fall line so you don't end up hiking out for an hour, your brain is always working at full speed. Another thing that anyone who has ridden powder knows is the insane leg workout! Over the past few years I have had numerous knee problems and snowboarding has helped my knees gain strength in different positions that they weren't use to from cycling. Another thing that may sound a little funny is that snowboarding has actually helped me with crashing. Knowing what to do in a crash situation can really set a rider apart from a crowd. I always see the small guys roll out of every crash laughing and ready for more punishment. Being one of the larger riders on the circuit I don't quite bounce up like the little guys. They say it all the time: "The bigger they are, the harder they fall". I believe that may be true to an extent. Snowboarding has helped me learn to relax in a crash situation and rather than fight it 'til the bitter end, I go with it and fall like Jello. It may not work in every situation, but a relaxed, flexible body is less likely to be injured in a bad crash.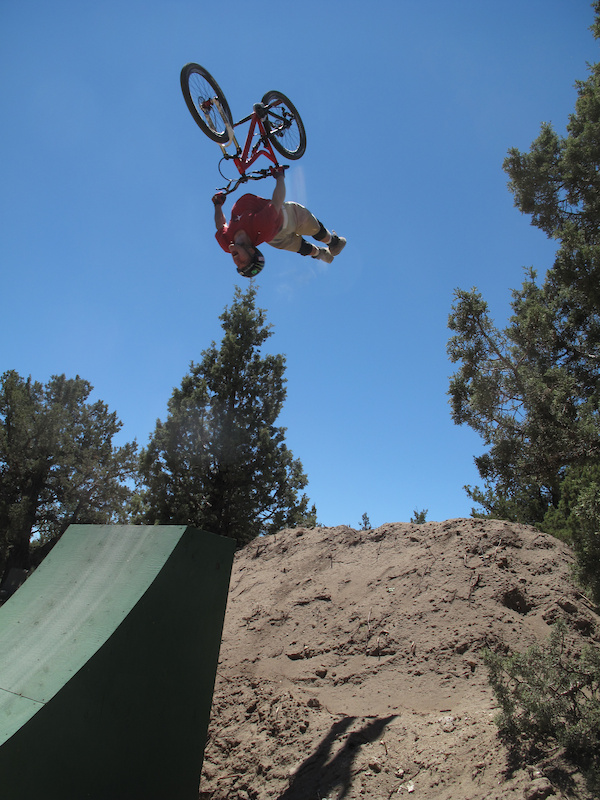 Snowboarding helps with air awareness.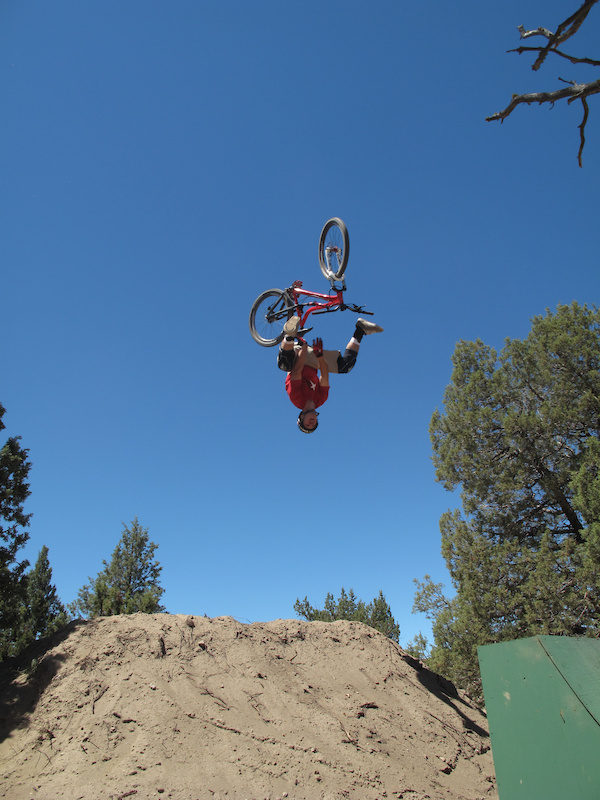 And relaxing when you are about to crash.
Which leads me into flexibility. While I'll admit that I still don't do this as much as I should, I do it more than most people… stretching. Even a simple 5 to 10 minute stretch every morning can really change your day. A pretty standard one for me is getting into a doorway. While keeping one leg flat I put the other up the wall. Lying flat on your back with the leg on the floor straight as well, try and keep the leg up the wall straight for 3 minutes. Your butt won't necessarily be touching the wall the first few days, but keeping that leg flexed straight is key. Three minutes doesn't sound like a long time, but in an intense stretch it can sometimes feel overwhelmingly long. So I try and do a couple arm stretches and maybe a couple sit-ups to take my mind off the stretch in my legs (you're still stretching the leg while doing these). Also, I try to get into yoga classes as much as I can. Going the first few times is always the biggest struggle, you're sore and tired, but once you get into the mode of going you won't wanna stop because your body feels so good. Yoga may sound all hippy dippy and what not, but there are some teachers that can make it a fun experience. More and more teachers are popping up that have an upbeat version and different than what you might expect. Also, these classes are designed to stretch and counter-stretch different muscles in a certain order so that you can safely gain more flexibility. The last thing you want to do is pull a muscle trying to stretch. So take it slow and the flexibility will come in time.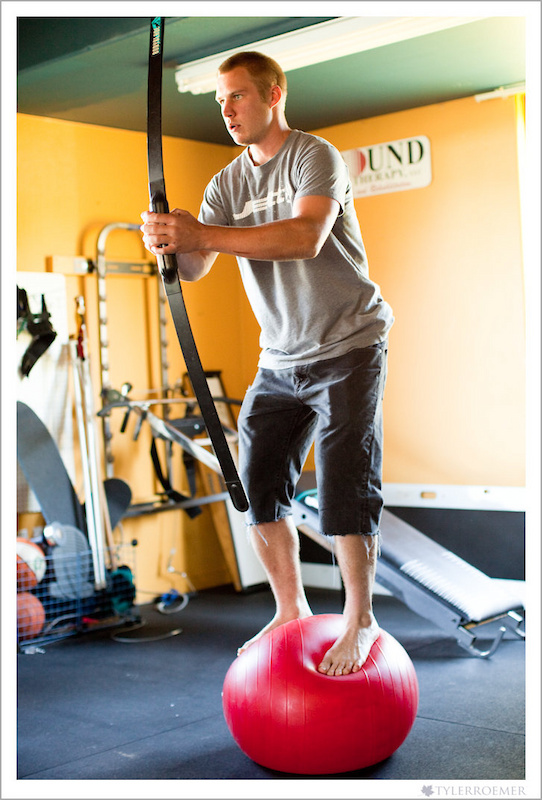 | | |
| --- | --- |
| | Yoga may sound all hippy dippy and what not, but there are some teachers that can make it a fun experience. -- Jamie Goldman |
Hitting the gym. Not the most fun of all things cross training, but can be very rewarding. I am fortunate enough to have a rehabilitation/ training facility here in Bend, Oregon called "Rebound". The guys there make a program for me that focuses on a lot of the small muscles that hardly get used in normal life, everything from balancing activities, to box hops. Box hops are different levels of tall obstacles that you jump on and off of. They help fast twitch muscles in your legs, it would transfer to riding say when you lose your front end in a corner and have to stick your foot out, your foot can likely jam into the ground and injure your knee. But if your fast twitch muscles are trained, this can likely help your chances of riding away clean. They call their training method Pre-Hab. It's training yourself so that you are less likely to become injured. The gym is great because you can really get your muscle memory working. While your body may be strong and flexible in certain positions, it may not be in others. Working muscles in repetition will ensure those muscles will fire in a clutch situation.
If you don't use it, you lose it
!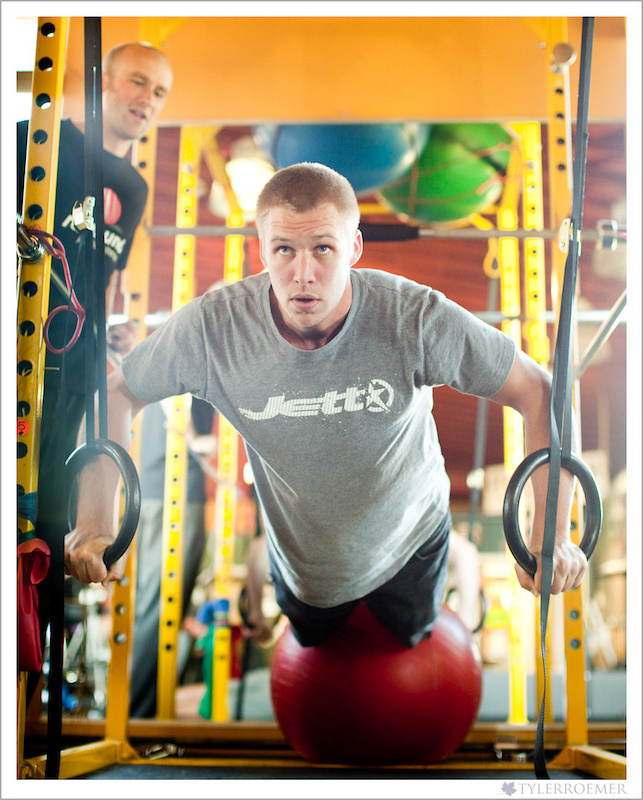 Another entertaining way for me to cross train is digging. Building trails can be a great get away with friends and also a great workout. First off you're getting in a bit of a hike. Looking for a sweet spot to build a trail is rather difficult, you want it off the beaten path so you're probably gonna be cruising around for quite a while. Secondly, digging, raking, lifting rocks and stumps are all good things to fire muscles that you may not use just riding. Riding the fruits of your labor is also a pretty cool bonus. Although not the most "defined workout" for muscle memory, it will still help with firing muscles that otherwise wouldn't be worked just by riding, which is the key thought behind cross training for me.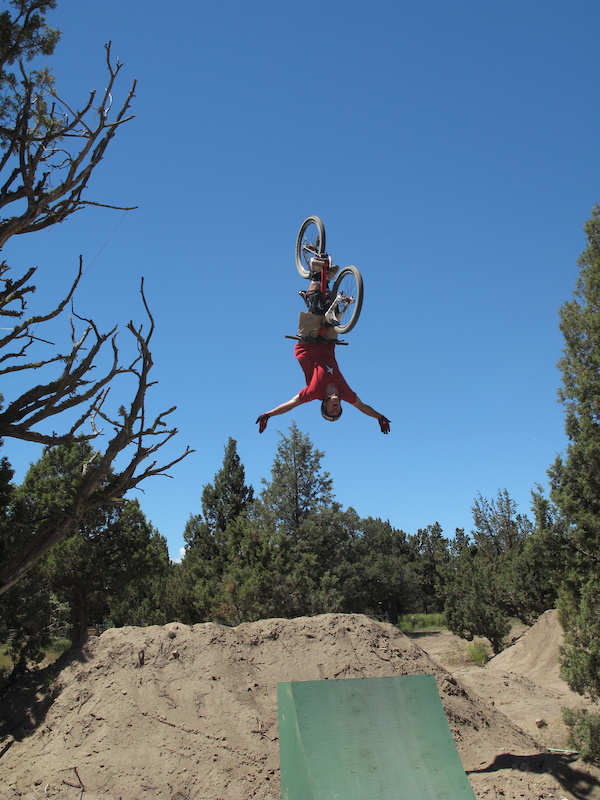 The results from trail building in his own yard - Jamie getting upside down on his trails.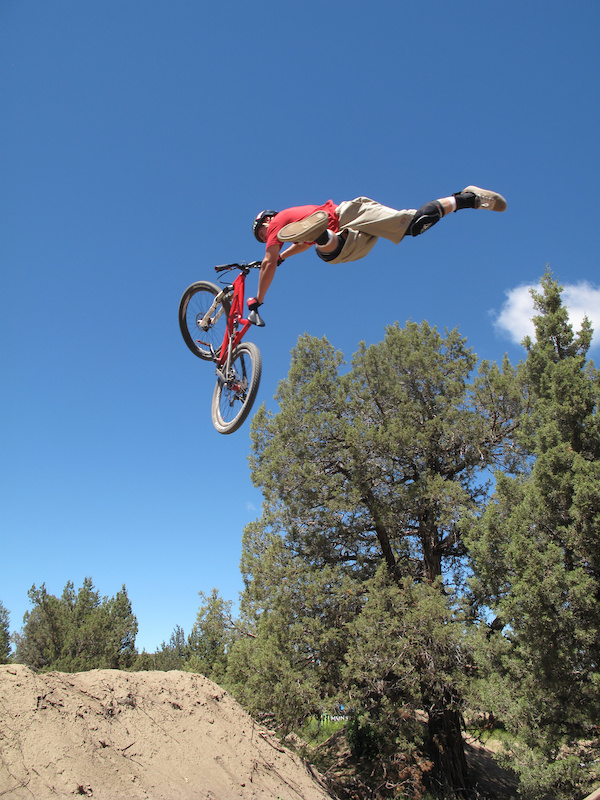 Running. Wow, running. Everyone is different and everyone has different weak points in their body. Although some people may think that running is bad for your knees, I've found that in moderation it can really help with the fast twitch muscles, balance, and it really helps you to focus on breathing. Research at Stanford University has proved that running in moderation can actually reduce your risks of arthritis. My girlfriend and dog are avid long distance runners and I try to get out for a couple miles with them as often as I can.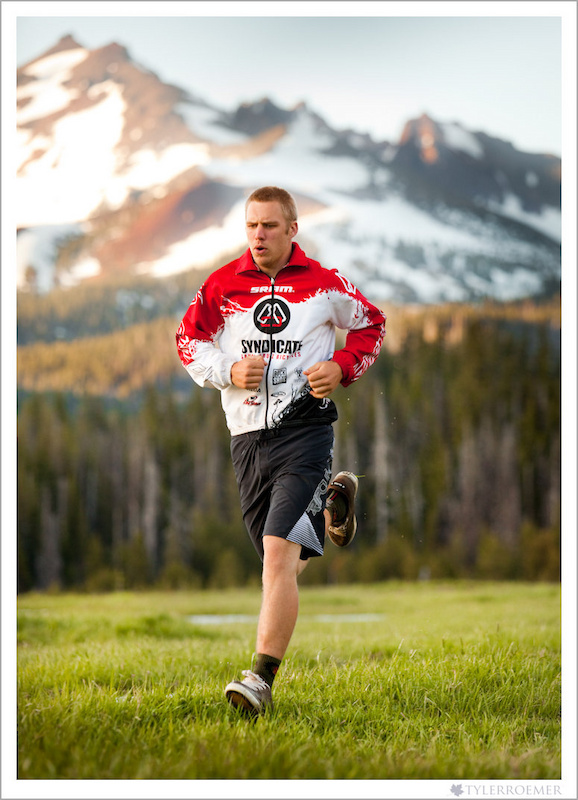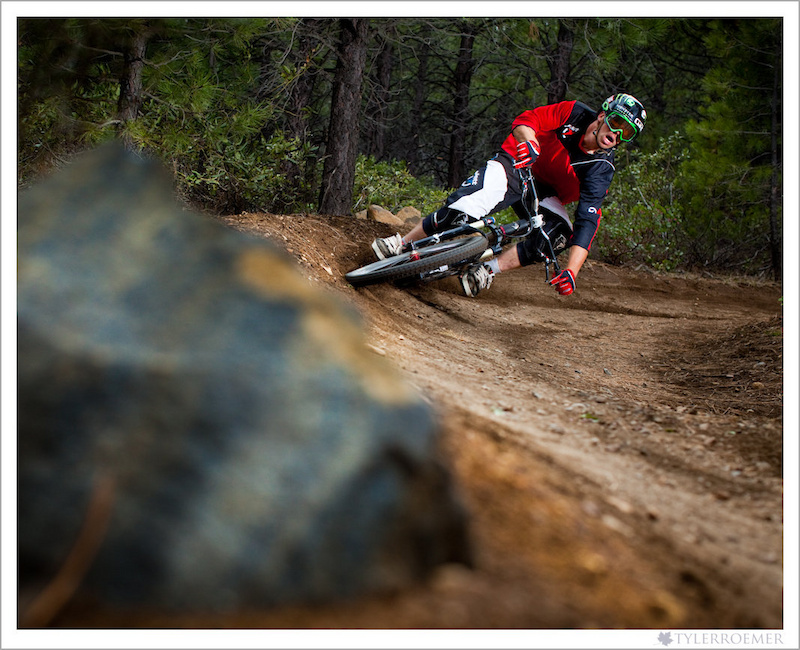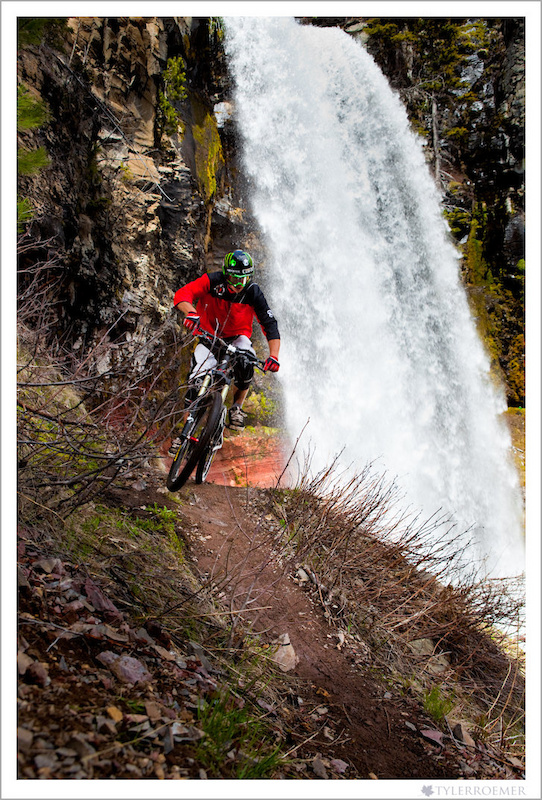 Lastly, get out on your bike. It's what we all love and now you'll be prepared from your training. Being a professional I have to dedicate myself to being in the best physical health that I can be and I have enough time to do all these things often, but all these things can be done in moderation and will really help you out on the trail. When I'm healthy and training I ride better than any other time. It's amazing how much longer you will be able to ride and how much energy you will have. I am a big supporter of cross training. Keeping my mind fresh and my body strong makes me feel that much more confidant when I ride. Have fun with it. Don't take it too serious, but get out and do it. You'll thank yourself that you did.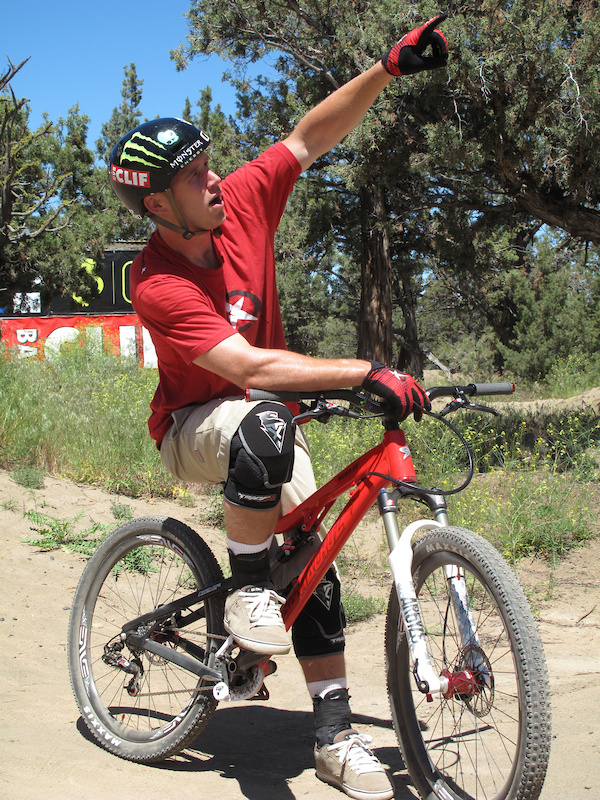 ---
About Jamie
:
I'm all about the simple life and keeping it real. I enjoy woodworking, welding, building jumps and stunts, playing the piano, hanging out at the river with friends, evening trail rides, morning jump sessions, yoga, eating and sleeping. I love my girlfriend and my dog, my parents kick ass, and I truly believe that I am a very fortunate person in life. Thanks to everyone who supports what I do. I wouldn't be where, or who I am without all of your help. Cheers, now go ride your bike.
Santa Cruz Bicycles
Monster Energy
SRAM, RockShox, Avid, Truvativ
ENVE Composites
Maxxis
Clif Bar
Muc-Off
Lizard Skins
WTB
Chris King
Gore® RideOn™ Cable Systems
Foxhead
Birzman
Five Ten
Jett
Trick-X Protection
Giro
Thanks to
Tyler Roemer
for the great shots too!