Let's face it, gravity lovers: There is only one person, who will be enjoying plenty of air time while shredding (the snow) in the upcoming weeks. But don't get too envious, because the guy with the long white beard and red costume might just have the remedy for you to get through the bikeless festive season: The 2017 GraVity Card! This year's ultimate Christmas gift will make every passionate mountain bike rider get ecstatic, if he or she is lucky enough, to find this pass in that stocking hanging over the fireplace. The GraVity Card will take your next season to the next level. Get your 2017 access to thousands of meters of trails in 16 bike parks spread across Europe and overcome those winter blues! Pre-order your card
online now.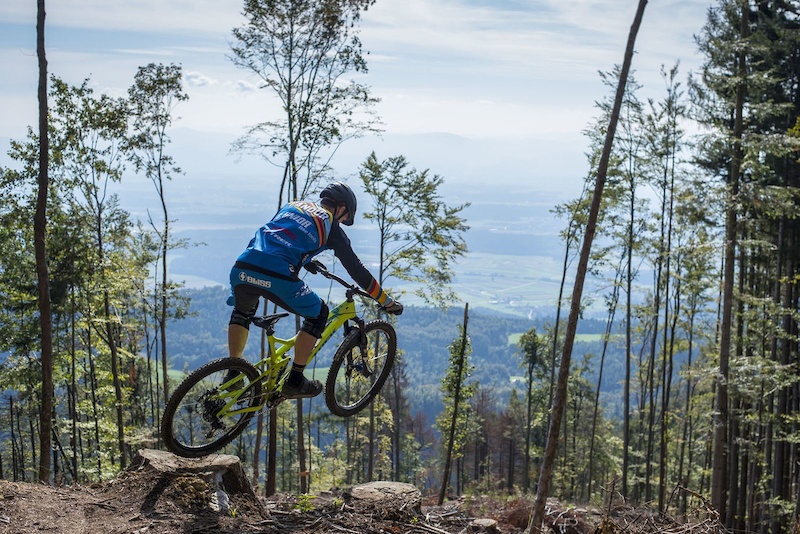 Attention gravity fans! Next year's GraVity Card includes even more kilometers of shreddable dirt trails. That means unlimited shredding in even more bike parks in Europe! Bike Republic Sölden (AUT), Bikepark Wurbauerkogel (AUT), and Bikepark Krvavec (SLO) have joined the family of Europe's leading bike parks. Bike Republic Sölden has freshly prepared flow trails and an array of nature trails as well as technical jump lines to offer. You can find more information here:
http://bikerepublic.soelden.com/en
Bikepark Wurbauerkogel invites all beginners and riders addicted to that flowy feeling to check out the trail "Blue Lollipop". More sophisticated mountain bikers can try their luck on the downhill track "Black Widow" or enjoy the many bike park features on the "Big Red" trail and the very technical "Red Root Carpet". Head to
www.wurbauerkogel.at/en
for more information.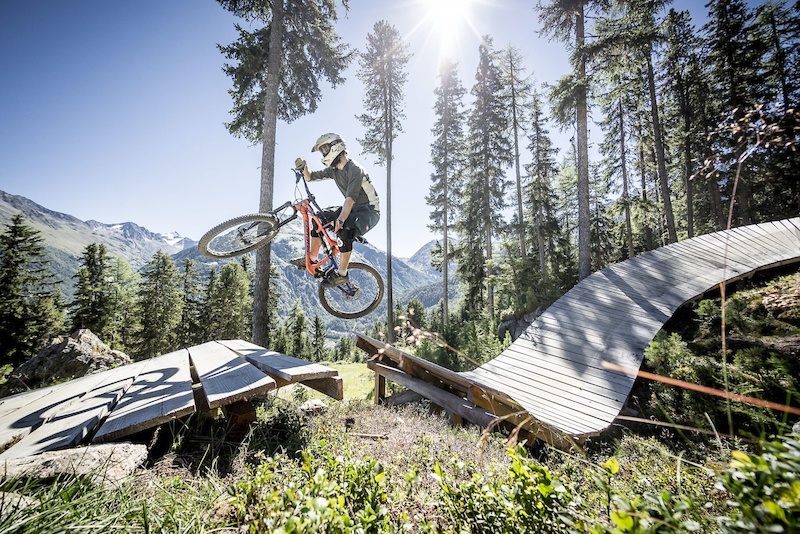 Bikepark Krvavec with 27 kilometers/ 16.7 miles of mountain bike trails and biggest elevation drops among bike parks in Slovenia offers rides for all tastes and levels of biking experiences. All descent lovers can enjoy the 6 kilometer / 3.7 miles Rock'n'flow Trail, the 9 kilometer / 5.6 miles Pussycat Trail and the Bambino Trail. For Cross Country bikers, Bike Park Krvavec offers 11 kilometers / 6.8 miles of XC trails named XC Allroad and XC Scott. Further information can be found here:
www.rtc-krvavec.si/en/activities/summer/bike-park-krvavec
The GraVity Card 2017 (Adults 439 Euros, Teenagers 332 Euros, Children 208 Euros) can be pre-ordered from December 7th and gives you access to a total of 16 bike parks in Europe from 29th April to 5th November (opening times of each bike park apply individually). Every GraVity Card holder can shred as much as he or she wants to for a single fee. The season pass for endless bike action is also an intriguing option for enduro riders thanks to the addition of Bike Republic Sölden and the likes of Saalbach Hinterglemm, which are both perfect regions for enduro biking. So, if you would prefer spending your time on the trails of central European bike parks instead of queuing for tickets, when you get there, then put the GraVity Card on your letter to Santa this Christmas. Then you can take your mind off the cold, bikeless off-season and plan your tour to the biking hotspots making sure you are ready when the season arrives.
The GraVity Card bike parks wish you all a Merry Christmas and a plenty of biking fun in 2017! The GraVity Card can be purchased online or at the participating bike parks. Go to
www.gravity-card.com
for more information!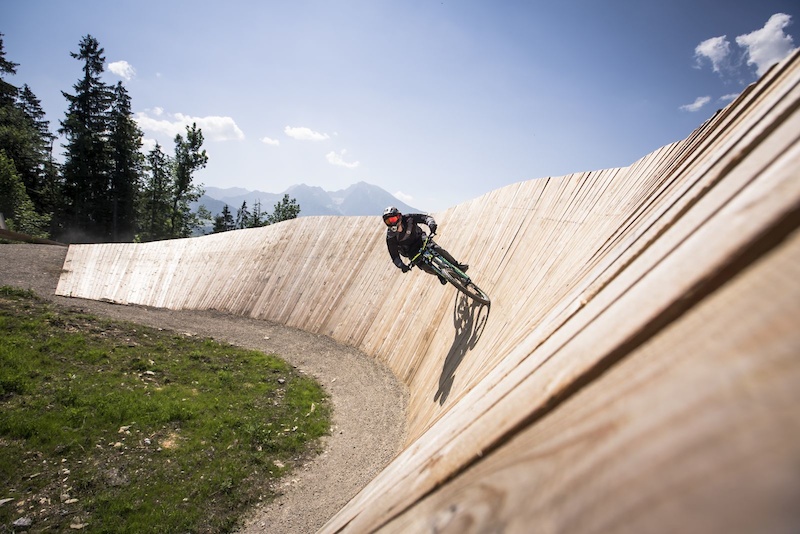 An overview of all 16 GraVity bike parks:
Bikepark Leogang
Since the opening in 2001, Bikepark Leogang has established itself as one of the most renowned Bikeparks in Europe. The bike region Saalfelden Leogang and Bikepark Leogang were honored to host the UCI Mountain Bike & Trials World Championships in 2012 and is an annual UCI Mountain Bike Downhill World Cup stop. Sensational competitions and thousands of enthusiastic visitors have made these events absolute highlights! At Bikepark Leogang, mountain bikers can take advantage of the diverse range of trails and even ride the demanding world championship track. Numerous North Shore lines and single trials are available further up the Asitz Mountain, while Europe's biggest Riders Playground and the GoPro Bagjump for beginners can be found at the base level.
Opening hours 2017:
May 12 - October 15, 2017 (daily)
May 12-25: Asitz-Kabinenbahn daily to mid station
May 26 - October 16: Asitz-Kabinenbahn daily to top station
Top events 2017:
May 12-14: Opening Weekend
May 25-27: Ladies Bike Park & Freeride Camp "Girls shred too"
June 8-11: Out of Bounds Festival (UCI Mountain Bike Downhill Worldcup & 26TRIX)
September 15-17: Biketember Festival (iXS European Downhill Cup Finale, Specialized-SRAM Enduro Series Finale (Leogang & Saalbach Hinterglemm), Scott Junior Trophy)
Further information on:
http://www.bikepark-leogang.com
Saalbach Hinterglemm
Four mountains, four cable cars and a connected network of 400km paths & trails as well as a great infrastructure - these are the ingredients for a biking paradise at its best. In addition to the wide range of trails for every age and skill level, the region of Saalbach-Hinterglemm attracts furthermore with pump tracks and technique area, bike and service shops, events and camps, guiding, a lively community, etc. Special highlight: The BIG-5-BIKE Challenge guarantees maximum freeride feeling in one day.
Opening hours 2017:
Reiterkogelbahn: May 20 - October 22
Kohlmaisgipfelbahn: June 03 - October 01
Schattberg X-press: June 15 - 18, June 23 - 25, June 30 - September 24
Zwölferkogelbahn: June 30 - September 24
Top events 2017:
July 6 - 9: GlemmRide Bike Festival
July 28 - 30: Lake of Charity
September 7 - 9: World Games of Mountainbiking
Further information on:
www.saalbach.com
Bikepark Zauberberg Semmering
The Bikepark Semmering covers a variety of routes for all levels of ability, with an overall park size of 12km. No matter if you are just cruising down the family trial, enjoying the jumps at the freeride trail, riding the downhill track where the Austrian Championship takes place for pros, the slopestyle parks jump-line or the flowing sweet and sexy trails – our motto is "a bike park for everyone". In 2014, Bikepark Semmering got 8 out of 10 points in a bike park rating by German "FREERIDE-Magazin" and was awarded the "FREERIDE-Bikepark-Tipp".
Everything at one place:
Bikestore.cc offers bikes, protectors, safety training, and you can also service your bike! You can also rent or buy accessories and clothing. Not only you can book your bike gear online, you can also book your hotel room too! Bikestore.cc provides a perfect service!
Opening hours 2017:
May 13 - October 26
May, June, September and October: Thursday to Sunday from 9am - 5pm
July and August: daily from 9am – 5pm
Top events 2017:
August 12 - 13: 24H "Race the night"
Riders and material will be pushed to their limits at this worldwide unique 24-hour downhill race! This race takes place for the 9th time and has already strengthened its position and reputation in the Central European bike scene. Traditionally at noon the race starts in LeMans style to the song "Hells Bells" by AC/DC.
Further information at:
www.semmering.com
Bikepark Wagrain
Salzburg | Wagrain | Flying Mozart:
Bikepark Wagrain is centrally located, only 60km south of Salzburg and close to the A10 motorway. In the winter time "Grießenkareck" is a popular skiing destination while in the summer months, its "Flying Mozart" gondola takes mountain bikers to the top of the mountain. Beginners, as well as experienced riders will make the most of Bikepark Wagrain. Its beginners park lower down will let you practice on easier obstacles and let your skills naturally grow before taking them all the way to the top. The new "Hard Rock" trail starts from the top of the "Flying Mozart" cable car. The top sections feature a lot of turns with waves, short pump tracks and jumps. Lower down the trail becomes more raw and natural with exposed roots and twisty turns. The entire track is classified as "red" although please note that the middle section does contain some "black" parts which are more difficult and require greater attention. Rolling in at 1850 meters above sea level, the panoramic views are breathtaking and the 3.7km track simply exhilarating.
Opening hours 2017:
9:00am - 5:00pm
May 3 - 5, June 10 - 11, June 15 - 18
June 20 - 29: Tuesday, Thursday, Saturday, Sunday
July 1 - September 3: daily
September 5 - October 1: Tuesday, Thursday, Saturday, Sunday
Top Event 2017:
Symphony Jam Session Weekend (date tbd.)
Further information on:
www.bikewagrain.com
Bikepark Planai - 1000 meters of pure adrenaline!
The Bikepark Planai is one of the most varied bike parks in the Alpine region. The range is wide and offers variety and challenge for all skill levels. The start is at 1.830m and can be reached by the Planai gondola. Afterwards you can choose over 12km trails in the different difficulty levels. The Alpreif Bikecenter in the target area provides bikers with everything they need and is available with advice and action. As an additional offer, there are several guiding options for beginners or advanced riders. Race-tested guides give bike-newbies introductions to downhill sports or intensive training for bikers who want to improve their skills. In addition to the opening event with Riders BBQ, there will be the iXS European Downhill Cup and the already well-known public photoshoot "Shot in Thrill" are presented by Lines Mag and the Shaper Games. Schladming will again be part of one of about eight stops of the Austrian Pumptrack Series this year! A cup series for young and old as well as beginners and pros! The Fairy Trail, which was already opened at the end of August 2016 – is the most streamlined and easy-going mountain bike trail on the Planai. Fun features and exciting surprises do not let you get bored and inspire our bike-youngsters, but even hardcore bikers get their money's worth. No, not a fairy tale, but the absolute reality. An easy trail with a moderate slope that is perfect for families.
Opening hours 2017:
May 25 - October 8 / daily from 09:00am – 05:00pm
Top events 2017:
Mai 25: Bikepark Opening, Big Backyard Sale and Riders BBQ
June 16 - 18: Gravity Games 2017 incl. Planai Pump Masters, Austrian Whip-Offs, iXS European Downhill Cup
July 15: Shot in Thrill presented by LINES Magazine
tbd: AUSTRIAN PUMPTRACK SERIES
tbd:
#StyleforDates
October 7: Season Closing Party & Shaper Games
Further information on:
www.bikeparkplanai.at
Bikepark Winterberg
From 2017, Germany's bike park with the widest variety of tracks will offer eleven professionally shaped courses with a total length of almost 12 km. From downhillers to slopestylers, from beginners to pros, in Winterberg there is something for everyone. In the last season, the famous trail designer guru, Diddie Schneider has completely re-built the Continental Track and the Flow Shore track. Starting again in spring 2017, he will finish the works on the whole new Flow Country Trail with a length of 1.6 km offering lots of downhill fun both for rookies and experienced freeriders. Another novelty for 2017 is that two modern chairlifts with bike transportation system bring you up the mountain and make queuing a thing of the past. The Bikepark Winterberg offers everything that a biker's heart desires: top Giant and Santa Cruz rental bikes, equipment of famous brands, MTB lessons, DH camps for kids and adults, food options for every budget and cheap accommodation incl. a discount on bike park tickets, rental & lessons at Hostel Erlebnisberg Kappe which is just 200 m away.
Opening hours 2017:
Daily from April until November 5th (depending on the weather)
Top events 2017:
May 25-28: iXS Dirt Masters, Europe's biggest Freeride Festival with over 35.000 spectators, 180 exhibitors and 1.800 participants from 20 nations, numerous contests: iXS German Downhill Cup, Slopestyle, Warsteiner WhipOff, 4X Rumble, TSG Cash for Tricks, etc.
September: GIANT Test days
Further information on:
www.bikepark-winterberg.de
and
www.facebook.com/bikeparkwinterberg
Bikepark Geisskopf
MTB ZONE Bikepark Geisskopf is known as the world's first bike park and was established in 1999 by "Trailguru" Diddie Schneider. Our bike park offers 12 versatile and well-groomed trails and courses for all skill levels. All riders rolling down Germany's first and only "Flow Country Trail" shall be easy to recognize by the big smile on their face. The bike park provides a perfect terrain and appropriate trails for beginners, advanced and professionals. Surrounded by the Bavarian Forest, noted for the largest forest area in Europe, MTB ZONE Bikepark Geisskopf offers excellent conditions for Cross Country enthusiasts and All-Mountain riders. Stop by, we are looking forward seeing you soon!
Opening hours 2017:
April to November
From 9:00am to 5:00pm (last gondola ride at 4:45pm)
Top events 2017:
June 16 - 18: Rock the Hill – music and bike festival
Further information on:
http://www.bikepark.net
Bikepark Spicak
Just five 5 kilometres from the border with Bavaria there is situated the biggest and at the same time the first bike park in the Czech Republic. It is well known and popular especially for its freeride trails, which are interconnected and offer countless combinations. The new trail Lucky Bastard offers maximum fun and a lot of air time. The downhill trail Struggle, where a round of the iXS European Downhill Cup will be raced this year, has been completely rebuilt. If you make a trip to Špičák, then definitely take your bike with you!!
Opening hours 2017:
July 3 - October 29 (please note the operating times)
Top events 2017:
July 21 - 23: iXS EDC
September 17: Czech Enduro Series
Further information on:
www.spicak.cz
Bikepark Tirol
The mountain bike region Wipptal knows how to make mountain bikers' hearts pump faster: in June 2016, the Bikepark Tirol starts its fourth season. The perfectly shaped trails, optimal traffic connections, and a very well maintained infrastructure make this new bike hot spot interesting for all mountain bikers throughout Europe. From the freeride trails, to the slopestyle area and the downhill track – the new bike park guarantees pure fun for beginners as well as for pro riders.
Opening hours 2017:
May 3 – 5: Saturday to Monday
May 26 - 28: Thursday to Sunday
June 10 – 18 (only weekends)
June 24 – September 10
September 16 – October 15 (only weekends)
Further information on:
www.bikepark-tirol.at
Bikepark Serfaus-Fiss-Ladis
Tyrol's largest bikepark is a MTB-Playground with outstandingly well-maintained trails for every type of gravity rider - no matter if newcomer, freerider or downhiller. From gentle banked cruisers through the forest to speedy freeride trails with more than 40 jumps. All 8 trails are easily accessible by a fast and roomy gondola. You will now find the new Supernatural trail to close the gap in-between machine built and unspoiled no-compromise trails. End your day in a good session at the slopestyle, dirt line or in the pump track. You will leave the bike park grinning from ear to ear.
Opening hours 2017:
June 2 - October 22 (daily 9:00am to 5:00pm)
Top events:
July 31 - August 6: MTB-Festival Serfaus-Fiss-Ladis
July 31 - August 6: Rookie Camp
August 04 - 06 2016: Kona International Rookie Games with:
iXS Rookies Cup, iXS International Rookies Championship,Pumptrack Session, Family Challenge
Further information on:
www.bikepark-sfl.at
Lenzerheide Bikepark
The bike park is the heart and soul of the bike destination Arosa Lenzerheide. The five courses do not only differ in their levels of difficulty but also in their characters. The easy FLOWline is the best course for beginners, families and warm-up laps. SHOREline, STYLEline, and PRIMEline are courses with banked turns, wooden bridges, tables, boxes and other features for intermediate up to expert riders. Finally our STRAIGHTline and World Cup downhill track is nothing for the faint-hearted. Big jumps, high-speed sections, roots, and rocks keep even the best World Cup riders on their toes. With its Skill Center, which contains a pump track, slopestyle and jump area, Lenzerheide Bikepark is one of the largest and most versatile bike parks in Switzerland.
Opening hours 2017:
Holiday weekends:
Ascension Day: May 25 - 28
Pentecost: June 03 - 05
Corpus Christi: June 15 - 18
Daily: June 24 - October 22
Only weekends: October 28 - November 26 (depending on the weather conditions).
Top events 2017:
July 7 - 9: UCI MTB World Cup
August 17 - 20: Grischa Trail RIDE
August 25 - 27: Bike Attack
September 15 - 17: testRIDE
Further information on:
www.lenzerheide.com/bikepark
Bikepark Brandnertal
The first bike park in the region of Vorarlberg – an easy-to-reach location right in between Switzerland, Germany, Liechtenstein, and Austria – is open to bikers of all levels. In total, the bikers can shred eight trails and trail variants to their heart's content as well as enjoy the new drop and bag jump area which was built in 2016. One of the highlights is certainly the brand-new, but already legendary trail "Tschack Norris", which was opened in 2015 and combines technical natural sections with countless freeride elements such as the GoPro road gap and the "Tschim Beam" jump line where the bikers will get their chance for some massive air time. The idyllic landscape, informal atmosphere, and the great people will make every biking day unforgettable – and you can round off your perfect day by treating yourself with some fine food in the four mountain restaurants located near and at the bike park and exploring the well-sorted shop (incl. rental shop and workshop).
Opening hours 2017:
May 05 – November 11 (according to the published operating hours)
Top events 2017:
May 05 - 07: Opening weekend (depending on the snow situation)
June 10 - 11: Brandnertal Test Days – Test bikes and equipment at no cost!
June 30 – July 2: IXS German Downhill Cup Brandnertal
July 22: Whip it Contest presented by Ninjaz Gloves and GoPro Bagjump Contest
August 20: Wicked Ruffneck Crew "Unchained" Chainless Race
October 15 - 16: October Shred
More information on:
www.bikepark-brandnertal.at
Bike Park Kranjska Gora – Living it up in the mountains!
The season in Bike Park Kranjska Gora is already in April in full swing! Bike Park is only 25 km away from Villach, 200 km from Graz, 380 km from Vienna, 115 km from Udine and 340 km from Munich. There are countless possible combinations of trails from start to finish in Bike Park Kranjska Gora. On 300 vertical meters, there are almost 20 km of trails. There are 5 basic trails and each of them has specific characteristics that inspire mountain bikers with various riding styles: Family Business - the easiest trail in Bike Park will delight beginners and families. Morning Wood (northshore trail ) - this trail is characterized by the classic northshore riding style on mostly wooden constructions. Funky Jazz (enduro trail) - enduro riding style indicates the very beginnings of mountain biking and has in recent years become increasingly popular because it provides a fun ride to every skillful mountain biker. Luft Waffe(l) (air-line) - this trail is constructed to guarantee as much time in the air as possible. The main characteristics of this trail are jumps and a relatively high-speed, which is required to maintain connections between them. DH Veetranz – (DH trail) - a classic downhill trail that has hosted many competitions in the past; its difficulty and complexity are worthy of competitions on the highest level. Bike Park Bikeshop in the finish area offers bikers everything they need. There is Giant bike rental, bike accessories, we offer bike camps and bike service. Not only you can book everything online, at the same time you can also book accommodation in House Berghi (www.berghi.si)!
Opening hours 2017:
April 27 - May 07 daily from 9am to 5pm
May 08 - 31 Friday, Saturday, Sunday from 9am to 5pm
June 01 - September 10 daily from 9am to 5pm
September 11 - October 26 Friday, Saturday, Sunday from 9am to 5pm
October 27 – November 05 daily from 9am to 5pm
On Friday, Saturdays and Sundays, Bike Park Kranjska Gora is open from 9am to 6pm.
Top events 2017:
April 29: Giant Bike Park Kranjska Gora opening party (all day)
May 05 - 07: IXS DH CUP (http://www.ixsdownhillcup.com/de/p333,129,0,0,0/Rennen/Kranjska-Gora)
May 12 - 14: Slovenian DH cup race
October 7 - Season End Party
Bike camps (3 days):
June 23 - 26: Junior Bike Camp (for everyone younger than 18 years)
June 30 - July 2: Bike Camp Open (everybody)
July 07 - 09: Girls Bike Camp (Ladies bike-camp)
August 25 - 27: Senior Bike Camp (for young at heart, not necessarily of young age)
Further information on:
www.bike-park.si
Bikepark Wurbauerkogel
The Bikepark Wurbauerkogel is located in the region of Pyhrn-Priel, which, exactly is, in the south of Upper Austria. The Wurbauerkogel is easily accessible by train or via the A9 exit Windischgarsten by car. The bike park includes routes of varying degrees of difficulty and offers an ideal range of trails for professionals as well as beginners. For biker families, there is the "Blue Lollipop". This Line is the ideal route for beginners and flow-addicts with steep curves and scooters. The "Big Red" is equipped with some bike park features, such as a wallride, tables, and steps, as well as northshore drops. On the "Red Root Carpet" and "Black Widow" downhill experts get their money's worth. The offer is rounded off with a pump track and practice park at the valley station, as well as the Pyhrn-Priel Bikecenter.
Opening hours 2017:
Continuous operation: May 13 – October 8
Only weekends, depending on the weather conditions: 29.04.- 01.05., 06./07.05.2016 and 07./08.10., 14./15.10., 21./22.10. and 26.- 29.10.2017
Top events 2017:
Dates tbd.
Further information on:
www.wurbauerkogel.at/bikepark
Bike Republic Sölden
The full range of mountain bike offers in the surroundings of Sölden was branded professionally by founding the Bike Republic Sölden in 2015. The Bike Republic symbolizes a wide open terrain amid pristine Alpine landscapes, featuring a huge choice of man-made lines comprising nature trails and 2 pump tracks with skill center in the valley. Every Republic also has its own language – just like the Bike Republic Sölden. Therefore the names and characteristics of several lines were strongly influenced by the valley's typical language. Sölden has become a unique playground for bike aficionados thanks to its multi-faceted terrain perfectly suitable for all-mountain bikers, enduro fans or freeriders. On the mountain, you choose from more than 30 Alpine restaurants, huts, and snack stations that invite you to enjoy a rest stop. Down in the valley, you can take full advantage of the top-notch bike and repair shops, bike washing facilities and many more measure-made services for bikers.
Opening hours 2017:
8EUB Gaislachkogl I (1.363 – 2.174 m): Juni 15 – Oktober 1 (daily from 08.30am - 16.45pm):
10EUB Giggijoch (1.353 – 2.284 m): June 17/18, June 24 – August 27 (daily from 09.00am - 16.45pm), August 28 - September 17 (daily from 09.00am - 16.00pm)
Top events 2017:
June 16 - 18: Bike Opening Sölden
June 17: Singletrail Schnitzeljagd
Further information on:
www.bikerepublic.soelden.com
Bike Park Krvavec
Bike park Krvavec is a part of Krvavec Mountain Resort located 30km from the capital Ljubljana, only 8 km from Slovenian National Airport and 73 km from Kranjska Gora. Close to the Austrian border only 86km from Villach, 73 km from Klagenfurt and 202 km from Graz, Bike Park Krvavec is convenient option to spend a biking day in the Slovenian alps. Munich (GER) is 394 km away, the ride will take you about four hours. With 27 km of mountain bike trails and the biggest elevation drops among Bike Parks in Slovenia, Bike park Krvavec offers rides for all tastes and levels of biking experiences. Those who like long rides can enjoy a 9km long enduro trail with 850m elevation drop called Pussycat Trail. The Rock'n'Flow trail with the same elevation drop offers 6km of more demanding terrain and is suitable for more experienced riders. If Rock'n'Flow is the king, then Pussycat might be the queen. Or at least, the princess. For children and beginners, the 1km long Bambino trail offers great fun with bands made up of earth, waves, and jumps at low difficulty level. In 2017, a new gravity trail called Panorama will be built. Panorama will give riders a spectacular view of the Ljubljana valley and add to Pussycat Trail three additional kilometers. If you prefer Cross Country, Bike Park Krvavec offers also 11 km of XC trails named XC Allroad and XC Scott. Mountain resort Krvavec offers a wide range of gastronomy possibilities and adventure activities in Summer Park as well as hiking trails. In case you would like to spend more than one day with us, you can simply book the room in
Hotel Krvavec.
Opening hours 2017:
May 6 - June 23 (Monday, Wednesday, Friday from 2pm – 7pm; Tuesday and Thursday 2pm – 8pm, Saturday, Sunday, holidays from 9am – 6pm)
June 24 - August 31 (Monday, Wednesday, Friday from 9am – 7pm; Tuesday and Thursday 9am – 8pm, Saturday, Sunday, holidays from 9am – 6pm)
September 1 - October 13 (Monday, Wednesday, Friday from 2pm – 7pm; Tuesday and Thursday 2pm – 8pm, Saturday, Sunday, holidays from 9am – 6pm)
Top events 2017:
Beginning of June: Krvavec Bike Park Big Opening Event
June 16 - 18: Improve your biking Skills Bike Camp
June 26 - 29: Kids Bike Summer Camp
August 26 - 27: Bike Festival Krvavec
September 22 - 24: Autumn Bike Camp (2 days of competitions (road bike ascent race, endure 4 Fun race, downhill race, children endure race, dirt session, Expo, party)
Further information on:
www.rtc-krvavec.si/en/activities/summer/bike-park-krvavec
---
MENTIONS:
@rasoulution
---