Boozzz
Member since Nov 18, 2013

Male / 99
Amsterdam , Netherlands
Block user
Recent
Sep 6, 2022 at 1:31
Sep 6, 2022
Selling
Sep 1, 2022 at 2:45
Sep 1, 2022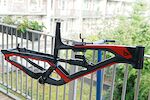 $1000 EUR
Selling my YT Capra frame. Aluminium, size XL (I'm 1,86m), for 27,5" wheels. See my other ad for the whole bike. Bought new december 2018, hardly ridden, 450 km. Very good condiition, just a few scratches. Bearings run as new, shock has had a fresh small service. Includes: RockShox Super Deluxe RC3 shock (75 mm stroke, meaning 180 mm travel) Across headset (tapered) Seatclamp DT Swiss 12 mm axle Extra derailleur hanger Shimano 24mm BB. Can also include a Race Face 30 mm BB if you like. Shipping inside the EU no problem.
Selling
Sep 1, 2022 at 2:36
Sep 1, 2022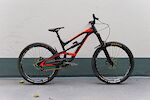 $1900 EUR
YT Capra 27 AL Comp Mk2, December 2018, original owner (invoice available, more than a year warranty on the frame left) 180 mm travel 27,5" wheels Size XL (I'm 1,86 m, fits perfectly) Aluminium frame Also available as frameset. Selling my bike as my bike park career has come to an end. Bike has been built as a pure bike park machine: single speed and a fixed seatpost. Less to break and you don't need to shift gears in the park anyway. Makes for a very light, fun and responsive ride. Technically and visually in great shape. Maintained with lots of love and also used very little, thanks to covid and the lack of mountains in the Netherlands. 421 km in total according to Strava, or 32 hours. A few small scratches (see pics), but nothing big, and no dents or cracks. Bearings run as new, fork and shock stanchions are immaculate. Only flaw is in the rear wheel, which got a small flat spot in my last biking holiday this July. Wheel has been trued, and flat spot is not noticeable off road. Fork and shock have had a small service after this last holiday. Fork has been upgraded with a 180 mm Debonair air shaft. Rear shock has been changed to 75 mm stroke, for 180 mm of travel in the back as well. Rear brake line is currently routed externally for ease of maintenance. Specs YT Capra 27,5" frame, aluminium, size XL RockShox Lyrik RCT3 fork, Debonair, 180 mm travel RockShox Super Deluxe RC3 rear shock, 75mm stroke, 180 mm travel. 2 air volume spacers installed.. Magura MT5 brakes with the shorter HC 1 finger levers, brake pads almost new DT Swiss E1900 wheels Maxxis High Roller 2 EXO 3C / Schwalbe Rock Razor Super Gravity tyres, tubeless. Shimano Deore M6100 32t / 170 mm crankset E*Thirteen chain guide Race Face Atlas bars (35 mm rise, 800 mm wide) Bontrager 40 mm stem Gusset 16t XD single speed kit Superstar Nano-X pedals Extra's Spare derailleur hanger Original Maxxis Highroller 2 EXO rear tyre, as good as new, but has the Maxxis wobble. 2 bottomless fork tokens Of course also the rubber grommets for internal routing. Bike is located in Amsterdam. Geometry 480 mm reach 623 mm stack 637 mm ETT 65º head angle 76º seat angle 432 mm chain stays 11 mm BB drop
Aug 1, 2022 at 22:40
Aug 1, 2022
Tech Randoms - 2022 Ard Rock Enduro
Certainly not original rotors. I have had those same rotors made by 'Clarks', aka cheap China from Chainreactioncycles, lying in a box for at least ten years. Maybe they've outsourced pad production too?
Selling
Jun 3, 2022 at 7:41
Jun 3, 2022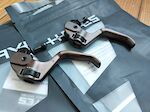 $35 EUR
Two brand new Hayes Dominion SFL (small finger lever) lever blades. Selling them for € 35 per lever. Can ship anywhere in the EU.
Selling
Jun 3, 2022 at 7:37
Jun 3, 2022
Oct 14, 2021 at 3:50
Oct 14, 2021
Aug 6, 2021 at 3:19
Aug 6, 2021
Jul 24, 2021 at 14:00
Jul 24, 2021
Jul 24, 2021 at 9:10
Jul 24, 2021
Bike Check: A '90s Nike Airmax Inspired Steel Full Suss
Cracked one of the dropouts of the hardtail version in less than 300 km. Frame flexed like mad. With a shock attached to it and everything moving, and the same skinny stays, mad flex might be a bit of an understatement. Fashion above function!
Load more...
Featured
Video by Boozzz