CDABikeCo
Member since Mar 6, 2017

Coeur d'Alene , Idaho
We're a local bike shop here in Coeur d'Alene, Idaho.
Block user
Recent

Dec 13, 2021 at 13:44
Dec 13, 2021

Selling
Dec 13, 2021 at 13:38
Dec 13, 2021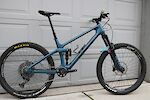 $4800 USD
The owner of this bike is friends with all of us here at our shop. He got a full suspension bike of this quality for the purpose of mountain biking with all of his friends. After experiencing the type of mountain biking that necessitates this level of bicycle, the owner is no longer interested in mountain biking. The bike is completely stock with the exception of the grips. Groupo is Sram GX Eagle with a Rockshox Lyric Ultimate Fork, a Rockshox Deluxe Ultimate Debonair rear shock, and a 200mm OneUp dropper post. The frame has also been wrapped in a tailored Ride Wrap kit. Bike is as is with no expressed warranty, and first paid first serve. Buyer pays Shipping and Paypal fees.

Nov 15, 2021 at 10:16
Nov 15, 2021
PNW Components Introduces the Rover Hip Pack
One of the immediate advantages that we felt with the hip pack is taking the weight off and free up the upper body and shoulders. Although this is not a "feature" that you're asking about, it could be one of the main advantages to consider. A feature that we see on few packs is an outer bungee type strap, that some of us have added to some of our favorite hip packs, that allows us to carry an outer layer jacket on the outside rather in the main compartment where the other essentials should be easily accessible. On the PNW pack, it looks like one could loop the jacket thru the compression straps. Sounds like you can add on a bottle holder to this pack which could be a consideration for longer rides. A single bottle on the bike is good for as long as that bottle will last, but on the long rides we need more than one bottle. For those longer rips, if you have water sources on the ride, we'd recommend carrying a Steripen and keep it to a single bottle and reduce the weight on the hip pack. Long story longer, if you haven't ridden with a hip pack we'd highly recommend you give it a try and there are a lot of options out there.

Added 1 video
Oct 24, 2021 at 16:02
Oct 24, 2021

Oct 20, 2021 at 21:38
Oct 20, 2021

Oct 19, 2021 at 10:23
Oct 19, 2021

Oct 10, 2021 at 14:10
Oct 10, 2021

Selling
Oct 10, 2021 at 13:58
Oct 10, 2021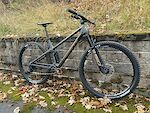 $5350 USD
2021 Transition Spur GX, Size Large, Black Powder Selling for customer that had unexpected health issues come up. Very low miles miles, less than 25. No singletrack miles, just pavement and light gravel riding. Still has warranty decal on toptube(warranty does not transfer to new owner, but still able to get crash replacement from TR) Extremely clean bike -Large frame -SRAM GX Eagle Lunar Drivetrain -SRAM G2 RS Brakes -180mm OneUp Dropper Post -Stan's Arch S1 Wheelset -matching Deity bronze TMAC pedals included $5350 buyer pays shipping

Selling
Oct 10, 2021 at 13:54
Oct 10, 2021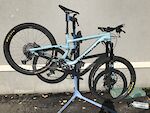 $1800 USD
Medium Transition Patrol 27.5. She's been ridden and used so don't expect a new bike. But what you can expect is a tough as nails aluminum bike for the price of the fork it comes with. Do you really want to spend 5 grand to put your 14 year old on a bike? NO! You want metal framed work horse with good suspension. Front wheel has a pretty good sized ding in it (pictured) but if you're using it, she's sure to get a few more dings and scratches. Bike has CushCore in the rear wheel to help with those unexpected Trail Gremlins. Bike is for sale as is with no expressed warranty. Buyer pays shipping and PayPal fees.

Selling
Oct 10, 2021 at 13:52
Oct 10, 2021
Load more...