CommencalDH
Member since May 23, 2009

Male / 30
Leamington Spa , United Kingdom
Block user
Recent

Selling
Apr 18, 2020 at 7:08
Apr 18, 2020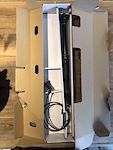 $130 GBP
Rockshox Reverb stealth in excellent working condition. As usual has the couple of mm of play as per all reverbs but no sagging and feels smooth. Cable is 125cm. Some minor corrosion on the bit that sits in the frame but could be removed easily and you never see it when it's mounted. Only selling because I've got very long legs so am getting an even longer drop. Any questions please shout.

Selling
Feb 9, 2020 at 5:36
Feb 9, 2020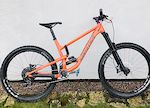 $2400 GBP
Santa Cruz Nomad 4 for sale, size large. The frame is pretty much immaculate with key areas helitaped and it has barely been ridden. Full spec is: Fox 36 170mm Rockshox Super Deluxe Debonair shock E thirteen TRS+ Wheelset E thirteen TRS+ cassette Sram GX eagle drivetrain Raceface Chester cockpit Hope headset Sram guide brakes Santa Cruz grips/ seatpost collar Any questions please shout

Selling
Feb 2, 2020 at 7:01
Feb 2, 2020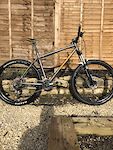 $350 GBP
Selling my winter steel hardtail, I used it for my short daily commute via bridleways as well as the occasional proper winter ride but due to a change in where I'm working it hasn't been used much recently so may as well sell it so someone can use it properly. It is definitely by no means in showroom condition and is a bit of a shitmix of leftover parts but works surprisingly well and is really bombproof. It is really fun and I often enjoyed riding it more than my full suspension bike. The frame has a bit of a dent and some surface rust in places but these things are indestructible so it will go on for ages. Spec includes: Rockshox sector forks (bit shady but work) Shimano brakes ( mix of Xt and deore, really good) Rsp dropper (bit shady but works) Raceface bar and stem Sram X9 Wheelset Schwalbe/ maxxis tyres (pretty new) Any questions give me a shout

Selling
Sep 17, 2019 at 10:02
Sep 17, 2019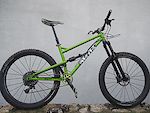 $1450 GBP
Hi all, Here we have for sale a fantastic Cotic Rocket size Medium. I built it up for my girlfriend with the naive idea that it would get her into mountain biking but as the knobbles on the tyres will testify I had no luck so it needs to go to free up space/ cash. The spec is great, particularly the suspension which is incredibly plush, forks have recently been coil converted by TF tuned and feel great, along with the Cane Creek DB inline shock. Full spec is: Cotic Rocket 27.5 frame, the odd rub on the paint as is normal for any mountain bike but in general v. good condition Rockshox Pike RC coil converted bt TF tuned Cane Creek DB inline shock Rockshox Reverb 150mm dropper (please note this has a bit of play as is fairly typical of reverbs) Renthal Fatbar Lite bars Hope headset Sram Roam 30 wheel set Oneup chainring Truvativ descendent cranks Sram XX1 shifter and cassette, GX mech, KMC gold chain Renthal Grips Continental Mountain King 2.4" brand new tubeless tyres Fabric saddle Raceface stem Any questions please shout, the bike is great and deserved to be used properly. Collection preferred but can post if required.

Selling
Nov 25, 2017 at 6:58
Nov 25, 2017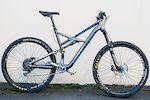 $1450 GBP
For sale is my Specialized Enduro 29, bought in 2015 and since then I've upgraded some of the major parts. I'm 6'4 this is the first bike I've had that has actually felt the right size. Full spec is listed below: Specialized Enduro 29 frame Rockshox Pike RCT3, upgraded from standard Hope Pro 4 wheelset, Stans rims Maxxis High Roller Tyres Command post dropper Thompson Elite X4 stem Truvativ Boobar Steve Smith Signature bars 780mm SRAM X9 mech, X7 shifter Syntace 11-46 cassette FSA BB30 Crankset, new snail nw chainring Shimano M447 brakes SDG Belair ti saddle The only reason for selling is I'm a tart and I want the carbon version of the same bike. It has been professionally maintained and is in great condition with many parts only a few rides old. Any questions please let me know.

Selling
Jul 17, 2017 at 14:17
Jul 17, 2017

Selling
Apr 16, 2017 at 6:57
Apr 16, 2017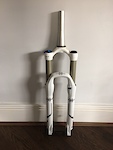 $180 GBP
X-Fusion Trace RL 140mm forks for sale, these were bought for a project which never materialised. They are in great condition, some cable wear on the crowns but the lowers are very clean and the stanchions are perfect. Crown race is already fitted. Steerer has been cut slightly to 168mm Can be posted at the buyers expense, any questions please let me know.

Selling
Nov 29, 2015 at 5:22
Nov 29, 2015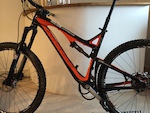 $2150 GBP
Sadly the time has come to sell my mint condition Carbine. For those of you who have ridden one of these, you will know there are very few bikes that cover ground as fast, and they don't come much better than this one. It has been meticulously maintained and is riding perfectly, the bike comes fitted offset bushings to lower/slacken it further which has made it even more rapid downhill. As you can see from the specification listed below this bike has been built with no expense spared: Slze L Carbine 29 Frame (fully helitaped from new, internal routing, and immaculate with rock guard) Rockshox Pike RCT3 29 Fox CTD Kashima (Push tuned) Rockshox Reverb Steath Chris King Headset Shimano XT Brakes Sram X9 Clutch 10sp Rear Mech Novatec Diablo 29 (ceramic bearings) Tubeless Schwalbe Tyres (nearly new) Shimano XTR Cranks E-thirteen guide and n/w chainring Renthal Carbon Fatbars and supersoft grips Sram Cassette with Hope Extender ring, Ergon saddle SPD pedals will not be included, I can throw in some Sunline V One flats if required Apologies for the poor pictures, more can be provided if required and viewing is welcome. If you would like any more details please ask. The bike will have a chain fitted and will come with a comprehensive selection of spares including new bearings, pads etc. I'm happy to deliver within reasonable distance.

Selling
Apr 9, 2014 at 14:31
Apr 9, 2014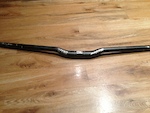 $25 GBP
Good condition V-One bars, uncut, few small scuffs from grips, very little use, any questions shout.

Selling
Apr 9, 2014 at 14:25
Apr 9, 2014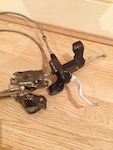 $85 GBP
Shimano Saint brakes, very little use they were a back up pair that rarely got used and selling as part of a clear out. Braided Goodridge hoses and plenty of life in the pads, fronts are basically brand new. I'll include mounts, not pictured. The reservoir caps are a bit scuffed but mechanically they are in great condition.
Load more...