Dave108
Member since May 24, 2014

Male / 51
London , Ontario
Block user
Recent

Feb 25, 2021 at 11:21
Feb 25, 2021

Nov 7, 2020 at 8:39
Nov 7, 2020
20.0 km - 02:26 - 19 achievements - 1 badges

Jul 12, 2020 at 19:21
Jul 12, 2020

Selling
Jul 12, 2020 at 19:16
Jul 12, 2020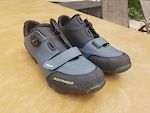 $80 CAD
Bontrager Foray MTB shoes, 44.5EU or men's 11.5US. Good condition. No major scuffs. Boa dials both work. Used half a season. Really nice shoes but having foot problems so need to sell.

Jun 21, 2020 at 6:33
Jun 21, 2020
Video: In-Depth Analysis of Flat Pedal Efficiency with the Strength Factory
I just switched to flat pedals after having problems with my feet - bunions etc. Couldn't find clip shoes that didn't hurt, and most stores around here out of stock due to COVID. The first ride with flat shoes and pedals sucked. Feet bouncing around, slipping off, no control of bike. But slowly am adapting. Able to clean everything on local trails than could on clips. Even tough uphill roots climbs. Is there a difference? Yes. Clips I can get away with being in wrong gear because I can pull crank through stroke. Flats have to pay attention to gear and keep feet moving. I guess there is some lack of power on climbs but I think this is speaks more to different muscle groups being used. Would I go back? If I could find comfortable pair of clip shoes that I could try on before buying them perhaps. But enjoying the flats for now. However noticed that my Giro soles being eaten away after about 7 rides from pins. At this rate will need new shoes by end of season. In end I am just happy I can keep riding.

Jan 22, 2020 at 12:35
Jan 22, 2020
Load more...