Desmond23
Member since Oct 3, 2009

Male / 28
Corner Brook , Newfoundland
Block user
Recent

Mar 6, 2013 at 18:28
Mar 6, 2013

Selling
Mar 6, 2013 at 18:27
Mar 6, 2013

Added 1 video
Nov 16, 2012 at 18:41
Nov 16, 2012

Mar 18, 2012 at 12:29
Mar 18, 2012

Mar 18, 2012 at 12:27
Mar 18, 2012

Dec 30, 2011 at 17:36
Dec 30, 2011

Added 1 video
Dec 30, 2011 at 12:07
Dec 30, 2011

Dec 30, 2011 at 9:57
Dec 30, 2011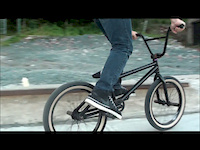 he hasgood good friends, isn't that what bikings about its not about being good or bad I thought the video was sweet man, I loved it coming from the same province as him and seeing what we have to ride. Also with your point if I hired you a professional extreme sports filmer are you going to go do a 720 barspin down a 30 set? No. kid get the fuck out stop trolling.

Dec 20, 2011 at 17:48
Dec 20, 2011

Dec 12, 2011 at 10:50
Dec 12, 2011
Load more...
Featured
Video by MaxFu