Djangare
Member since Jun 21, 2020

Male / 17
Salisbury , Massachusetts
Casual
Block user
Recent

Sep 9, 2020 at 13:05
Sep 9, 2020

Selling
Sep 9, 2020 at 13:05
Sep 9, 2020

Jul 16, 2020 at 10:18
Jul 16, 2020

Selling
Jul 16, 2020 at 10:17
Jul 16, 2020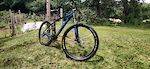 $450 USD
Specialized Pitch, with integrated brake/shifting, 3 by 8 speed. Maxxis tire brand new in front, WTB seat available for extra 40 dollars.

Jun 21, 2020 at 12:08
Jun 21, 2020

Selling
Jun 21, 2020 at 12:06
Jun 21, 2020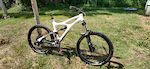 $700 USD
This is a Ibis Mojo HD I bought very used from Papa Wheelies in around 2015. There has been lots of work done to this bike. First the shocks were serviced and the drivetrain was replaced. The drivetrain was then replaced again one year ago to GX eagle. The rear wheel was replaced by a Hope Fortis 26. It has Ardent Race tires, the rear holds amazing, the front needs a new valve stem which comes with the bike. IMPORTANT: THIS BIKE DOES NOT COME WITH BRAKES INSTALLED If you need brakes, I can take the set off of my Evil, they are Shimano 2 piston Deores. I would charge 150 for those brakes. Also important: The frame came from the previous owner very used, he rode his bikes hard but he kept the frame safe from serious damage. So have I, there are not cracks or structural problems, only the paint that is scratched. The seat comes with the bike but may need some wiggling to get it to sit right. I have not rode this bike in months and have not bothered with adjusting the seat. Dropper post needs lever.
Load more...