Edee
Member since Jul 31, 2010

Male / 24
Bristol , United Kingdom
bikefewetaeger
Block user
Recent

Mar 17, 2019 at 15:27
Mar 17, 2019

Selling
Mar 17, 2019 at 15:12
Mar 17, 2019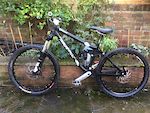 $550 GBP
Selling a custom built Banshee/Mythic Wildcard with a size medium frame. Really fun bike, super whippy and jumps like a dream, holds up on the more gnarly trails as well. Is in riding condition but can definitley do with a few things serviced/replaced. Will consider swapping bike or just frame for something more enduro like! Mythic/Banshee Wildcard frame, Size Medium, Few usual scratches, no dents or play in bushings. Has two rear travel settings if you want to use it with a larger coil shock. 20.5" top tube, 14" seat tube. 15.8" chainstay (nice and short, perfect for chucking about). Fox DHX 5.0 Air shock. Still in good condition, rebound works fine. Rock Shox Lyriks 115 - 145, Great forks, could do with a service as the floodgate is sticking out slightly, not affecting performance really but will need sorting out in the long run. Shimano Deore front break. Hope rear break. Shimano deore shifter. Shimano deore derailer. Definitley on its last legs, cables frayed and the springs lost tension, still just about working though! Shimano saint cranks. Slightly too wide for frame (guy i bought them off lied about the width) so they wobble a bit but I've never had any issues when riding. DMR v8 pedals. e-thirteen chain ring with e-thirteen chain guide. Syncros stem. Sunline v two bars 720mm (quite thin!) Cane creek double xc flush headset. (converted). Steve peat grips. Mavic 719 disc wheelset with hope pro 2 hubs. Minion tyre on front plenty of life left. High roller on back (very worn) 200mm discs. Race face evolve dh seat post. Random seat but its nice and comfy. Weighs about 15kg in total. Quite rare to find these frames about so grab a bargain! Looking for about £500 ONO. Definitley open to swaps, especially for more XC/Enduro style bikes. Thanks for looking!

Sep 6, 2016 at 7:49
Sep 6, 2016

Selling
Sep 6, 2016 at 7:49
Sep 6, 2016

Selling
Sep 6, 2016 at 7:41
Sep 6, 2016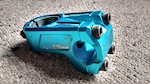 $5 GBP
DMR Swarm stem, light blue, fairly well used but lots of life left, I was using it with 25.4 bars, will need shim for thinner bars. postage will be £2.80 Thanks for looking! Ed

Dec 21, 2015 at 10:36
Dec 21, 2015

Selling
Dec 21, 2015 at 10:35
Dec 21, 2015

Dec 21, 2015 at 9:14
Dec 21, 2015

Selling
Dec 21, 2015 at 9:10
Dec 21, 2015

Jun 4, 2015 at 8:25
Jun 4, 2015
Load more...
Featured
Video by Edee