EmmettS
Member since Jul 1, 2012

Male / 22
Petaluma , California
Proudly Supported by Deity Components and Royal Racing
Block user
Recent
Selling
May 27, 2018 at 15:18
May 27, 2018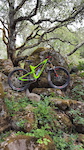 $3000 USD
I have a Scott genius LT 700 tuned for sale. This thing is in amazing condition and I have taken great care of it. It has fox suspension front and rear with lock out switch. Has sram xx1 and guide ultimates and raceface 6c cranks. Rockshox reverb. Deity seat handlebars and stem. It is on Derby rims wide carbonfiber rims with chris king hubs. I absolutely love this bike but unfortunately i dont have much time to ride anymore. So rather than having it sit I would like to sell it to someone who will make good use of it! Im asking $3000 OBO
May 18, 2017 at 8:13
May 18, 2017
May 18, 2017 at 8:09
May 18, 2017
Selling
Apr 14, 2017 at 21:21
Apr 14, 2017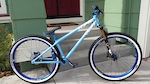 $1500 USD
I am selling this bike because unfortunately i cannot ride it the way this bike deserves to be ridden and want to sell ut to someone who will. This thing has been ridden very lightly. As far as the parts go every part that can be Deity is Deity, but the wheels are hope pro evo 2s laced to loaded rims, these things are indestructible. The brake is an avid guide and the fork is a fox float. I am asking $1500 firm. feel free to message me with any questions you might have.
Apr 2, 2017 at 12:18
Apr 2, 2017
Selling
Apr 2, 2017 at 12:13
Apr 2, 2017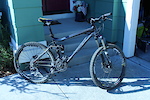 $950 USD
Hello I am selling my Trek fuel EX8. this bike is in great condition as it has hardly been ridden since it was bought along with regular maintenance. This was my dads bike that he got to get into mountain biking and it has suited him very well but he felt it was time to step up to a bit more aggressive of a bike. I am asking $950 obo. all components are stock other than mavic wheels with wtb weirwolf tires and a wtb saddle. please message me if intrested or if you have any questions about the bike.
Selling
Aug 20, 2016 at 12:42
Aug 20, 2016
Aug 20, 2016 at 12:38
Aug 20, 2016
Apr 28, 2016 at 8:41
Apr 28, 2016
Apr 26, 2016 at 21:45
Apr 26, 2016
Load more...