Jackflint48
Member since Feb 15, 2011

Male / 28
Bay Area , California
i love bikes and music, i like girls, relaxation, country roads,easy e, berkly, riding street,endo style tricks,alpha blondie
Block user
Recent

Aug 15, 2012 at 20:30
Aug 15, 2012

Aug 15, 2012 at 20:14
Aug 15, 2012

Aug 14, 2012 at 22:51
Aug 14, 2012

Selling
Aug 14, 2012 at 20:17
Aug 14, 2012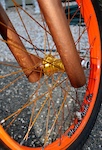 $200 USD
Selling a sweet BMX bike, has over $800 into it not including the frame, the wheels alone would run you around $400 if not more to build. This bike is super custom the only thing that is stock is the Kink frame from 2011 with very little cosmetic damage, also it was one of their highest line of stock bikes, so its not made out of the high tensile rust in a day steel junk , it is in fact constructed from the same 4130 cromoly steel that all the higher line frames are made of. My friend actually had me build this bike for him, and didn't have the money to put into it before he left for college so, no reason to keep it, and many of the parts appear unused. Below is the current bike build Fork-kink stock Stem-fit forged stem Bars-4130 redline pro team bars (chrome) Front Wheel-gold profile mini, gold odyssey spokes, stolen roulette rim Rear wheel-gold demolition rogue, gold odyssey spokes, stolen roulette rim Cranks-Stolen team cranks Chaining-Zorg 25t, or atom lab 25t (buyers choice) Chain-new Shadow half link Seat-stripped down shadow (different from pics below) Seat post-polished shadow prenumbra post Headset-Odyssey bar ends-stolen metals Tires-eastern curb monkey(front),maxis miracle(rear); also have a few used fit tires i can throw in Pedals-answer rove FR sealed low profile pedals BB-brand new shadow bearings Though I have a ton of cash into this bike, I do understand that it is a used bike and that reduces the price even though it is in bomb condition, but im looking to get around $200, if your interested feel free to shoot me an email. I also have a little lower set of chrome redline pro bars i can throw in if your not the tallest rider You wont find another bike of this quality for this price. pick up around santa rosa only.

Aug 14, 2012 at 20:12
Aug 14, 2012

Jun 19, 2012 at 19:37
Jun 19, 2012

Added 13 photos
Jun 18, 2012 at 22:58
Jun 18, 2012

Jun 16, 2012 at 19:05
Jun 16, 2012

Added 3 photos
Jun 12, 2012 at 21:55
Jun 12, 2012

Selling
Jun 12, 2012 at 21:53
Jun 12, 2012
Load more...