JamieBrown52
Member since Apr 29, 2014

Male / 37
Clitheroe , United Kingdom
Block user
Recent

Selling
Mar 18, 2021 at 15:44
Mar 18, 2021
$30 GBP
Brand new Mavic EX729 rim Super strong rim that is perfect for enduro or downhill. 32 hole 27.5" / 650B Postage with be addition £7. If paying via PayPal then fees must be covered.

Selling
Mar 18, 2021 at 15:36
Mar 18, 2021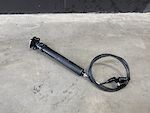 $120 GBP
Reverb stealth dropper removed from the Orange crush hardtail I recently bought. Wasn't enough travel for my legs to reach full extension. 125mm seatpost travel, 30.9mm seatpost diameter. Condition is excellent. Not suffering from any play. Doesn't require a service for a while, unlike the other I have just had serviced which had the typical vertical play (squish). Postage will be approx £5-£10 depending on courier. I usually send via a friend's postal service which tends to be UPS.

Selling
Mar 10, 2021 at 22:47
Mar 10, 2021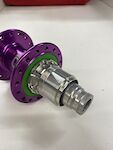 $55 GBP
Hope Pro 4 freehub body for SRAM XD drive cassette. This listing is for the freehub body only, not the hub. I need a Shimano freehub so open to a straight swap if anyone else is in similar position and wants this one. I'm making a set of wheels for my jump bike so need a freehub that will work with the 10x135mm bolt on axle. I'll include postage for asking price (UK postage only)

Selling
Mar 10, 2021 at 15:53
Mar 10, 2021
$60 GBP
Fox Float 32 150mm QR 26" for spares or repair The seal spring on the air chamber gave way and gouged out the stantion as I was servicing them, as seen in the pics. I lightly sanded out most of it but couldn't put them back together, so I gave up! I think the chamber is screwed because oil pissed out when I let the air out. And I don't think the seals are holding up either. All in all they are fucked, hense the price. The lowers are a QR fitment Steerer length: 210mm Stanchion on air spring side has major damage from what looks like and internal bushing. The lowers are in good condition externally, but I'm guessing internal bushings might need looking at. The air shaft is still with the forks, but these were a doner fork fo another set of 32 F-series I'm selling. Sold as seen. I can post within UK but the buyer must cover this and any Paypal fees.

Nov 17, 2020 at 14:13
Nov 17, 2020

Selling
Aug 6, 2020 at 7:19
Aug 6, 2020

Jun 5, 2020 at 5:44
Jun 5, 2020

May 23, 2020 at 14:54
May 23, 2020

May 1, 2020 at 13:05
May 1, 2020

Apr 7, 2020 at 12:43
Apr 7, 2020
Load more...