Jimmyjones
Member since Oct 2, 2007

Male / 32
Sheffield , United Kingdom
Block user
Recent

Apr 9, 2012 at 5:07
Apr 9, 2012

Selling
Apr 9, 2012 at 5:05
Apr 9, 2012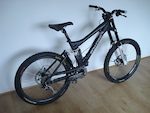 $800 GBP
2008 Factory/World Cup frame with Fox DHX 5 PUSH tuned shock 300lbs spring Marzocchi 888 RC2X forks (with spare springs) Shimano Saint Crankset Hope Moto V2 Brakes with Hope floating 203mm rotors Shimano XT Shadow rear mech LX shifter Modified/bodged E-Thirteen chain guide Truvative Hussefelt Bars Sunline direct mount stem SDG saddle Raceface Evolve XC seatpost Mavic 729/Sun hub rear wheel, Sun Front wheel DMR V12 Mag Pedals Maxxis HighRoller rear, Swampthing front. In quite well used condition so expect plenty of scratches and scrapes! Rear shock will probably need servicing again at some point.

Feb 13, 2012 at 12:04
Feb 13, 2012

Selling
Feb 13, 2012 at 12:01
Feb 13, 2012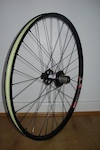 $150 GBP
Stans NoTubes ZTR Flow wheels. Good condition with only a few scuffs to stickers and anodizing. There is one very small dent to the rim. rim: ZTR Flow 26" hub: American Classic DH 150x12mm through axle spokes: DT Swiss Competition, Black nipples: Black Also have a matching front but with NoTubes ZTR 3.30 HD hub which I will sell for £70 For any urgent enquieries/ quick response please text or call me as I dont have regular internet access

Selling
Apr 3, 2011 at 13:15
Apr 3, 2011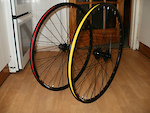 $100 GBP
Brand new Mavic xm317 Wheelset. Came on new bike but just bought a Stans Notubes wheelset so these must go Mavic xm317 disk rims, black hubs (20mm front, Quick-release rear), black spokes, silver nipples. lightweight cross-coutry/all-mountain wheelset. Made with the finest 6106 aluminum alloy, eyeleted for more durability, solidly pin joined and especially designed to withstand the stress of disc brakes, XM 317 Disc will bring you anywhere. Wheelset will be sent on UPS courier at £10 and packed in separate wheel boxes to avoid any damage occuring in transit.

Apr 3, 2011 at 13:11
Apr 3, 2011

Selling
Apr 3, 2011 at 13:08
Apr 3, 2011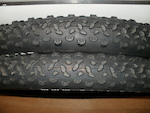 $20 GBP
Brand new pair, never used Geax Barro mountain tyres Came with new bike but need lightweight XC tyres 26" x 2.3 Sticky soft rubber compound The Barro Mountain is a cutting-edge multi-purpose tyre with an aggressive, moderately spaced pattern that handles the toughest terrains without increasing rolling resistance. Plateau-like, rounded knobs create a stiff tread that sheds dirt and debris easily, rolling over everything it finds…dry soil, wet soil, rocks and even roots. This larger size features softer rubber compounds that enhance grip and control at all speeds. When the terrain gets demanding, the versatility of the Barro Mountain will keep you moving. Postage will be £5

Oct 23, 2009 at 3:39
Oct 23, 2009
hay mate do you live in deepcar cuz i do aswell and was looking for a new frame if it still for sale wen ive got the money i will buy jt got to sell my frame first and are these jumps and gd on the common

Selling
Oct 22, 2009 at 7:22
Oct 22, 2009

Oct 22, 2009 at 4:21
Oct 22, 2009
Load more...