JonnyW1984
Member since Feb 24, 2015

Male / 38
Leigh , United Kingdom
Block user
Recent

Selling
Feb 4, 2023 at 7:02
Feb 4, 2023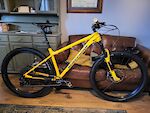 $1300 GBP
Selling my 2 ride old Nukeproof Scout due to lack of use. The frame and some of the components have only had 2 gentle rides around my local area, but even this is too much bike to roam the flat, uninteresting lands that surround me! The frame is immaculate and like new and so are most of the parts, only a few light marks here and there on some of the components. Spec: Truvativ Troy Lee carbon bar (800mm) 50mm Specialized stem. Ergon grips Sram Guide RSC brakes with 200mm front, 180mm rear rotors Sram GX AXS wireless gears with GX cassette Truvativ cranks (175mm) Roval wheels (2 rides) Specialized Butcher tyres (2 rides) Bontrager 150mm dropper with Nukeproof saddle The fork started life as a 160mm Rockshox Yari that I stripped, had the lowers professionally sprayed in a Pearlescent Yellow. The decals are Judy heritage ones for a bit of a retro-modern look. I also fitted a 140mm air spring and charger 2.1 damper with Racing Bros wiper seals. It's effectively a Lyrik now, but a bit more custom. Also the frame is fitted with a new Nukeproof headset and the BB is fresh and feels like new. I can include the Shimano XT clipless pedals if you want them and the original 160mm air shaft and also a 130mm air shaft. Advertisements If I had the time to ride it or the luxury of space and money to keep it, it would be staying! It rides really well. Collection only, or I can drop it off within 50 miles of WN7.

Dec 16, 2022 at 5:08
Dec 16, 2022

Selling
Dec 16, 2022 at 5:07
Dec 16, 2022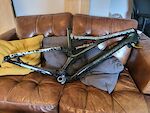 $1700 GBP
Selling my 2021 Stumpy frame in S5 because I'm now on an e-bike Incredibly light and capable, the best trail bike I've ever ridden! Sadly, I've only got the room and money for one full sus :( In excellent condition bar a few riding related scratches or scuffs, but nothing deep or damaging. I've fitted a Dyed Bro kit and heli-tape to protect most of the frame. Built the full bike earlier this year and didn't get anywhere near the time I would have liked riding it due to work and other things. Comes with the internal storage bag, headset and manual etc. I can also throw in a twice-used X-fusion 170mm dropper post to sweeten the deal. The shock is a Fox Factory Float DPS (bit of a mouthful!). I've left the dropper cable in to aid the fitting of a new one. I believe I've also got the official shim to convert the seat post to 30.9 as the full builds came with an AXS dropper. I'd rather not courier, but can deliver myself up to 50 miles or you can come and see it in person. If I have to use a courier, I'll get a quote fully insured in a big box, so it won't be cheap. Located in WN7 area.

Dec 3, 2022 at 6:47
Dec 3, 2022

Selling
Dec 3, 2022 at 6:47
Dec 3, 2022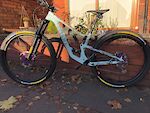 $2500 GBP
Missus is selling due to getting an ebike. For reference she is 5'2″ tall and this fitted perfectly (even being a 29er!). Very nice spec as listed below Juliana Joplin CC frame in small SC Reserve 30 wheels with Filmore Valves Nearly new Michelin Wild Enduro tyres Hope carbon bar and stem (720mm wide I think) Reverb AXS 100mm Dropper and new Specialized saddle Ohlins RXF 36Fork (140mm) Fox Float DPS Elite Shock Sram X01 gears and 10-50 cassette Hope Tech 3 E4 brakes and rotors The seat tube is very short and my missus used to have a 150mm Reverb and it was a perfect fit (went right down to the collar). I'm sure I've forgotten a few bits to list, but it's not been ridden for months and hasn't had a hard life when it was! There's a few use related small marks here and there, but it is in excellent condition and has a Dyed Bro protection kit installed. I'd prefer collection, or can deliver myself up to 50 miles from WN7 area. I won't courier it as I don't have a bike box or any packaging material.

Feb 4, 2022 at 11:34
Feb 4, 2022

Jan 17, 2022 at 2:07
Jan 17, 2022

Selling
Jan 17, 2022 at 2:07
Jan 17, 2022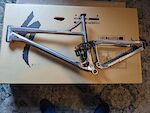 $1000 GBP
Selling a Banshee Phantom V3 frame in XL due to buying a new bike. The frame is 115mm or rear travel and comes with a Fox Float DPX2 Performance Elite that's probably had about 4 months worth of weekend rides (still buttery smooth). The frame has also just had brand new bearings so they are all fresh for the new owner. The headset is like new too and is nice and smooth. It's a stunning aluminium frame in excellent used condition. There is some gravel rash/stone chipping on the down tube and inside the chain stays, but looks immaculate when built up. I tried it is a mullet set up, high/low drop out position and with a 130 and 140mm fork. My favourite was 140mm set up as a full 29er in the low position. Fully insured shipping via courier is about £50.

Jul 19, 2021 at 4:55
Jul 19, 2021

Selling
Jul 19, 2021 at 4:54
Jul 19, 2021
Load more...