Jquihuis
Member since Sep 17, 2012

Male
Chandler , Arizona
Block user
Recent

May 19, 2020 at 13:11
May 19, 2020

Selling
May 19, 2020 at 13:05
May 19, 2020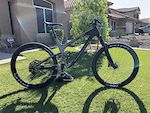 $2800 USD
Bike is in used condition, with some scratches from AZ rock riding. Had touch up work done on seat stay where the tire/rocks had scratched the frame. The chain stay is brand new. Optional: For $200 extra, I can upgrade this drivetrain to a GX Eagle Shifter/Der + Ethirteen 9-50 Cassette + XO Chain (Only 300 miles on cassette and chain) Frame is size XL and has 160mm front, 140mm rear travel. This bike is a solid build for the price and is in great working order. Parts list: Lyrik RC (160mm)- normal scratches on lowers eThirteen TRS+ Wheelset PNW Bachelor Dropper (170mm) Raceface Turbine R 35mm Stem Deity Bars (775mm) ODI Ruffian Grips Shimano XT 11 Speed Shifter/Der New Sram 11 speed cassette (11-42t) SRAM GX Cranks/BB SRAM GX 11 speed chain (New) eThirteen tires (new) SRAM Guide T Brakes (new) Shimano XT Icetech rotors (180mm) Fox DPX2 has fresh factory rebuild/service Let me know if you have any questions. I am the original owner and switched to a different bike so I need to part ways with this Sentinel. Pedals not included. Buyer pays shipping. PayPal only.

Apr 8, 2020 at 8:52
Apr 8, 2020

Selling
Apr 8, 2020 at 8:52
Apr 8, 2020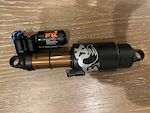 $400 USD
2019 Factory Series FLOAT X2 2019, FLOAT X2, F-S, K, 2pos-Adj Includes volume spacers. This shock came off a Santa Cruz Megatower. It was just serviced by Fox, zero rides since service (have receipt). Since this is off a Megatower, it has a reduced stroke, this is a 65mm stroke reduced to 57.5 via removable internal spacer. Let me know if you have any questions.

Selling
Feb 23, 2020 at 19:34
Feb 23, 2020

Jan 29, 2020 at 9:45
Jan 29, 2020

Selling
Jan 29, 2020 at 9:03
Jan 29, 2020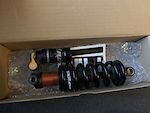 $550 USD
This shock is in excellent condition with low usage. Purchased in August brand new for a Transition Sentinel. Ended up switching to a different frame so this has been sitting in the box. Includes 525 lb progressive spring. I weigh 200 lbs Size 205x57.5, trunnion mount for Transition Sentinel Paypal fees and shipping included.

Selling
Jan 28, 2020 at 21:26
Jan 28, 2020

Apr 4, 2018 at 10:47
Apr 4, 2018

Selling
Apr 4, 2018 at 10:39
Apr 4, 2018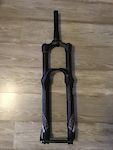 $320 USD
Used condition but in great shape. Less than 5 rides on it since a full service, the big one, not just lowers. No scratches on the uppers, a few scratches on lowers. Works great, has 3 bottomless tokens in it now. Measurements: Steerer tube- 7.5 inches Non-boost- 150mmx10mm Offset- 42mm Nothing wrong with it, I just picked up a Lyrik and no longer need this Pike. Let me know if you have any questions. Price includes shipping and Paypal. Paypal only, no tom foolery.
Load more...