Lester22291
Member since Sep 29, 2008

Male / 31
Bellingham , Washington
Block user
Recent

Nov 11, 2022 at 16:15
Nov 11, 2022

Selling
Nov 11, 2022 at 16:14
Nov 11, 2022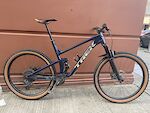 $4500 USD
Trek Top fuel, purchased as a frame only and built up as a "downcountry"/light trail bike. Size XL Frame has ridewrap tailed kit installed, so the frame is in fantastic shape. Wheels/tires are brand new, rest of the bike may have minor cosmetic wear from normal riding. GX AXS electronic shifter/derailleur/cassette. XX1 black chain, 170mm SX cranks (SX was the only crank available at the time- rest of the build is top spec) Bontrager Kovee Pro wheels set up (tubeless) with some Bontrager XR4 tanwall tires. Wheels/tires are basically brand new Bontrager RSL handlebar/stem combo (35mm stem length, 790 handlebar length) oneup dropper post, 210mm travel Marzocchi Bomber Z2 fork, 130mm travel (frame has 120mm rear travel). The big decals have been removed to make it look cooler. This bike typically comes spec'd with a 120mm fork, but is approved to run 130mm to make the bike a bit more aggressive without voiding warranty. TRP quadiem brakes Oneup chainguide/bash chromag LTD leather saddle - saddle has seen better days, has been on a few bikes and has a big tear in it. I'd be happy to keep the saddle and put something basic on there, but i think it looks great with the tanwall tires. bike does NOT come with pedals or garmin top cap mount. Reach out with questions. Bike is located in Bellingham, WA, can ship within USA at buyers expense.

Nov 6, 2022 at 14:53
Nov 6, 2022

Selling
Nov 6, 2022 at 14:52
Nov 6, 2022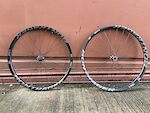 $500 USD
Wheels are a couple years old but in great shape, they were on a mountain bike for a little while but then spent the rest of their life on a commuter bike that barely ever got ridden, hence why i'm selling. Could be a few very small scuffs from normal MTB use, but these wheels are in great shape. Tubeless rim strips are installed, you'll just need tires, cassette, rotors, tubeless valves, and you're good to go. Designed for rowdy enduro use, these wheels are an awesome upgrade for any mountain bike. Bontrager Line Pro 30 wheelset 29er boost spacing rapid drive hub with SRAM XD driver included Tubeless rim strips installed I am located in Bellingham, Washington. Happy to meet in-person or ship within north america, buyer pays shipping. Paypal/cash only.

Jul 7, 2022 at 14:59
Jul 7, 2022

Selling
Jul 7, 2022 at 14:58
Jul 7, 2022

Mar 21, 2022 at 18:55
Mar 21, 2022

Selling
Mar 21, 2022 at 18:52
Mar 21, 2022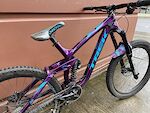 $3300 USD
For sale is a 2015 session park. Compared to the DH version, the Park session had 26" wheels (instead of 27.5), 190mm rear wheel travel (instead of 200) and a shorter rear end (420mm chainstays). This is the bike the Trek C3 team (semenuk, rheeder, mccaul, r-dog, etc) were riding in that time period and very similar if not near identical to the setup that semenuk won the latest red bull rampage on. I've replaced the 26" 200mm travel Boxxer up front with a 190mm ZEB ultimate and a 27.5 bontrager line pro 30 (carbon) front wheel. Front tire is bontrager SE5 27.5x2.6" (setup tubeless), rear wheel is the stock 26" with bontrager G4 26x2.3 (with a tube). I still have the original boxxer (showing some stanction wear) and a pile of G4 and G5 26" tires that can be included for the right price. Grips are DMR deathgrips, which i'd gladly "hold onto" if you have other grips you'd like to use. Saddle is a chromag overture that matches the bike perfectly (in my opinion). I've come to really like this saddle, but it matches the bike way too well to separate the two (same with the front fender from groundskeeper). Rear derailleur and shifter are quite new. Brakes could use a bit of work. The front end setup (ZEB and line pro 30) are quite new, only a few rides on them. All you'd need to do to get this bike barspin/tailwhip compatible is figure out a solution for the brake hoses and this will barspin for days, brake/shifter clear the top tube just fine. The mullet/ZEB/carbon front wheel with 27.5x2.6" setup really improved the bike in my opinion, i'm only posting for sale because i have a different bike that's been fulfilling any downhill duties and i hate to watch this bike sit. For a super playful, long-travel jump/park bike this bike is hard to beat. in terms of the condition, the bike has seen some time in the bike park and has the normal cosmetic wear+tear that would be expected from any bike that's seen time in whistler, but ultimately this bike didn't get ridden nearly as much as i'd like. Probably less than 20 real bike park days. hit me up with any questions. cash/paypal only, local pickup preferred, buyer pays shipping if it must be shipped. chris

Feb 9, 2022 at 12:21
Feb 9, 2022

Selling
Feb 9, 2022 at 12:19
Feb 9, 2022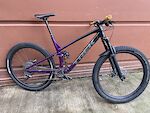 $2600 USD
Bike was purchased as 2020 fuel EX 8, but at this point virtually all parts have been replaced. The bike has been ridden a fair bit and has plenty of cosmetic wear & tear to show for it, there are a few things that could use some attention that i'll try to highlight below, but the bike is 100% sound and ready to ride. I expect any prospective buyer to read through and understand the list. In terms of the frame, it's running just fine but new bearings probably aren't too far off, there's a fair bit of scarring from my pump (see pics with and without, i'm happy to include the pump with the purchase) but that damage is purely cosmetic, there are no dents or cracks, frame is 100% sound. Trek Fuel EX (130mm travel, aluminum frame) size XL Shock and fork are both upgraded and in great shape. Shock is fox float DPX2 evol. Fork is 150mm marzocchi z1 bomber Wheels show some scuffing and cosmetic damage, but it's a perfectly good set of bontrager line pro 30 carbon wheels ($1,200 wheelset) setup tubeless of course with bontrager SE5 tires with plenty of life left. 29x2.3 rear, 29x2.6 front. Brakes are sram G2 RSC, in great shape (no bleed necessary, feel great) on 200 (front) and 180mm (rear) rotors 170mm bontrager dropper could use a service 40mm bontrager line elite stem and line pro carbon handlebar, cut at 790mm XO dertailleur/shifter, XX1 chain, GX cassette and crank. honestly of everything on the bike, the drivetrain could probably use the most love. New chain/cassette/cable would likely go a long way. MRP AMG V2 bash guard/chain guide Saddle is a crappy old one i put on there when i took mine off. No pedals on the bike currently. any other specific questions let me know. Again the bike has certainly been put to use and could use a bit of love, but the price reflects the build spec and condition. Aside from any cosmetic issues, the bike is ready to rip, with a little love this bike could be a very high end trail/enduro bike for years to come. The combination of modern geometry, carbon 29er wheels, and 130mm rear travel with a stout (36mm) 150mm travel fork has made this bike one of my absolute favorites i've ever had. I'm simply trading this one "quiver killer" bike for a lighter XC bike and heavier enduro bike combo. Local pickup is preferred, but i can ship if needed.
Load more...
Featured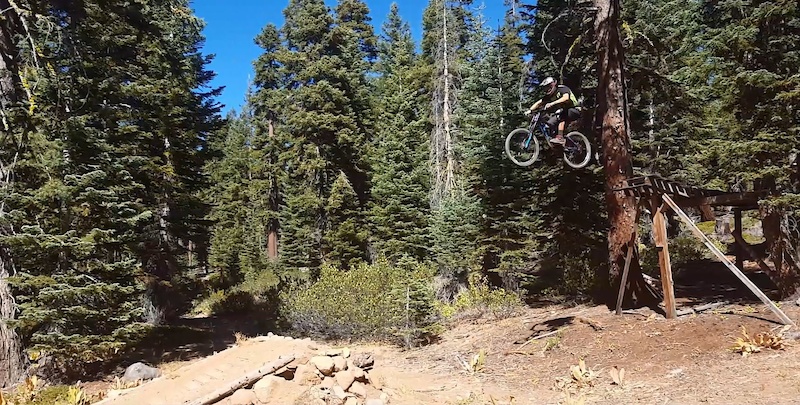 Photo by Lester22291