MVbikerMTB
Member since Dec 13, 2015

Male
Bozeman , Montana
Block user
Recent

Feb 8, 2021 at 22:20
Feb 8, 2021

Selling
Feb 8, 2021 at 22:19
Feb 8, 2021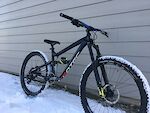 $1800 USD
I'm selling my Large Rotec Revert 5.0. Rotec is a small brand with it's headquarters out of Renton Washington and the Revert is their "trail" bike. This bike is basically the definition of a play bike. It is effectively a long travel slope bike and has to be the most fun bike ever made, it's certainly the most fun bike I've ever ridden. The bike features a concentric bottom bracket single pivot point, which makes the suspension ultra poppy, sensitive, and lively. What results is a bike that pops like a 100 mm slope bike and handles small bumps like a ultra sensitive 150+mm bike. I've used this bike for everything from downhill races at the NW cup, and Enduro races, to dirt jumps, and trail rides. It can turn any bump into huck and then rip around the next corner easier than any other bike I've ever ridden. Only reason I'm selling it is because I outgrew the frame some time ago and have finally decided to let someone else try it. Geometry/Specs Features a flip chip for 4 or 5 inches of travel (currently set up at 5 inches) Features adjustable drop outs for single speed tensioning capabilities (as the suspension design has no chain growth, hence the sensitivity) Made to run 26" or 27.5" shared pivot creates a ultra stiff rear end for snappiness and composure Reach: 448 mm Chain stay: 435mm (adjustable) Parts -DVO Topaz Shock -DVO Diamond fork - currently at 150mm -TRP slate 4 piston brakes -11 speed GX derailleur -Brand new Enduro Max Suspension Bearings I understand buying a boutique brand bike can be worrisome. I'll gladly answer all questions, tell you about all the service I expect it'll need with time, and can even give you the contact info of the owner of Rotec. Reach out with any questions or offers!

Feb 8, 2021 at 19:27
Feb 8, 2021

Selling
Feb 8, 2021 at 19:26
Feb 8, 2021
$2900 USD
I'm selling my MK2 2018 Carbon Fiber YT tues Downhill bike. This thing is sweet and I'm sad to let it go but I need to downsize to one bike. Bike is super solid, no play or wobble, this bike alone took my riding to a whole new level and it's ready to do the same for you. -Frame wrapped early on, very few scratches -Freshly Serviced DVO Jade Coil with multiple spring weights -Rockshox Boxxer RC Air Fork -TRP 4 Piston Brakes - I've compared these to Saints and they hold up on long descents -Renthal Integra 35 stem -Single speed Set up (I have a cassette if you want it) -MTX 33 wheels (Absolutely bombproof but I have a spare wheel to include) -Spare set of bearings -Spare derailleur hanger -Tannus armor in rear wheel, I have one for the front too Let me know if you have any questions!

Jul 27, 2019 at 13:21
Jul 27, 2019

Selling
Jul 27, 2019 at 13:20
Jul 27, 2019

Added 1 video
Aug 15, 2018 at 20:43
Aug 15, 2018

Jul 11, 2018 at 11:16
Jul 11, 2018
Load more...