Marmite1990
Member since Aug 26, 2010

Male / 29
High Wycombe , United Kingdom
Block user
Recent

Sep 23, 2010 at 13:09
Sep 23, 2010
hi, would you take 80 for the scott?

Selling
Aug 26, 2010 at 8:57
Aug 26, 2010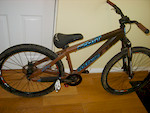 $100 GBP
This scott was so fun to ride, it broke a few months ago, the derailer hanger snapped breaking the rear mech. I decided to convert it to single speed. All is done apart from the chain being fitted, and perhaps a chain device as tension may be a problem. DMR do a perfect one if it is needed, called a tension seeker, these don't normally cost more than £30. The bike has new lizard skin lock on grips not even ridden in, a DMR jump style seat. A Dmr speed guide and pulley style tensioner. Very recently fitted DMR Moto tyre's along with the hydraulic breaks being bleed and cables replaced. The frame is in good condition with obviously a few scrapes and scratches. The bike is also fitted with DMR V12 peddles, not the magnesium set tho. The bike had a service before the hanger broke which found the crank was worn so i decided for most of the crank to be replaced, also the rear real was trued and is now perfect. This bike is very enjoyable to ride and would be great if the money was spent on it. I am selling to raise money for uni. All origional parts will be included with sale even broken one's such as the mech. The price can be negotiated, and i can be texted or rang. Please do this at sensible times. Also in order to purchase the bike it would need to be collected from High Wycombe in Buckinghamshire. (Near London)
Load more...