Mikeyc1988
Member since Dec 29, 2011

Male / 34
Dundee , Scotland
Work for Scottish and Southern Energy (SSE) as a Cable Jointer.
Block user
Recent

Selling
Nov 14, 2022 at 11:44
Nov 14, 2022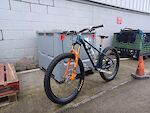 $1900 GBP
Hi guys, Due to relocating due to work, my trek Roscoe 2021 in size medium is up sale. Pains me as it's been hardly used and is unmarked but I have no use for it anymore 2021 model but only ridden a few times. Bike is immaculate with no marks and no wear whatsoever! Could essentially be passed as a brand new bike. Bike hasn't been ridden since all the hope parts have been installed Running tubeless Few upgrades: Fox kashima 34 forks with orange lowers (1 ride old) Brand new Hope M4 brakes in silver with 203mm and 183mm hope silver rotors Hope fortus 35 wheels with the latest hope hubs in silver Hope headset in silver Hope stem in silver Hope space doctor in silver Hope head doctor in silver Hope carbon 800mm handlebars Renthal grips Hope end caps in silver Hope spiderless crankset in silver Hope chainring in silver Hope f20 pedals in silver Hope bottom bracket in silver Lezyne silver bottle cage Hope seatclamp in silver Fox kashima dropper post Sdg saddle Bike is essentially brand new Looking for £2000. I know the bikes worth and the forks alone are over a grand. I need it gone asap and won't allow any offers less. Located in Dundee, Scotland

Oct 28, 2022 at 10:26
Oct 28, 2022

Selling
Oct 28, 2022 at 10:24
Oct 28, 2022

Dec 22, 2019 at 8:47
Dec 22, 2019

Selling
Dec 22, 2019 at 8:45
Dec 22, 2019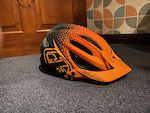 $55 GBP
TROY LEE DESIGNS A2 STARBURST MIPS HELMET ORANGE Size m/l In amazing condition! Rarely used and not a single mark. Never been dropped. Comes with bag and instruction manual Price includes postage Troy Lee Designs A2 Starburst MIPS MTB Helmet Be the envy of all your fellow riders with the A2 MIPS Helmet from Troy Lee Designs. Offering up protection of the highest quality, comfort and ventilation work hand-in-hand to ensure your head is fully equipped to deal with what your session throws at you. Kick Up Roost When you've found your perfect flow, it's time to shred the loam hard and search for the best downsides possible. The huge air intakes are 25% larger than TLD's A1 helmet and are connected to enormous exhaust ports through deep internal channels to ensure powerful cooling efficiency. Brain Protection Releasing the shackles and providing impressive confidence going into the berm is the MIPS patented brain protection system. Revolutionary, the technology allows the helmet to slide relative to the head, safeguarding from rotational violence caused by angled impacts. If the helmet isn't enough, it also comes with a fit kit, ventilated helmet storage bag and a sticker kit. Odour Protection The X-Static® pure silver comfort liner ensures high-performance odour protection and quick-drying moisture-wicking to keep you comfortable and dry all day long. The dual-density EPS has been co-moulded with EPP to provide high-tech impact energy management at high and low speeds plus everything in between. Personalised Fit This helmet has 16% more EPS+EPP in the frontal lobe, as well as raised EPS splines to offer more protection in the most common impact zones. For those that crave a personalised fit, there is a rear stabiliser fit system with slimline, flexible arms using three-position front and rear locations. Value for Money The fully-featured value for money A2 Starburst MIPS MTB Helmet also benefits from an expanded field of view that works with both glasses and goggles and there are multiple storage locations for the glasses. A ventilated storage bag for the helmet and a sticker kit are also included. What is MIPS? MIPS is a Brain Protection System Rotational motion can cause brain injuries The low friction layer allows a sliding movement of 10–15 mm, in all directions, reducing rotational motion to the brain during impact MIPS adds protection Features: Air intakes are 25% larger than on the predecessor, the A1, and massive exhaust ports provide powerful cooling efficiency High-performance odour protection and quick-dry moisture wicking delivered by the X-Static® Pure Silver Comfort Liner Dual-Density EPS co-moulded with EPP for state-of-the-art energy management at low and high crash speeds 16% more EPS and EPP in the frontal lobe and raised EPS splines to provide more protection in common impact zones Aerospace filament-reinforced polycarbonate shell Break-away anodised aluminium visor screws Rear stabiliser fit system with flexible slimline arms has 3-position front and rear locations for a custom fit Expanded field of view works with both goggles and glasses with multiple storage locations for glasses Low-profile fixed strap dividers for a no-fuss fit every time Weight: 350g (M/L)

Selling
Nov 29, 2019 at 12:35
Nov 29, 2019

Nov 28, 2019 at 10:48
Nov 28, 2019

Selling
Nov 28, 2019 at 10:47
Nov 28, 2019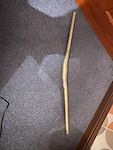 $40 GBP
Hi there for sale are my renthal fatbar lites in uncut length (740mm) Fantastic condition, some small clamping marks but will be hidden when installed in stem! Price includes postage costs

Selling
Nov 28, 2019 at 10:43
Nov 28, 2019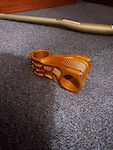 $50 GBP
Hi there, as per above for sale is a hope 70mm stem in anodised orange. Amazing condition, could be passed as new! Not a mark! 31.8mm clamping Price included postage costs

Nov 23, 2019 at 4:17
Nov 23, 2019
Load more...