Mintyjim
Member since May 27, 2010

Male / 42
Aberystwyth , Wales
Block user
Recent

Selling
May 22, 2020 at 23:17
May 22, 2020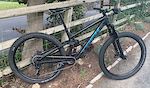 $1700 GBP
Hi, I bought my Slash through cycle-to-work in October 2019. Upgraded some bits, rode it once, had a vasectomy (that went wrong) bought a renovation project house and it's been sat in my garage gathering dust every since! Size M/L or 18" in old money. Upgrades: One-up 150mm dropper post and new ZTTO lever - slight scratch on dropper main body from removal off old bike - see photo. Bontrager 108t rear hub upgrade for faster engagement. Schwalbe Hans Dampf rear tyre / XR4 front - set up tubeless Remaining spec as per Trek website : https://www.trekbikes.com/gb/en_GB/bikes/mountain-bikes/trail-mountain-bikes/slash/slash-8-29/p/24328/ I also "Loctited" and correctly torqued all the frame bolts - as an ex aerospace engineer I like to look after my stuff! I'm 5'8" and definitely on the limit of the minimum height, anyone up to 6' would be fine. It really is in excellent condition; my appalling photography skillz don't do it justice. No pedals - they're just to enable test rides! Cash / bank transfer on collection only. I will not ship - I want you to be happy before you leave with it. I'm located in West Wales, near Cardigan (please note that Aberystwyth is my nearest Pinkbike recognised town but I actually live in Aberporth), so please keep this in mind if you're interested. I can easily accommodate inspections and test rides. I don't want any swaps etc. Please no wallys or chancers; I'm just not interested in having my precious time wasted. I treat people as I wish to be treated in turn. Thanks for looking. If you have any questions or want more photos please let me know. Cheers, James

Selling
Nov 25, 2019 at 1:59
Nov 25, 2019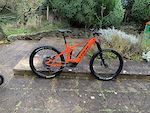 $2400 GBP
No trades/swaps at all thanks. Trek Powerfly LT9 / FS5 2019. I built this for my wife but she hates it! 235 miles only! I bought an LT9 and an FS5 and she loved the orange colour of the FS5 (so did I) but she wanted the travel and specification of the LT9. Fortunately the frames across the Powerfly range are exactly the same so I used the LT9 rear shock and Fox 36 forks to upgrade the FS5 frame. Along the way I upgraded a few parts like the wheels and dropper post. I also added a 5mm 3M backed rubber composite material to the downtube for extra protection, as soon on VW Transporter bumpers. It's running 150mm rear travel and 160mm front on 650b / 27.5 wheels. Full spec as follows: Fox 36 ebike GRIP forks running 160mm travel. RockShox Deluxe RT3, RE:aktiv 3-position rear shock SUNringlé Düroc 40 Wheels. 36mm internal width. Maxxis 2.6 Minion DHR II / DHF tyres. One-up Components 150mm dropper post with ZTTO lever upgrade. SRAM Guide RE brakes with 200mm rotors front and rear. Bontrager Line 35 bars and stem. 35mm diameter and 50mm length stem with 780mm bars. Full SRAM EX1 8 speed ebike groupset. Condition is used but everything, including components, have done 235 miles so excellent really. There's a couple of paint chips which are in the photos but no dents etc. Plus the air shaft top cap has some anodising rub from a socket head when checking oil levels. In the interest of total transparency there are some light marks to the anodizing on the rims as you would expect of any mountain bike that has been used on a mountain! All pivot bolts have been loctited and torqued to specification. It's a beast and effortlessly smooth. Size is 18.5". I'm 5'8" and my wife is 5'10" (no laughing at the back!) and we can both comfortably ride it with the 150 dropper. Collection in person only. Although I can easily meet near Swansea, Cardiff, Yate, M4 corridor, Worcester, Midlands provided you talk to me beforehand! I'm pretty flexible, particularly because I appreciate West Wales is a bit remote for most. No shipping, it's massive and heavy! Charger and 2 keys. Maybe a bell. No pedals. I'm an honest guy and expect to be treated the same in return so no wallys please. Thanks for looking. If I've missed anything just give me a shout. Also on eBay but they won't let you talk/negotiate with potential buyers so I sue Pinkbike too. Bank transfer only on collection. That way you can be happy before you pay. My location says Aberystwyth because it's my nearest Pinkbike recognised town but I actually live in Tresaith, about 50min drive south, along the coast. Cheers. James

Selling
Apr 28, 2019 at 0:22
Apr 28, 2019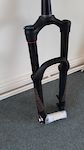 $299 GBP
I have two sets of brand new 2018 Rockshox Yari RC forks. Uncut tapered steerer tube. Comfortably fits a 650b Maxxis Minion DHR II 2.6". Boost spacing Two tokens included but no pump. Both are 170mm but can easily be converted to any travel down to 120mm with an airshaft change. Collection welcome from Cardigan, SA43. Alternatively I'm happy to ship in mainland UK for free. Cheers

Selling
Oct 3, 2018 at 10:33
Oct 3, 2018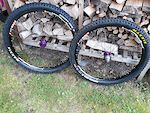 $250 GBP
Very good condition, only done 150 miles but the tyres have done one ride! Boost - 110mm front hub and 148mm rear. I have a Hope adapter to take the front down to 100mm Purple Pro 4 hubs with Sram driver Stans Arch rims MK3 2.4 WT Maxxis DHR II tyres I'll throw in some nearly new 2.3 Specialized Slaughter and HillBilly tyres too Able to deliver to Aber, Swansea, Cardiff, Yate (Bristol) or anywhere in between! Price is fixed and includes postage Cheers James

Selling
Oct 3, 2018 at 8:47
Oct 3, 2018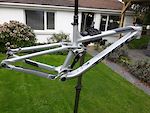 $650 GBP
Hi, Perfect condition frame. Comes complete with a Brand X Ascend dropper post, 120mm drop, fully installed. Also the rear derailleur outer cable is fitted. Naturally the frame includes the Knock Block aheadset, plus a 40mm length Bontrager Line stem in 35mm diameter flavour. 18.5" frame which I guess translates as a medium. Tapered headset. 148mm boost rear wheel and the frame can accommodate both 29 and 650b/27.5 wheels including plus. I've tried a 2.6" 29er and 2.8" 650b and both fitted with ample space! The shock, which is a Fox Performance Float EVOL, RE:aktiv 3-position damper, works perfectly and very effectively! 130mm travel butI used 140mm forks on it. All the bearings are mint. I honestly did about 10 rides on it so approximately 200 miles. I have a 3yr old and a 6 month old baby and therefore ride very little these days! It's a PF92 BB and comes with a Shimano BB already installed. Headset is for tapered forks and includes the crown race. I paid £1350 for the frame in January this year, I have the receipt and this will go with the frame. I bought the Trek as frame only from Sunset Cycles in Cardiff, the receipt is in my name and address. Same as this frame: https://www.allterraincycles.co.uk/trek-fuel-ex-al-mtb-frameset-2018 I've gone electric hence it's for sale. Happy to provide the original receipt. My son was born just after I built it hence the lack of use. My loss is your gain. UK only. Price includes postage, alternatively I can deliver to the following locations, if pre agreed, for some petrol money: Aberystwyth, Swansea, Cardiff, Yate (Bristol). Cheers, James

Selling
Jun 4, 2018 at 0:26
Jun 4, 2018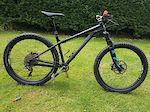 $900 GBP
2018 Medium Nukeproof Scout 275 – with Nukeproof headset 2018 Nukeproof Neutron Boost wheels – set up tubeless with Specialized 2.8 Butcher & Slaughter GRID tyres (new 2018 compound) and spare Schwalbe Nobby nic 2.8 2017 140mm Yari RC Boost forks - immaculate Brand-X Ascend XL 150mm stealth dropper with SRAM integrated lever on the left side. Works perfectly and very fast return! Madison seat which is the same as a Charge Spoon. SRAM Guide R brakes with Uber pads and Shimano Icetech rotors - 203mm front, 180mm rear. The bars are Renthal Fatbar Lite with DMR Death Grips 40mm ragley stem 10 speed Sunrace 11-42 cassette with XT mech and wolftooth adapter. Sram X9 cranks with Works Componets oval thick/thin ring SRAM GXP Boost 32T Apart from the scratch on the top tube where my other bike slid down it :( the bike is immaculate and has done about 30 miles due to demands of a 3yr old daughter and 2 month old son (and my wife!). Collection from Cardigan (SA43) or Swansea (SA4), just off j46 M4. Shipping available at cost.

Selling
Dec 27, 2017 at 1:23
Dec 27, 2017
$850 GBP
Hi, I've finally admitted to myself that for the foreseeable future my life doesn't warrant a decent full suss mountain bike - I have a 2 year old daughter and a heavily pregnant wife - so I've made myself a hardtail and subsequently selling my Jeffsy frame and bits. It's the aluminium version from 2017 in medium. If you're looking at this frame then I'll assume you know what you're looking for and where to find more detail on geometry etc. As such I'll simply detail the extras supplied with the frame: DT Swiss M1900 wheelset - Non-boost front with 15x100 axle size; Boost rear with 12x148mm axle size & Sram XD drive free hub. OneUp Components chain guide - suitable for oval rings too. Race Face Bottom Bracket Acros Headset Nukeproof seatclamp And, probably, best of all; the rear shock has been upgraded to a Fox Kashima CTD for an improved, buttery smooth, suspension action. Specialized bottle cage and 550ml bottle - there are alternatives to the rip off YT Thurstmaster! The frame (and accompanying wheel) are boost with the SRAM only XD drive freehub. Rear travel is 140mm. I've left the rear mech gear housing in the frame so you don't have to thread a new one! On the down tube I added a strip of Hydroturf which is an adhesive backed heavy duty foam - typically used on Jet-ski's and yachts. Honestly everything has done around 200 miles as my rather embarrassing Strava account would attest to! It's in great condition, no heal rub or dents etc. You wouldn't be disappointed I'm sure. Cash on collection is very welcome! Either from Cardigan (SA43, home) or work (J47 Penllergaer, Swansea). Bank transfer or you pay the paypal fees. UK only shipping. Free postage. Thanks for looking. James

Selling
Oct 21, 2017 at 8:32
Oct 21, 2017

Selling
Jul 1, 2017 at 23:14
Jul 1, 2017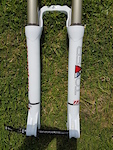 $115 GBP
Great condition Manitou Tower Pro forks. 120mm travel 15mm QR bolt through Recently serviced. Very little use. Original photos can be sent on request. 1 1/8th straight alloy steerer but I will include the Hope 1.5" spacer so you can use the forks in a tapered frame / headset. Length is 184mm Price includes postage within the UK or the forks can be collected from my home in Cardigan, west wales or in Swansea, just off J47 M4, where I typically work one day a week. Cheers, James

Selling
Jun 19, 2017 at 6:26
Jun 19, 2017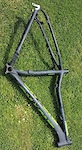 $45 GBP
Hi, Up for grabs is my medium Parkwood frame. Frame looks a bit tired but that's just the thin anodising from On-one. No dents or cracks, really not used much and has been sat in garage gathering dust. It's got a varnish streak down the downtube where I dropped some accidentally! It's dried rock solid and is aesthetics only. £45 posted or can be collected from SA43, Cardigan, where I live or potentially off junction 47 M4, Swansea, where I work one day a week. Sorry - I have no idea why the orientation of the photos is like that, Pinkbike doesn't let you edit them. Cheers James
Load more...