Pointvvv
Member since May 21, 2010

Male / 48
Langford , British Columbia
Block user
Recent

Selling
Nov 2, 2014 at 9:51
Nov 2, 2014

Aug 3, 2014 at 16:59
Aug 3, 2014

Selling
Aug 3, 2014 at 16:57
Aug 3, 2014

Apr 16, 2012 at 12:34
Apr 16, 2012

Selling
Feb 18, 2012 at 11:45
Feb 18, 2012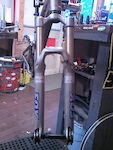 $600 CAD
2010 36 TALAS 160mm 3 settings 160/130/100mm 1.5in steer tube steer tube length is 8 1/2in comes with a blue Straightline stem Fork is in mint shape stanchions are pristine buyer pays shipping

Selling
Jan 7, 2012 at 18:33
Jan 7, 2012

Jan 4, 2012 at 15:29
Jan 4, 2012
Thank you so much for the Nomad frame! It is in the exact condition that you said it was in. Thank you for the quick packaging and shipping. I will give the bike all the love and attention it deserves!

Nov 13, 2011 at 8:22
Nov 13, 2011

Selling
Nov 13, 2011 at 8:18
Nov 13, 2011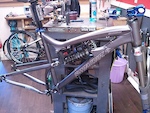 $2200 CAD
selling my 2010 Nomad frame large Ano grey great shape (color no longer available) bushing are all new and I have the grease gun for lower linkage. -Fork is 2010 TALAS awesome shape 160/130/100mm settings stanchions are mint, not a mark, a couple dings around QR -Shock is DHX RC4 mint -Headset is Cane Creek 40 new -Stem is Straightline $2200 note that this frame and shock option retail for around $2400 and the fork retailed for around $1500

Oct 20, 2011 at 20:41
Oct 20, 2011
Load more...