Scrapybike
Member since Oct 18, 2011

Male / 22
Verdun , Quebec
Block user
Recent

Oct 7, 2020 at 11:51
Oct 7, 2020

Selling
Oct 7, 2020 at 11:46
Oct 7, 2020

Apr 13, 2020 at 7:28
Apr 13, 2020

Selling
Apr 13, 2020 at 7:18
Apr 13, 2020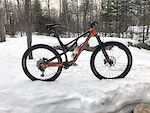 $4800 CAD
Rocky Mountain Instinct BC Edition C90 X-Large This bike has been maintained weekly by a professional mechanic in order to keep the perfect condition of the bike! Immediately when I received the bike, I took out the original Raceface ARC 30 Offset wheels to put my wheels. Therefore, this bike comes with a brand new set of wheels that have never been ridden. I have protected the bike with All Mountain Style protection layers in more susceptible areas. The fork and rear shock received their maintenance as recommended by the manufacturer (FOX Suspensions). Here is a list of the parts. Frame: Instinct BC edition C90 X-Large Fork: Fox 36 Performance Elite Grip2 damper Shock: Fox DPX2 Performance Elite Dropper post: Raceface Turbine R Wheels: Raceface ARC 30 Offset (BRAND NEW) Tires: Front- Maxxis Minnion DHF 3C Exo Rear- Maxxis Agressor 3C Double Down Drivetrain. Shifter: SRAM GX Eagle Derailleur: SRAM GX Eagle Cassette: SRAM GX Eagle Chain: SRAM GX Eagle Crankset: SRAM Stylo 7k Eagle 32T Cockpit. Brakes: SRAM Code R Handlebar: Raceface Turbine R 800mm (UNCUT) Stem: Rocky mountain 35mm Grips: ODI pro elite If you are interested, please let me know by E-mailing me or send me a text message! Cheers, Vincent (I also speak french)

Apr 15, 2019 at 20:51
Apr 15, 2019

Apr 14, 2019 at 19:53
Apr 14, 2019

Selling
Apr 13, 2019 at 19:50
Apr 13, 2019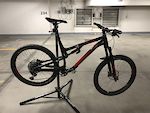 $2600 CAD
Rocky mountain altitude A70 sram Full aluminium Fox 36 fit4 elite (160mm) Fox DPX2 elite Sram gx eagle drivetrain Fox transfer droper post Maxxis minion tyres 27.5" 2.4 WT frequently maintained mint conditions.

Sep 13, 2016 at 19:24
Sep 13, 2016

Selling
Sep 13, 2016 at 19:12
Sep 13, 2016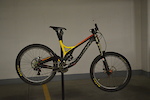 $2100 CAD
Hey everybody, I am selling my devinci wilson sl 2014! This bike is in good conditions and got a lot of mechanical care. I've rebuid and greased the bike 3 times a season. It still put a smile on my face everytime i ride it. This bike is perfect for having fun with friends, jump, race and drift in the berms. It has normal usure and a few minor scratches. Here are the main specs of the bike. Frame: Devinci wilson carbon Large Fork: Boxxer World cup air (Charger Damper) Shock: Fox DHX RC2 Wheels: Easton Havoc 26" (new rear rim) Brakes: Avid Code Cassette: Sram pg 1050 custom made for 7 spd with One UP components DH block Derailleur: Sram XO1 7 spd Shifter: Sram XO1 7spd Cranks: Truvativ Descendant Handlebars: Truvativ Boobar Stem: Truvative direct mount Dh stem Grips: Odi Elite flow Tires: Maxxis Minnion DHF super tacky (3 day of rides at the back) Seatpost: Thomson elite For more informations please send me a message! Vincent. *I speak french too*

Nov 19, 2015 at 13:50
Nov 19, 2015
Load more...