WillOb145
Member since Sep 16, 2020

Menlo Park , California
MTB for life lol
Block user
Recent

Jul 19, 2021 at 17:01
Jul 19, 2021

Selling
Jul 19, 2021 at 16:59
Jul 19, 2021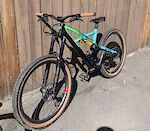 $4750 USD
2018 frame and suspension, but it was just built 3 months ago. all other parts are 2021 Ohlins RFX 36 fork Ohlins TTX coil shock 388 LBS (for 135LBS rider) Santa cruz reserve 30 Maxxis DHR tan wall tires xfusion dropper with wolf tooth lever Code RSC G2 brakes XO1 drivetrain with carbon next2 cranks Cane Creek components TRADE: would love to trade for any similar bike (Yeti sb140 or 150) Bike is in good condition with scratches around the bike from riding, no scratches on stanchions and fork was recently serviced last month. selling for cheaper because i need to sell it soon.

Jul 14, 2021 at 16:30
Jul 14, 2021

Selling
Jul 14, 2021 at 16:18
Jul 14, 2021

Jul 12, 2021 at 13:33
Jul 12, 2021

Selling
Jul 12, 2021 at 13:32
Jul 12, 2021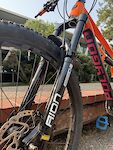 $1500 USD
All the upgrades on this bike Fork: SR Sontour Aion 140mm boost axel 650$ Rock shox reverb dropper post 350$ E-13 front rim 300$ Maxxis Ardent front tire 60$ Race face Chester pedals 40$ Synchros Bars 760mm 60$ Specialized saddle 60$ Headset 40$ Top cap 15 Orange FLNN Grips 2x9 shimano drivetrain shimano brakes

Jul 11, 2021 at 14:59
Jul 11, 2021

Selling
Jul 11, 2021 at 14:56
Jul 11, 2021
$5000 USD
FULL CUSTOM: Seth Sherlock's DH bike Rear triangle replaced - warranty Enve M90 with cushcore pro Chris King ISO hubs Rear rim replaced-Warranty 2019 Factory Fox 40 Grip2 - Serviced Factory Fox DHX2 - sent to fox and serviced - 350 SLS spring Magura MT7 Brakes, RC3 Levers Chromag BZA carbon bars, BZA direct mount stem - Sram XO1DH Derailleur, Shifter & Carbon Cranks The frame is RideWraped and in good condition. lots of ride wrap scratches, but few frame chips I've had this bike for only a month and I'm trying to downsize. Seth Sherlock had ridden this bike for about a year before me, but still great condition. NO LOW BALL OFFERS

Jul 3, 2021 at 18:15
Jul 3, 2021
Load more...