azaussie
Member since Sep 7, 2009

Male / 54
Phoenix , Arizona
Block user
Recent

Oct 2, 2021 at 12:34
Oct 2, 2021

May 20, 2021 at 20:55
May 20, 2021

Dec 21, 2020 at 18:04
Dec 21, 2020

Selling
Dec 21, 2020 at 18:04
Dec 21, 2020

$129 USD
$129 shipped to the lower 48 for this near new (only 4 rides) PNW Coast Suspension dropper. Here is what PNW says about the post: SUSPENSION + DROP We developed the Coast because the earth isn't flat - no matter what those people on twitter say - it's kind of bumpy. The Coast dropper combines ride smoothing suspension and the benefits of a dropper into one seat post. This dropper is designed to help riders on all types of bikes, from packed up trekkers, to the cross country wanderers, even the weekday commuters. Does not come with lever or cable. Message me for PayPal address or with reasonable offers.

Dec 19, 2020 at 8:50
Dec 19, 2020

Dec 5, 2020 at 15:11
Dec 5, 2020

Selling
Dec 5, 2020 at 15:09
Dec 5, 2020

Dec 3, 2020 at 18:01
Dec 3, 2020

Selling
Dec 3, 2020 at 18:01
Dec 3, 2020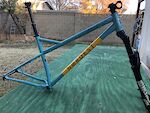 $750 USD
Large Nordest Bardino frame with only 4 rides on it. https://nordestcycles.com/en/product/bardino-2-frame Just built up this Large Nordest Bardino but unfortunately even with the PNW coast suspension dropper post my old back and knees cannot handle a hardtail. Selling Frame and Cane Creek 40 headset (no crown race) for $750 shipped to the lower 48. I would include the PNW dropper post (not lever or cable/housing) for an extra $120 with the purchase of the frame and headset. I would also include the 160mm Lyrik RC (fresh oil and seals) for an extra $350 (I was asking $450 extra but dropped the price due to small oil leak from under the rebound knob.) Nordest says that the frame can fit up to a 29x2.6" tire but I test mounted a 29x2.6" WTB vigilante on a 35mm ID rim and it rubbed the chain stays. A 2.4" tire on 29mm ID rims has plenty of room and a 27.5x3.0" tire has tons of room. PM me with reasonable offers or for PayPal info.

Dec 1, 2020 at 12:50
Dec 1, 2020
Load more...