bigfootlover42
Member since Aug 12, 2019

O+
San Luis Obispo , California
Block user
Recent

Sep 25, 2022 at 18:47
Sep 25, 2022

Selling
Sep 25, 2022 at 18:46
Sep 25, 2022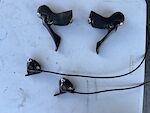 $400 USD
These GRX shifters are take offs from a gravel bike I converted to flat bar. They appear pretty dirty in the photos. Had a couple of rides in on them but they're basically mechanically new with a few slight cosmetic marks. The left shifter acts as a dropper post lever and the right shifter is 11 speed. Brake pads have plenty of life left. Please message me with your name and phone number so that I know you've read this listing. Come take a look!

Selling
Sep 19, 2022 at 12:20
Sep 19, 2022
$5400 USD
2021 Transition Scout Rockshox Lyrik Ultimate 150mm Rockshox Superdeluxe Ultimate Cascade Link 155mm travel Sram Code RSC brakes Magura MDRP 220mm downhill rotors SwissStop RS pads (more power and less noise than stock pads) Sram X01 cassette 10t-52t Sram XX1 copper chain Sram GX AXS upgrade kit GX Lunar cranks 165mm Absoluteblack 28t oval chainring Full ridewrap tailored kit frame and fork (Ridewrap is slightly peeling around some edges but the frame is in amazing condition) Brooklyn Bell fork decal and fenders Oneup Carbon 35mm bars 780mm Oneup 180mm dropper post Specialized Power saddle 155mm Oneup threadless carrier (no tool included) Anvl swage stem 40mm Rainbow titanium hardware for brake levers and caliper mounts Bontrager line Elite 30 Carbon wheelset with 108t hub Front maxxis assegai 27.5 2.5in exo+ Rear maxxis DHR II 27.5 2.4 DD Cushcore XC front and rear I see you dawg. I see you at the trailhead. With your clapped bike, dirtbag greasy hair, IPA foaming at the mouth. Complaining about your bike again huh? All the years of abuse have hit it hard. Creaky pivot bearings, clapped old suspension and outdated geo? Yeah I hear you. Let's see if we can solve that problem because it sounds like you're looking for a SICK SHRED SLED! Hell yeah! Take a ride on the transition scout. A 150mm travel TRAIL MACHINE. The scout is as playful as a dirt jumper in the air and as capable as an enduro bike in the rough. With a 460mm reach, 64 deg head tube angle, and 77 deg seat tube angle, this bike is as modern as frame geometry gets. The steep seat tube angle puts you far forwards on steep climbs so you can wrangle the front end, while the slack head tube angle provides confidence and stability to plow on the descents. The cascade link works its black magic to make the bike twice as poppy yet double as supple. It also increases the rear travel to 155mm without changing the static geometry of the bike. In IPA drinking terms, it lets the bike devour descents and hit FAT jumps while pedaling just as efficiently. This bike will absolutely EAT whatever you want to feed it. Also on the bike is a GX AXS drivetrain. DAMN SON where'd you find this? AXS derailleur and shifter, limits and indexing have been perfectly adjusted. Coupled with a XO1 cassette and a XX1 Copper chain, and rainbow anodized titanium hardware, this bike has some seriously advanced jewelry. This bike is already so good looking but I know you want a lil extra pizzaz. This bike has always been stored inside, and is professionally serviced and owned by a shop mechanic so you know it rides like a dream. Want to throw fat whips on the jumpline, pop off every single trail feature, and then plow a rock garden? This bike is begging you to feed it more. Can't throw fat whips, pop off features, or plow rock gardens? Well that's too DAMN BAD, me neither! But this is the bike that will get you to that level. Now let me take you back to the trailhead. Yup, still the same greasy dirtbag hair, still the same IPA, but now… new bike. A beautiful shred sled. No more complaining, about your frame geo. No more friends complaining about how clapped your bike sounds. Just PURE STOKE to be on the trail. This Transition Scout will be the most fun you will ever have on a bike. Dream with me. PayPal goods and services. Buyer pays PP fees and shipping/packaging fees. Ship via bike flights. Please no offers of trades, lowballs, massages, favors, NFT's, or crypto.

Selling
Jul 22, 2022 at 10:43
Jul 22, 2022

Jun 14, 2022 at 13:23
Jun 14, 2022

Selling
Jun 14, 2022 at 13:21
Jun 14, 2022

Selling
Feb 26, 2022 at 14:39
Feb 26, 2022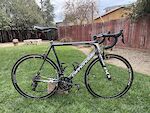 $900 USD
The following is a listing for a friend: I bought this bike with my last dollar after my wife divorced me and took the kids in 2014. It put me in severe debt and I am forever financially crippled from this impulse purchase. However do not let this sob story deter you from enjoying this beautiful road machine, as it has been upgraded thoroughly with a full 105 11 speed drivetrain and regularly tuned by an avid bike mechanic. It has always been kept inside and has no rust. The 2014 Cannondale sUpErsIx eVo is road racer's dream. It has an extremely lightweight full carbon frame, fork, seat post, which is perfect for climbing. The SuperSix Evo is designed as a race bike and provides stiffness when you need to put down the power, but compliance when you need comfort for those double centuries that you "definitely" do every weekend. It is the perfect bike for SLO County, as it is a lightweight climber's dream. With this bike you will dance up steep grades, pull ahead of all your pretentious espresso sipping riding buddies, all while laughing because you didn't make the mistake of financially crippling yourself like I did. For a financially sound investment of $900, you can own your dream race bike AND prevent your wife from leaving you. Shelley, if you are reading this: I'm sorry, I still love you and I want you back. Listed below are all the parts for this build: 2014 Cannondale SuperSix Evo 58cm Carbon frame and fork Cannondale Carbon seatpost Cane creek integrated headset with carbon spacers 3T ARX 110mm stem Cannondale C2 Alloy bars 44cm Shimano 105 5800 brifters Shimano 105 5800 brakes Shimano 105 5800 front derailleur Shimano 105 5800 rear derailleur Shimano 105 5800 CS 5800 11-28t 11 speed cassette FSA Gossamer 175mm alloy crankset 50/34 FSA BB30 Bottom bracket Reynolds Solitude rims 31mm depth Front tire Continental Gatorskin 25mm Rear tire Continental Gator Hardshell 25mm Shimano 105 PD-5800 SPD-SL pedals Cannondale saddle Lezyne side load flow cages Respond to this listing with your full name and phone number so I know that you've read it thoroughly! Buyer pays shipping and PayPal fees. I will have it professionally packaged and bike flights it to you. I am not accepting cryptocurrencies, favors, massages, trades, or NFT's.

Jan 10, 2022 at 20:41
Jan 10, 2022

Selling
Jan 10, 2022 at 20:37
Jan 10, 2022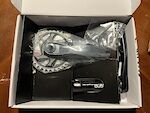 $130 USD
Brand New In box, free shipping within US. Paypal goods and services, buyer pays fees

Oct 14, 2021 at 13:02
Oct 14, 2021
Load more...