biglev
Member since May 23, 2006

Male / 48
Guernsey , United Kingdom
I like frame building, racing and retro bikes too. www.levybikes.com
Block user
Recent

Jan 24, 2023 at 3:16
Jan 24, 2023

Selling
Jan 24, 2023 at 3:15
Jan 24, 2023
$155 GBP
Bos Deville fork Tapered steerer 180mm long 170mm travel Hi speed and low speed compression and rebound One minor mark on the stansions recent seal and finish line oil Comes with original Bos oil. I have the bushes replaced as the felt slack and they came back feeling similar, aparently Bos forks a smooth because they run a wider tolerance than fox. Cosmeticlaly they could do with a clean and rebound decal stick down but a great enduro fork.

Selling
Jan 24, 2023 at 3:10
Jan 24, 2023
$80 GBP
Fox X2 rear shock 222x66 Standard fitting Had been serviced by j tech holds air well, all the dials work. has the classic compression cavitation so it will need a service, hence the price I have moved to the new x2 kashima so this needs to go.

Jan 24, 2023 at 2:54
Jan 24, 2023

Selling
Jan 24, 2023 at 2:53
Jan 24, 2023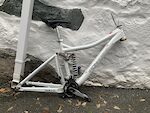 $250 GBP
Iron Horse 7point9 Frame Medium 170mmm travel No Dents or crack Had new paint a few years back some scapes and chips Has a Serviced 5th element shock [35 spring] King lower headset and nuke proof top for a tapered frok 30.0. seappost witha 27.2 reducer Saint cranks 150x12mm rear end and axle

Jan 20, 2023 at 3:14
Jan 20, 2023

Selling
Jan 20, 2023 at 3:13
Jan 20, 2023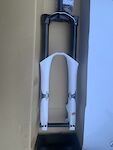 $249 GBP
For sale. Marzocchi 66RCX2 2007. 170 travel. 1-1/8th steerer Fresh oil and seals marzocchi and 7.5wt finish line oil. Stansions are good. Disk mounts are good. All the dials work ( the x compression is a little stiff but turns by hand) . New lsc adjuster and spare seal kit. Some scuff to the lower legs and the crown. Was£275 plus shipping. Now £249

Jan 4, 2023 at 9:29
Jan 4, 2023

Selling
Jan 4, 2023 at 9:29
Jan 4, 2023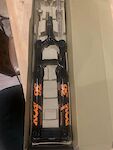 $325 GBP
Fox 36 performance Grip. Boost 29" wheels. 170mm travel and a tapered steerer 168mm long. 44mm offset. Recent service with new damper, seals and axel. Comes with old broken damper.

Selling
Jan 4, 2023 at 9:28
Jan 4, 2023
Load more...