breezy85
Member since Dec 15, 2009

Male / 34
Gaithersburg , Maryland
Block user
Recent

Selling
Aug 11, 2020 at 14:31
1 days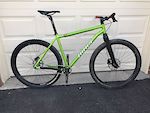 $1500 USD
Rode it, enjoyed it, stripped it, and rebuilt it. Selling my XL Kermit Green Niner One9 single speed rigid hardtail. Tensioned via a Niner EBB. Great build with some high end parts, and very light with the Easton Scandium tubing. Built up with a brand new rigid carbon fork, RaceFace Turbine 1x crankset with a 32t narrow wide ring, 20t cog out back, Velocity Blunt wheels with 2.4"/2.35" tires, RaceFace Turbine seatpost, takeoff Ritchey Skyline saddle, Specialized cockpit with bars and lock-on grips, 60mm Kona stem, nice set of Shimano Deore brakes with 180/160mm rotors w/ strong bleeds, and a Cane Creek 40 headset. 22lbs on my bathroom scale so this rig rips. Chainstay underneath the inner tube wrap is clean- I do it to prevent heel rub, and I like the look. Will ship for cost if you're not local.

Selling
Aug 9, 2020 at 6:48
Aug 9, 2020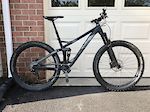 $3000 USD
Medium Devinci Marshall 27.5+ Boost with an XT/SLX build and a couple upgrades. Currently set up 27.5+, but frame and fork are 29" compatible. Other than a little dust on the tires, it could pass for new. ~300 miles with new 3.0" Nobby Nics with one ride on them. Has a 120mm Pike RCT3 Charger fork with 110mm of rear travel. 1x11 with M7000 SLX brakes, SLX iSpec shifter, and XT M8000 rear derailleur. RaceFace cockpit with 170mm Turbine cranks, 50mm Aeffect stem, Atlas bars w/ 35mm clamp, Reverb dropper with remote, Ergon grips and saddle, eThirteen taco bash guard, Aeffect 40mm wheelset, crank arm guards, and DT Swiss RWS rear skewer. Brakes have strong bleeds, fork is plush with good oil, and pivots and bearings are all smooth. Great rig (same as the Hendrix that came before it), and ready to ride. This is the highest spec AL build, and the frame is only 1lb more than the carbon version. No problem shipping for cost using ShipBikes.com or BikeFlights- I go with whichever is cheapest.

Selling
Jul 26, 2020 at 15:04
Jul 26, 2020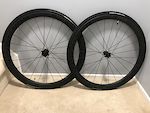 $1350 USD
This is a set of excellent condition Bontrager Aeolus 3V TLR tubeless 700c carbon wheels. Great for any disc brake road or gravel build. They come with tubeless 28c Continental Grand Prix 5000 TL tires mounted. Bladed spokes, rapid drive 108 points of engagement, Shimano splined, and 12x100 front and 12x142 rear axles. The front is also convertible to 15mm with adapters. Miles on the wheels are ~600-700, and they are in fantastic shape with smooth bearings. They are centerlock disc brake only and manufacturer specs have these weighing 1,551g so they're super light. 25mm internal rim width.

Selling
Jul 24, 2020 at 9:51
Jul 24, 2020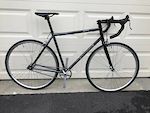 $850 USD
This is a steel Redline 925 SS in size 58cm. Set up for commuting now, but doubles as a single speed CX/gravel rig that can fit 35c gravel tires. Great build with brand new Schwalbe Lugano tires and new Bontrager bar tape. Has drop bars, Tektro brakes, Ritchey cranks, Ritchey bars, Specialized Henge saddle, and has a flip flop hub so you can ride single speed with a freewheel or fixed. Bearings are smooth and bike is ready to ride.

Selling
Jul 23, 2020 at 16:18
Jul 23, 2020

Selling
Jul 20, 2020 at 5:42
Jul 20, 2020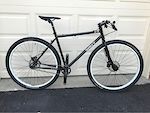 $1300 USD
Large Surly 1x1 29" single speed steel 4130 chromoly mountain bike. Set up 32x20t with a Salsa chain ring, brand new Orbea lock on grips with red lock jaws, new Chris King style headset with sealed bearings, carbon bars and seat post, Prologo saddle, Hayes Prime brakeset, takeoff Shimano crankset and BB with maybe 10 miles, Ritchey stem, half link and bolt on through axles on horizontal dropouts, and matching Sun Ringle white Rhyno Lites. Great build and ready to ride. Can be set up 26" or 27.5" but currently 29" with 2.2/2.1" tires. Sweet build and ready to roll.

Selling
Jul 15, 2020 at 13:50
Jul 15, 2020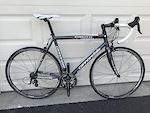 $1150 USD
56cm Cannondale CAAD9 with 10 speed Shimano 5700 groupset and carbon fork. It's seen very little use overall. Paint is still nice and glossy and everything shifts smooth. Lines, tires, and brake pads are solid, tape is more fresh than it is worn. I literally took the reflectors off the wheels just to take these pics and peeled the plastic film off the derailleurs and shifters... it's in very solid shape. Has a Prologo saddle, setback seatpost, Bontrager RL stem, and semi-compact FSA 52/38t crankset. Local pickup in Maryland or I'll ship it for cost.

Selling
Jul 14, 2020 at 10:14
Jul 14, 2020
$325 USD
This is a White Brothers Loop 29" non-boost disc brake fork. Axle is 15mm x 100mm. Stanchions are clean, and the lowers are in great shape too. Has 7.5" of tapered steerer tube. MRP bought them a while back and rebranded them to the MRP Loop, and this is the White Brothers branded version. Great fork, ready to mount and go.

Selling
Jul 14, 2020 at 10:07
Jul 14, 2020
$425 USD
This is a BOS Dizzy 29" disc fork. Set at 120mm, and in great shape. Has a 15x100mm non-boost axle and 6-5/8" of tapered headtube. Mount up and go. It's one of the smoothest forks I've ridden. You don't see too many around. Cleaned after every ride, seals and oil are good with low hours.

Selling
Jul 14, 2020 at 10:03
Jul 14, 2020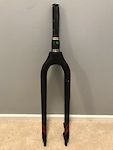 $275 USD
This is a Specialized Chisel 29" carbon fiber disc brake fork. It has FACT carbon, 9mm droputs, 7-1/4" of tapered steerer tube, 47mm offset, 480mm A2C, brake hose routing, and a compression plug w/ top cap installed for easy mounting. Great shape, just running suspension on my current bike. Similar style to the Bontrager Bowie and Niner RDO carbon forks. I got 1.2lbs on my digital bathroom scale, which is roughly 544g with the plug and top cap installed. I ran 2.4" tires, but I've heard of others running up to 3.0"- not confirmed personally, but solid clearance. Great condition lightweight fork ready to ride.
Load more...