cacklefactory
Member since Jun 4, 2011

Male / 35
Albuquerque , New Mexico
Block user
Recent

Apr 23, 2015 at 19:08
Apr 23, 2015

Selling
Apr 23, 2015 at 19:06
Apr 23, 2015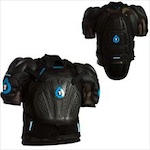 $75 USD
I got a new sixsixone vapor suit in short sleeve. I got it a couple years ago but it was a backup, so it never got used apart from being tried on once. It doesn't look like they make the short sleeve one anymore, but it looks identical to the newer rage pressure suits but without elbow pads. Selling locally in albuquerque, nm. Or add 10 to ship. 15 to canada.

Selling
Jun 27, 2011 at 12:57
Jun 27, 2011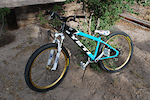 $850 USD
Hey, I got my 2008 Yeti DJ up for sale. Features: medium 2008 yeti DJ frame in great shape with little wear. As you can see by the pics all the welds are solid. Gold Azonic Outlaw wheelset Fox F100 fork Thomson seat stem uncut PBR saddle Shimano XT rear brake(could use a bleed) Avid Code 5 front brake Shimano Deore XT crankset truvativ hussefelt stem durace shifter/derailleur(retarded I know. If you want I will convert it to single speed before selling or you could do it yourself and sell the durace.) Either comes with some very good condition Maxxis Holy Rollers that I just bought or Specialized chunder and Kenda Karma if you want some better dirt tires. Only thing to note is one of the chain guides came off, I still have it but it needs the screw to put it back on. Local is preferred but if you want to pay for shipping I have no problem shipping it to you. PM ME FOR OFFERS

Jun 17, 2011 at 10:51
Jun 17, 2011
Write on cacklefactory's board

Jun 16, 2011 at 22:47
Jun 16, 2011

Selling
Jun 16, 2011 at 22:40
Jun 16, 2011

Jun 4, 2011 at 18:58
Jun 4, 2011

Jun 4, 2011 at 17:55
Jun 4, 2011

Jun 4, 2011 at 13:39
Jun 4, 2011

Jun 4, 2011 at 13:34
Jun 4, 2011
Load more...