So I've recently managed to get hold of a 2010 boxxer race fork, fitted with the 20 mm Open Bath Fork Replacement Cartridge Kit from Avalanche Downhill racing, and as reviews are lacking on the internet I thought it only proper to give my thoughts on the product.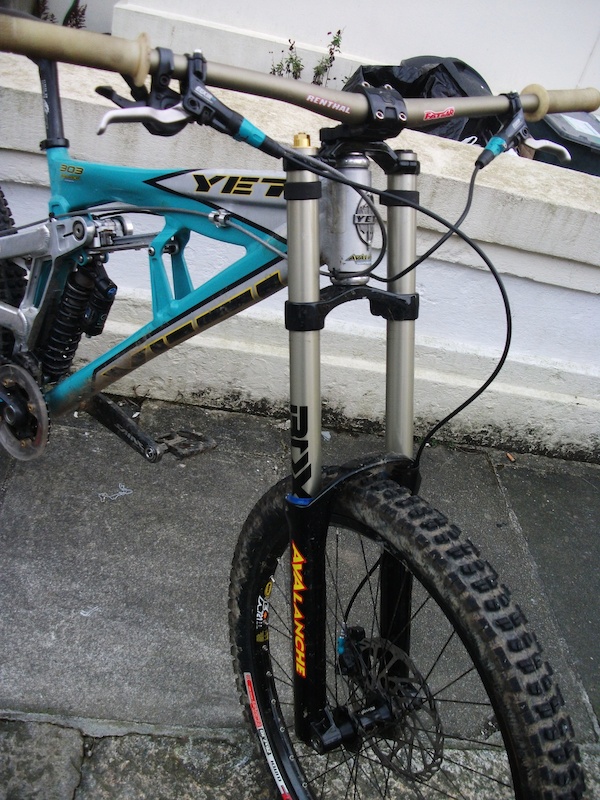 Firstly it's important to know the heritage avalanche racing has and I'm sure most of you will remember the remote reservoir shocks and motocross proportioned forks seen on Brooklyn's and the like back in the day. Now those forks are brilliant, but lost out in the weight stakes as downhill became leaner and faster. That's where the replacement cartridge comes into play, available with adapters to fit pretty much any fork you could desire (a fox 40 version is also in the works now) you gain the benefits of the lightweight fork chassis the big companies have developed, with motocross quality internals.
I'd recommend at this point reading up on the product, as I don't want to bore you all with too many technical details. Information is available here:
http://www.avalanchedownhillracing.com/20%20mm%20Cartridge.html
In summary it's a fully hydraulic damper, speed sensitive with external low speed rebound and compression adjusters. With the optional mid tune (on the fork tested here) you can internally fiddle around with shim stacks to give control over brake dive, hold the fork up in the corners and on the jumps. Several base tunes are available for dh,freeride and even urban use. The fork here has the downhill tune, more linear with faster rebound.
The fork
So the first thing I did when I picked this fork up was take it apart, no point reviewing the product if the oil heights are wrong and it hasn't been looked after. The first thing that strikes you is the quality, I've serviced and modded a lot of forks for friends and have often been disappointed with the sheer amount of plastic and flexy cheap feeling parts. You'll find none of those here, just nicely machined parts with perfect tolerances.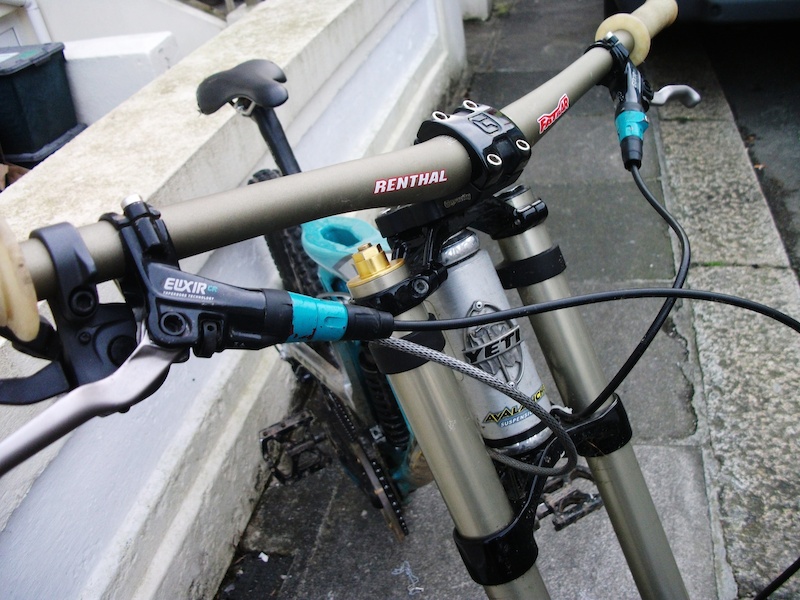 Low speed rebound adjuster up top, compression is found down low.
With the oil heights checked, the fork greased up I spent a while playing around with setup. It should be noted I'm the second owner of this fork, but it didn't really need the service I gave it, and I received all the spares and set up guides. In these documents are recommended initial set ups, guides on playing with the shim stacks, details specific to this one fork and more. Few new forks come with as helpful a level of information and as good a set of base settings. The adjusters themselves do require a screwdriver, and this may annoy some people, but it stops my mates messing with my settings when I'm not looking, so both a blessing and a curse! They spin with a smooth action and a nice feeling click every turn that screams quality. The cart was fitted in a boxxer race chassis as it also controls bottom out, negating the need for the bottom out adjuster found on the team and world cup, saving a bit of weight and doing a far better job of it, but more on that later.
It being a speed sensitive damper, and these being low speed adjusters, the parking lot test didn't yield a huge amount of difference between turns, but when out on the trail it all started to come together. I like my suspension set up fairly soft, ramping up late with a slow rebound. I achieved a good setup really quickly on this fork and ended up using a medium spring, despite my old 2010 boxxer needing a soft (that was still to stiff due to the noticeable amount of stiction). I do have enduro seals, my third set, and have noticed how smooth they make most forks, but the avalanche felt a whole plusher, with significantly less stiction than the old boxxer damper. The seals do receive horror stories of eating stanchions, but I've had no issues, probably down to the fact I often regrease my seals and bushings. The plusher fork also helped me get more balance from my bike, the plush rail system of the 303 being quite badly upset by the stock boxxer damper.
Out on the track I was quickly impressed with these forks, I was running a tad more sag than usual (around 35%) so was worried about frequently bottoming them, but it hasn't happened yet, despite some scary over the front moments. They always feel very composed, the optional mid tune meaning that despite being set up soft, they still keep that pop of the lip of a jump, and the bike stays in shape in through corners, allowing you to sit central and just worry about steering not unpredicted weight transfers. Through choppy root sections (and stairs if you ride anything urban) they remain composed whilst absorbing the small frequent hits thrown at them, your wrists don't take any punishment, but you also don't feel like you're riding a marshmallow.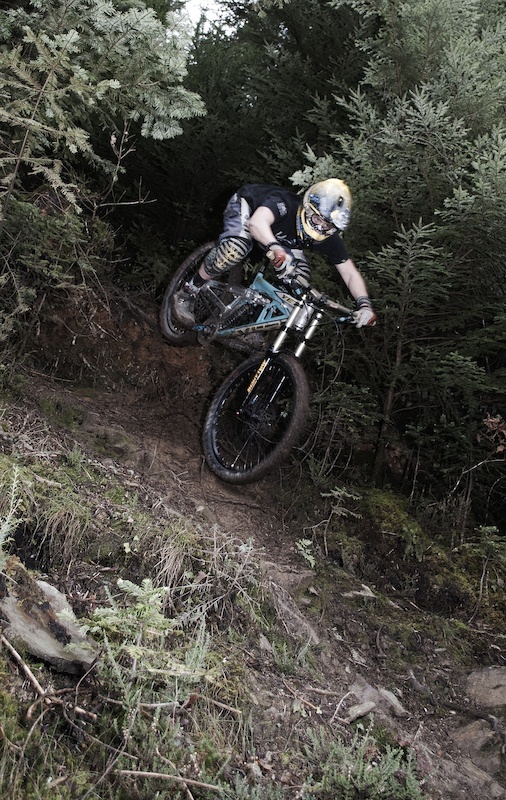 Forks being put through some abuse at the bottom of cann woods
I do think speed sensitive damping is so much easier to get the best out of compared to the many forks offering a multitude of independent adjusters. Simply set your sag and rebound as you want them, and the fully hydraulic system just feels right all the time, it's simply so hard to cock up the settings and I feel a lot of riders could benefit from this. The other huge benefit is the reliability, avalanche say yearly servicing, much better than the faff that comes with a boxxer or fox 40 to keep them running sweet.
I can't recommend this product enough, avalanche upgrades are sensibly priced (heck you may even make your money back with how little they'll need a service, and the fact you'll be able to do it yourself) they offer a genuinely noticeable improvement and are one of the few truly speed sensitive dampers available. You get motocross quality and feeling suspension at a fraction of the price and weight of an original avalanche fork. Well worth considering, so what are you waiting for?
Fork cartridges and adaptor kits are available directly from Avalanche Racing:
http://www.avalanchedownhillracing.com/AVA%20ADV.htm
Prices start at $299 for the cartridge with no adapters. $427 for the product tested here as a self install kit.