chicken74
Member since Jan 21, 2010

O+
Male / 49
Stafford , United Kingdom
Block user
Recent

Feb 9, 2023 at 1:48
Feb 9, 2023

Jan 16, 2023 at 8:59
Jan 16, 2023

Jan 10, 2023 at 0:51
Jan 10, 2023
First Look: Hope's New F22 Flat Pedal
Still using those crap pins for grip , come on hope everyone knows grub screws are grippier , I love hope stuff and use it on my bike but the last pedals weren't grippy at all !!!There are better Grippier pedals out there Burgtec , Unite ! Sorry Hope .

Nov 4, 2022 at 11:25
Nov 4, 2022

Oct 28, 2022 at 11:47
Oct 28, 2022

Oct 12, 2022 at 8:56
Oct 12, 2022

Selling
Oct 12, 2022 at 8:52
Oct 12, 2022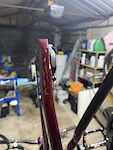 $4300 GBP
Right people I have added some new parts and with great regret I need to sell it. I bought this frame from Stiff bikes over a mth ago "it was a spur of the moment decision" but i have decided to sell the bike and parts, all of which is legit with paperwork for frame there is nothing wrong with anything i just can't justify 2 bikes at the moment .Frame has been built with some new and old parts . Frame has had 4 rides on it , there are a 4 superficial chips and a scuff from the Hope floating disc rub and the chips are where they managed to avoid the Invisiframe , what are the odds it's a mountain bike ! The bike is not in use atm and is just waiting for a buyer. -Frame is a Hightower 3 CC size large in translucent purple with the new Rock Shox Super Deluxe ultimate rear shock 145mm travel.With the new Glovebox inframe storage with 2 storage bags . It has been Invisiframed from new out the box . This colour is absolutely amazing in the sunlight and is a real head turner. Receipt available -Forks are Fox 2021 factory Grip 2 36 160mm Invisiframed from out the box new -Wheels Brand new never used Roval Traverse 29 wheels and hubs totally fresh comes with sram XD freehub body to switch to sram cassette if needed (now comes with the better 54t ratchet for better and quicker engagement). And they have now been converted to tubeless wheels with Peaty mk2 purple valves and are even lighter now ! -Fox 2021 Transfer Factory dropper post 150mm drop - Renthal Fatbar Carbon 35mm clamp 760mm wide, 30mm rise. -Brakes brand new Sram Code RS brakes 220mm front rotor and 200mm rear rotor never used -Hope Stem 35mm clamp 50mm length purple - One Up components top guide and bash guard -New Specialized Bridge comp 143mm saddle( Note seat not in the pictures) ! (Now Pictured) -Hope Headset -Hope Seat clamp -Hope 30mm bottom bracket purple -Hope Evo Cranks 170mm black with purple bolts -Hope 32t chainring Round - XTR rear 12 speed mech and XTR 12 speed rapid fire shifter in superb condition. -Fox long mudguard (Newley fitted ) -Shimano SLX Cassette 10-51 -chain (will come with brand new chain fresh and ready to go) tbc - Tyres Are brand new Specialized Butcher 2.3 front T9 compound / rear T7 compound fresh treads . -Santa Cruz Carbon bottle cage - Unite pedals with long pins 5 rides only -Brand new Diety grips I'm open to sensible offers so please get in touch . Right I thinks that's everything please check it out and no Time Wasters , btw this bike rips on every trail you point it down or up ! PB msg or txt me in interested please Thanks.

Selling
Oct 12, 2022 at 6:39
Oct 12, 2022

Sep 8, 2022 at 12:20
Sep 8, 2022

Selling
Sep 8, 2022 at 12:15
Sep 8, 2022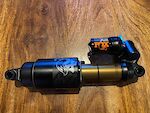 $350 GBP
For sale is this Fox X2 air shock with climb switch with HSC, LSC, HSR, LSR with climb switch . It was on my SC Megatower the shock is in excellent and perfect working order no problems at all . There is a tiny scuff on the air can but I have touched it up and tiny cable rub on sticker all superficial. Comes with box and instructions and volume spacers and spare bushings as well Please msg me any questions and no time wasters please Thanks
Load more...