chochocho
Member since Apr 2, 2008

Male / 31
Cerritos , California
hi. 안녕 :3

I ah Egngeeneir. hur hurr durr.
Block user
Recent

Mar 14, 2021 at 15:11
Mar 14, 2021

Selling
Mar 14, 2021 at 15:11
Mar 14, 2021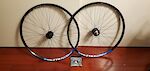 $350 USD
Hello All, Selling my used non-boost mountain bike wheelset. - Rims: Stan's NoTubes ZTR Flow 650b 27.5" (22.7mm inner rim width, 27.8mm outer rim width) - Hubs: Front: Hope Pro 2 Evo 15x100 (non-boost) 6-BOLT disc. - Will also come with Torque Caps for use on RockShox Forks, regular caps included as well) Rear: Hadley Hub 72 points of engagement 12x142 (non-boost) with XD-Driver body 6-BOLT disc. The wheels came with a used bike I purchased a few years ago and just selling it now since I upgraded. The rims are free from any dings or dents and just has usual wear and tear. The only cons that I just noticed after removing my cassette are the spokes on the rear hub near the J-bend have some galling/wear from what looks like the chain falling off (as shown in photos). I've never had my chain skip past the cassette on my bikes, so I'm guessing it was caused by the previous owner. Regardless, I've ridden this wheelset for the past 3 years like this with no issues. Buyer pays shipping. Will ship using shipbikes.com Paypal only and make sure the address in the paypal account is the address you want the wheels shipped. Otherwise, I won't ship the wheels to anywhere else. Thats about it! Thanks for looking.

Oct 20, 2020 at 15:26
Oct 20, 2020

Selling
Oct 20, 2020 at 15:12
Oct 20, 2020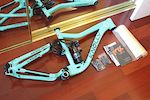 $1600 USD
Hello All, Selling an almost new 2019 Knolly Warden in Medium. Purchased it brand new back in February of 2020. This frame has little to no wear whatsoever! I applied clear 3M and tape on all the areas of the frame where there was potential cable rub. And since the bike wasn't ridden for long, no rock chips on the downtube. Only wear is near the derailleur side where the chain hopped off the cassette and chipped the paint in the rear. (as shown in the photos, very minimal). Other than that, this frame is immaculate. I have attached photos of the geometry as well as all the basic spec info from the Knolly website. So, please review that image to determine if your parts will fit on this frame. Comes with: Fox Float X2 Factory rear shock Seatpost clamp Banshee headset Spare cable management hardware Fox shox manuals and Knolly spare decals The price is negotiable! Thanks for looking! Andrew.

Mar 15, 2020 at 12:24
Mar 15, 2020

Selling
Mar 15, 2020 at 12:24
Mar 15, 2020
$900 USD
Selling a used 2013 Banshee Spitfire V2 - Large Frame is is good condition, just minor wear from riding under my ownership. The scratches on the right side of the downtube is from the previous owner. Other than that, the bike has no cracks or dents of any kind. Will come with: - Frame with 142x12 rear end - Fox Float CTD rear shock - FSA head set 44/56 - Banshee seatpost 30.9 Reason for selling, purchased a new frame. So this is up for sale. Thanks for looking.

Mar 3, 2020 at 21:51
Mar 3, 2020

Selling
Mar 3, 2020 at 21:50
Mar 3, 2020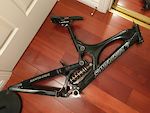 $650 USD
Hi, Selling a Medium 2010 Santa Cruz V10.3 Comes with Cane Creek headset, WTB saddle with seat post, and Fox DHX RC4 with 550 LBS titanium spring. Cons: I purchased the bike 'used' (2018) a couple years ago on pinkbike, and the seller didn't tell me it had a 2 inch dent on the chain stay.. (it was covered with the santa cruz chain stay protector..) Apparently the rear triangle was also painted black, as you can see the orange powder coat underneath it.. (I noticed it after riding, from the chain slap, rocks, and dirt chipping away at the black paint) I checked over every weld and crevice of the frame for cracks. No cracks, thankfully. Just that one dent. Other than that dent, the bike has been really solid for me these past couple seasons at the bike park. The frame initially came with a Marzocchi ROCO WC, but it didnt feel good.. I soon afterwards upgraded it to the DHX RC4. Reason for selling: I crashed pretty hard at the bike park last season (was peeing blood), and got a nice 1 inch divot on my shoulder. (The bike was OK! .. since I landed on myself.. LOL) That was enough reason for me to stop riding at the bike park. I also just purchased a new enduro frame.. so maybe thats also another reason for selling.. haha But yea.. this V10.3 has been a dream bike of mine since high school. Now that I have been able to experience it, I am fully satisfied with it, and its time for it to go to its next owner. I am fully transparent with this frame, as I don't want you guys to find any unexpected surprises after purchase like I did. If you have any questions, please feel free to ask! Thanks, Andrew C.

Selling
Nov 30, 2019 at 12:46
Nov 30, 2019

Nov 18, 2018 at 16:14
Nov 18, 2018
Load more...