chochocho
Member since Apr 2, 2008

Male / 28
Cerritos , California
hi. 안녕 :3

I ah Egngeeneir. hur hurr durr.
Block user
Recent

Mar 15, 2020 at 12:24
Mar 15, 2020

Selling
Mar 15, 2020 at 12:24
Mar 15, 2020
$900 USD
Selling a used 2013 Banshee Spitfire V2 - Large Frame is is good condition, just minor wear from riding under my ownership. The scratches on the right side of the downtube is from the previous owner. Other than that, the bike has no cracks or dents of any kind. Will come with: - Frame with 142x12 rear end - Fox Float CTD rear shock - FSA head set 44/56 - Banshee seatpost 30.9 Reason for selling, purchased a new frame. So this is up for sale. Thanks for looking.

Mar 3, 2020 at 21:51
Mar 3, 2020

Selling
Mar 3, 2020 at 21:50
Mar 3, 2020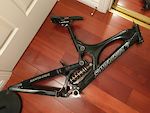 $650 USD
Hi, Selling a Medium 2010 Santa Cruz V10.3 Comes with Cane Creek headset, WTB saddle with seat post, and Fox DHX RC4 with 550 LBS titanium spring. Cons: I purchased the bike 'used' (2018) a couple years ago on pinkbike, and the seller didn't tell me it had a 2 inch dent on the chain stay.. (it was covered with the santa cruz chain stay protector..) Apparently the rear triangle was also painted black, as you can see the orange powder coat underneath it.. (I noticed it after riding, from the chain slap, rocks, and dirt chipping away at the black paint) I checked over every weld and crevice of the frame for cracks. No cracks, thankfully. Just that one dent. Other than that dent, the bike has been really solid for me these past couple seasons at the bike park. The frame initially came with a Marzocchi ROCO WC, but it didnt feel good.. I soon afterwards upgraded it to the DHX RC4. Reason for selling: I crashed pretty hard at the bike park last season (was peeing blood), and got a nice 1 inch divot on my shoulder. (The bike was OK! .. since I landed on myself.. LOL) That was enough reason for me to stop riding at the bike park. I also just purchased a new enduro frame.. so maybe thats also another reason for selling.. haha But yea.. this V10.3 has been a dream bike of mine since high school. Now that I have been able to experience it, I am fully satisfied with it, and its time for it to go to its next owner. I am fully transparent with this frame, as I don't want you guys to find any unexpected surprises after purchase like I did. If you have any questions, please feel free to ask! Thanks, Andrew C.

Selling
Nov 30, 2019 at 12:46
Nov 30, 2019

Nov 18, 2018 at 16:14
Nov 18, 2018

Selling
Nov 18, 2018 at 16:12
Nov 18, 2018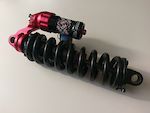 $200 USD
For sale is my Marzocchi ROCO WC rear shock. It was taken off my SC V10 and was replaced with another shock. Still in working condition. 8.75 x 2.75 500 LB spring as shown in the photos. Thanks!

Selling
Nov 18, 2018 at 16:10
Nov 18, 2018
$35 USD
Hello, Selling a used Sram PG 970 DH cassette I believe this is the very first generation model, where the 1st and 2nd cogs were solid. Very Strong, and since the first cogs are solid, you won't have to worry about the cogs shearing from pedaling hard. (I've seen this happen before on a buddy's cassette. He was cranking down hard on the pedals and the Cog just sheared from all the pedaling force) - 11-26 tooth range - 9 speed - Red Thanks for looking!

Aug 1, 2014 at 22:54
Aug 1, 2014

May 16, 2014 at 20:14
May 16, 2014
Load more...