daytoncrites
Member since Jun 7, 2011

Male / 39
Logan , Utah
Block user
Recent

Jun 10, 2021 at 9:34
Jun 10, 2021

Oct 21, 2020 at 8:35
Oct 21, 2020

Jun 24, 2020 at 6:36
Jun 24, 2020

Oct 7, 2019 at 20:25
Oct 7, 2019

Selling
Oct 7, 2019 at 20:24
Oct 7, 2019

Sep 23, 2019 at 14:26
Sep 23, 2019

Jul 12, 2019 at 11:16
Jul 12, 2019
First Ride: RockShox's Updated 2020 Reverb - Bike Connection Summer 2019
I have owned my Gravity Dopper Seatpost for 7 years. The guy who had it before me had it for 3. It had arrived on a used bike when he got it. So 10+ years. Minimal service. Super reliable. And when a part breaks (main internal post broke last year) I go to the website, find the small part number, and it's an easy fix in the garage. Here's to another decade of a reliable dropper post that I love!

Jun 6, 2019 at 6:34
Jun 6, 2019

May 9, 2019 at 15:06
May 9, 2019

Selling
May 9, 2019 at 15:04
May 9, 2019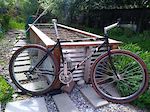 $250 USD
Bontrager Privateer project bike. Good condition, was used over a the last couple seasons as the commuter and occasional river trail explorer. Serves as a great all around vehicle w/ some beautiful history behind it, but I traded up for something that fit my long torso a bit better. Sale includes: Frame, 18" Stem (140mm! so.much.stem...) Headset and fork (1" threaded) XTR med cage rear der (M950) XT Cassette, 9spd Mavic Rims on Silver hubs (GT hadley front, unknown brand rear) Specialized 'spade' crankset & bb Bontrager seatpost Panaracer tires Topo designs handlebar All bearings in excellent shape. Cosmetic blemishes on frame as expected for an old steel frame. No rust issues. Just needs chain, shifters, brakes, and a saddle, and you're off to the retro mtb party. And what are these new 'gravel' bikes but retro mountain bikes in disguise, anyway? $300 obo.
Load more...