James van de Kamp is one of Norco's newest factory riders on their BMX team.
James is one of the many rad riders to hail from Surrey, and he always throws down big. One of his signature tricks is a super clicked table like no other.
To find out more about James, read after the jump
!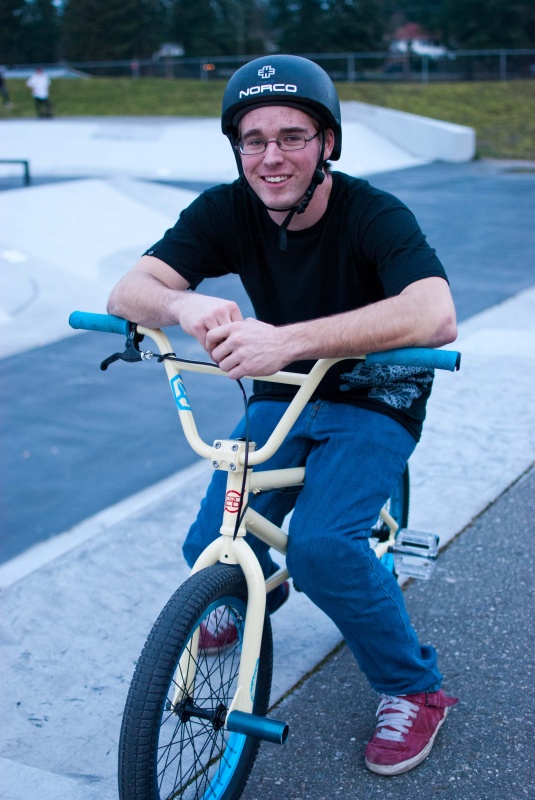 James on the Norco Rev
Name:
James van de Kamp
Age:
22 going on 18
Sponsors:
Norco BMX
&
Mace Gear
.
Bike set up:
I'm riding a stock
2010 Norco Rev
. The only things that are not stock on it are the pegs that my friend Chris Essex gave me (the bike doesn't come with pegs), and the brake cable, which I switched for a derailleur cable so I can do tail whips without the brakes locking up.
How long have you been riding for?
Ages. The training wheels came off when I was 4. I kind of always rode, but I started seriously riding a lot when I was 12.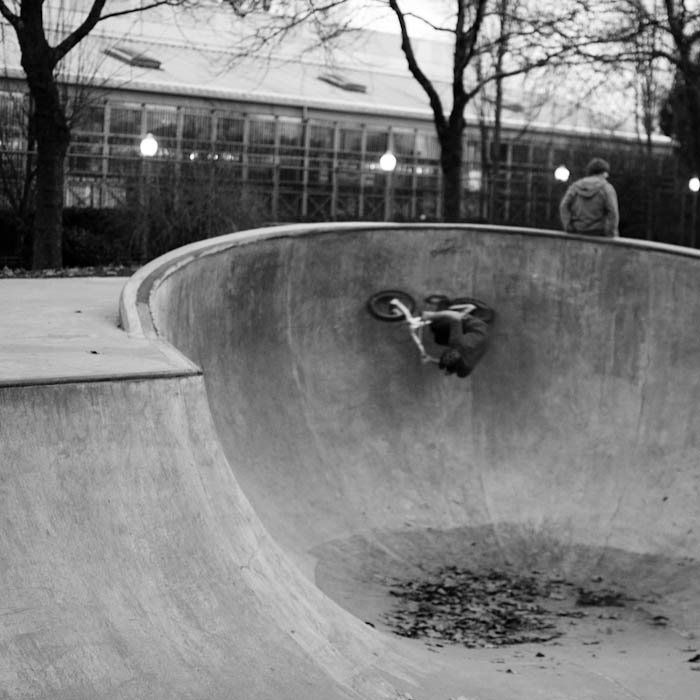 What was your first BMX?
It was a Venture. It was red and purple. I cracked it a few times, but my neighbour was a welder, so he would weld gussets on it wherever it cracked.
What got you into BMX?
Another neighbour started riding mountain bikes in the forest across the street. His kids (Derek and Craig Kost) also started riding, and it looked like fun, so I started riding my bmx on their log rides and dirt jumps. I rode MTB for a couple of years, but I broke way too many expensive parts, so I went back to BMX.
What is a typical James Van De Kamp day like?
Wake up at 7:15, hit the snooze button 3 times, get out of bed at 7:30, eat breakfast, and head off to work. I work at Surrey Auto Tec, which is an automotive repair shop. I work on cars from 8-5. It's a pretty cool job actually, we work on all kinds of cars, so there's a new challenge every day, plus my boss gives me all kinds of different jobs to do, which is cool, since most apprentices like myself pretty much just do the simple jobs. I get off work at 5 usually, and go home to eat dinner with my family. After dinner I go riding till 10-11 or so, and then hit the sack.
What do you think of the local scene in the lower mainland?
It's totally awesome. Almost everyone is super cool and relaxed, plus there are a lot of shredders. The scene is massive, and out of all those people, there really isn't anyone I'd want to kick out of it. People are more interested in having a good time than training to win the Dew Tour.
The riding is obviously awesome, there's 40+ skate parks, a couple of rad sets of trails, and good street. Vancouver is legendary for a reason.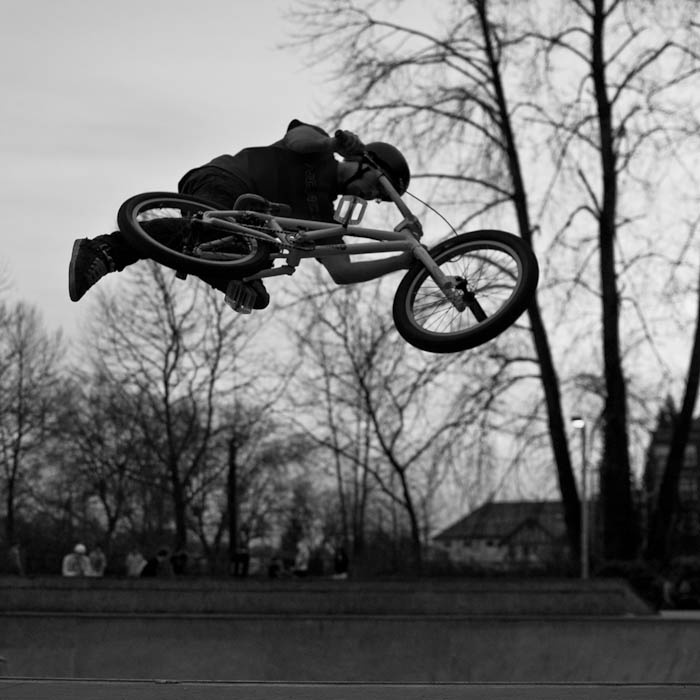 Nac-Nac
What is your favourite spot to ride?
The trails are the best spot in Vancouver hands down. You do a run in a dirt skate park, before heading into the jumps, which transition nicely from medium size to scary, massive booters.
Give us a story about one of your favourite riding memories.
One of the more recent ones was the Do Epic Stuff Jam last year at the White Rock park. A ton of friends came out and shredded. Just riding in practice with lots of friends was one of the best times of the year. Another good one was this December, when my friend Matt took me on a one day Vancouver Island trip. It was pretty warm for December, and he took me and another truckload of island rippers to three sweet parks, Nanaimo, Campbell River, & Courtney/Comox. I got to find cool lines in the bowl at Campbell River, and ride the sweet box jump flyout at Courtney. Road trips are pretty much the best thing ever.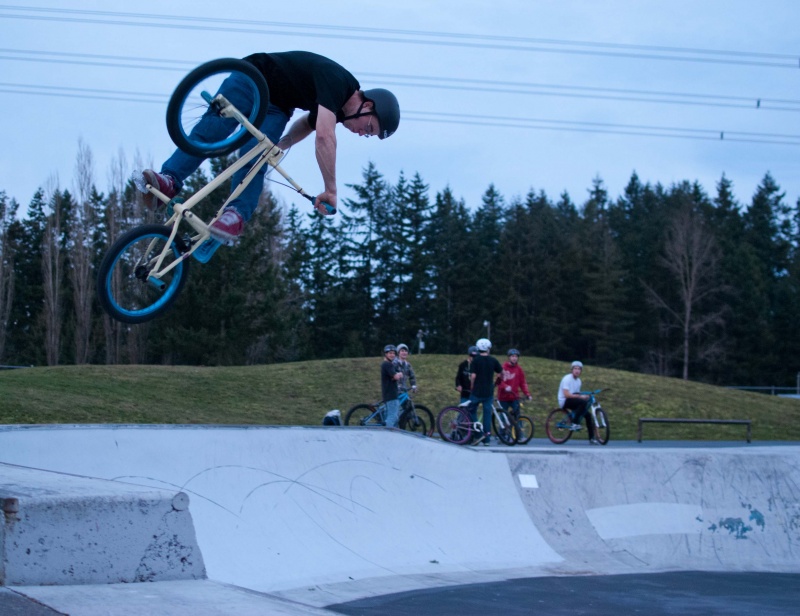 Turndown
What gets you pumped to go out riding?
This video pretty much sums it up
.
What are some tricks that give you trouble?
It used to be manual to 180s but I just recently figured those out, so now its hang 5's. They look so fun, but they're oh so impossible to learn…
Outside of riding, what are your hobbies?
Filming and photography, but both of those are definitely related to biking. I enjoy nerding it up and playing video games once in a while, and I also like playing hockey and swimming, but I don't do either of those much. I've also been known to curl up in front of the fireplace and devour a good book in one sitting once in a while.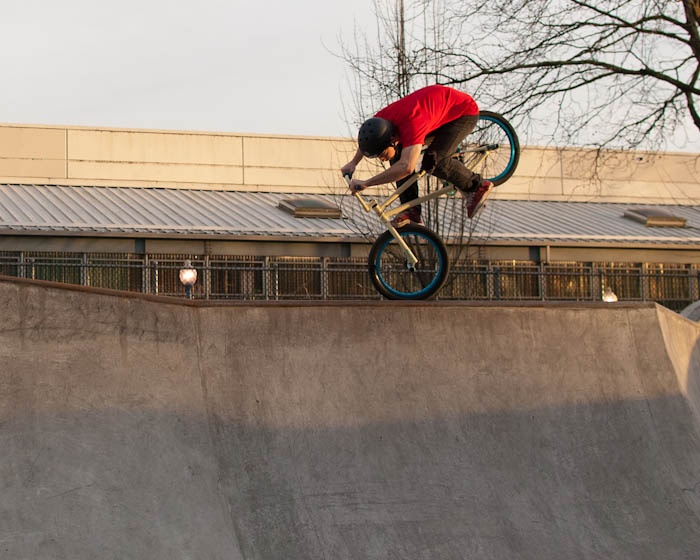 Footjam
What are some more serious injuries you got from riding?
I broke my wrist back in 2002. I broke it at the beginning of July, and got the cast off at the end of August, so that put a bit of a downer on the summer. Other than that, I've been pretty blessed injury wise. I've collected lots of road rash, bruises, and sore body parts, but nothing that's kept me off the bike for more than 2 weeks.
Is there anything you would still like to learn on your bike?
There are lots of neat stunts I still want to learn. I really want to learn back flips and flairs, they look like a tonne of fun to do. I also want to get good at more opposite tricks.
What is your favourite trick to do?
An ultra clicked tabletop.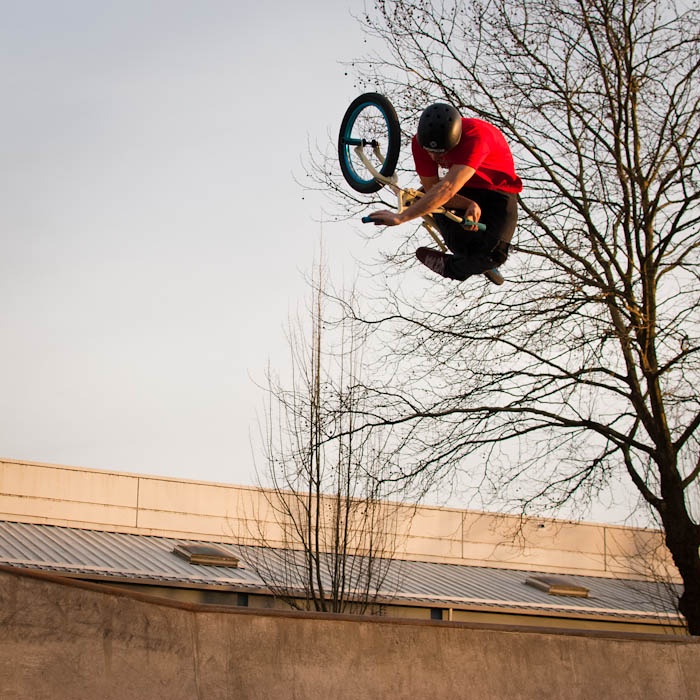 Ultra Clicked Table
What did you think when Norco asked you to ride for them?
It was a weird feeling actually. It's like something you dream of growing up as a rider, you know, everyone wants to be sponsored. So it's like this lifelong dream comes true and you don't know what to think. It made me pretty happy for sure. It also made me question why they picked me, I mean, Paul at Norco had been talking to me at contests and stuff, so it wasn't totally out of the blue, but I'm definitely not the craziest shredder in Vancouver or anything.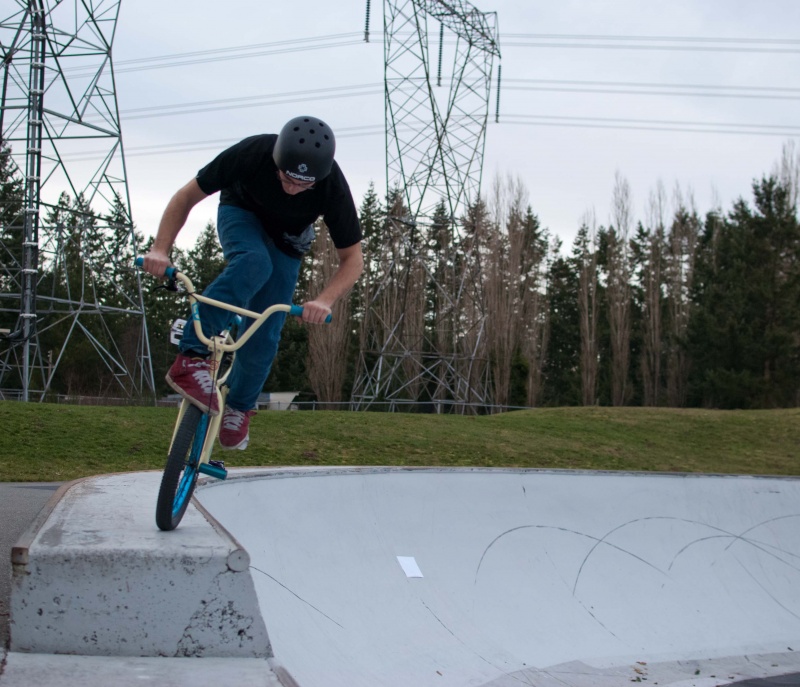 Vader Jam
What do you think you can bring to Norco as a rider?
Right now I think my main job is just promoting Norco, being out at the parks and events, and showing people that Norco is making great BMX bikes these days. I don't think I'm going to win an X-Games medal for them or anything, but I've had pretty good luck at contests so far, so getting some good results is good publicity for Norco for sure. But the main thing is being a nice guy, you know, talking with the kids, answering their questions, and generally being a good ambassador for Norco.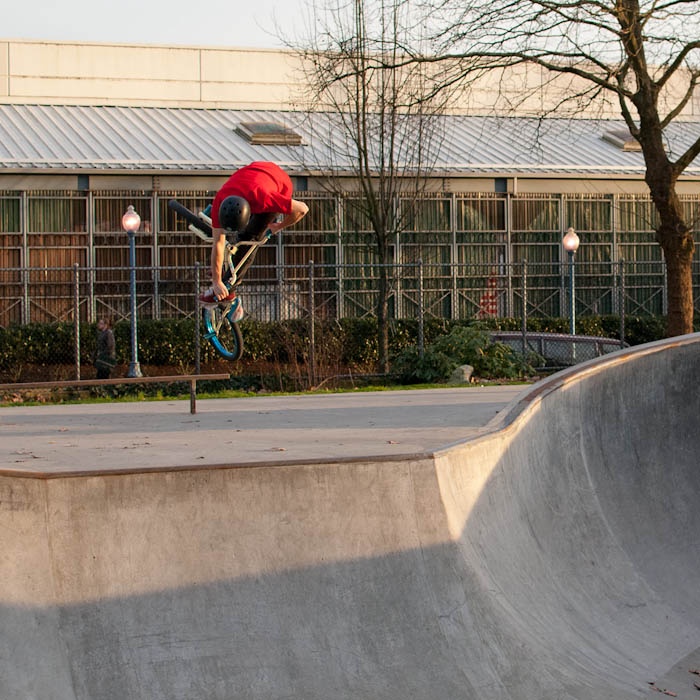 Turn Down
What do you think of all the kids who hate on Norco BMX's because they are a 'Norco'?
Norco has been making BMX bikes since the '70's, and they're a big force in mountain biking, so they know how to make good bikes. But yeah, for whatever reason, their BMX bikes definitely used to suck. I know that sounds bad, but it's true and they know it. But they're tired of being "the crappy brand", and in the last few years they've been turning it around in a big way. Paul Burnett, the guy in charge of Norco BMX, wants to push Norco to the top of the BMX game, and them hiring Ben Kaufmann and I is part of that push.
What do you think kids can do to improve their local riding scene?
A scene is dependent on the riders in it. Out in Nanaimo for instance, they have two parks, neither of which is anything to write home about, and generally nothing particularly special to ride, yet the scene is sweet. Everyone is pretty close, and pumped to ride whatever they can. So I guess be positive about what you have, make the best of it, push the guys in the scene to learn cool stunts, and if all that doesn't work out for whatever reason, move to Vancouver! Hahahaha.
If you had to ride one park, or one city for the rest of your life, what park or city would it be?
I'd hate to be stuck in one spot. Variety is the spice of life. I love riding new stuff.
What would you like to accomplish in the next 5 or so years?
Ride my bike as much as possible in as many different places as possible. I haven't done much traveling at all, so I'm keen to do some of that! Moving into my own place would be sweet too, preferably with a couple of riding buddies.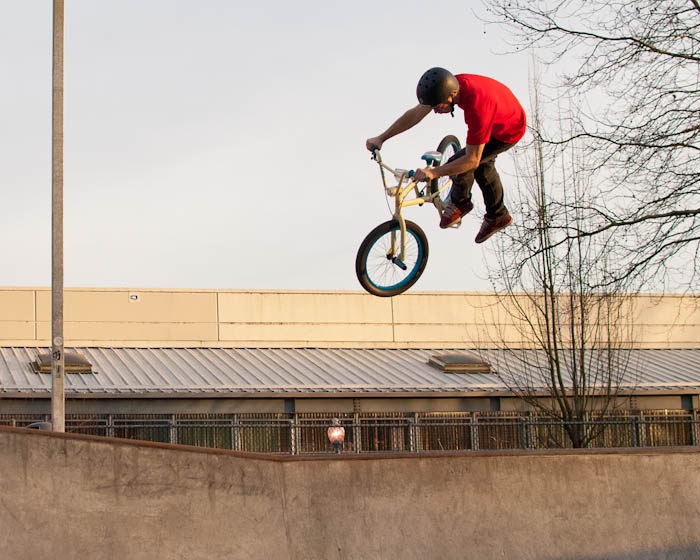 Nac-nac
Who are some of the riders in the lower mainland you enjoy riding with?
I enjoy riding with pretty much anyone, if someone wants to ride, I'm down. There are a ton of guys really, maybe I should make a list…
Anthony Messere, for pushing me to learn wild bicycle man oeuvres.
Matt Rudd & Justin Thompson, for generally being awesome to ride with.
Robbie McInnis, for doing his own thing and being radical.
Barrett Andreychuck, for doing ridiculous tricks with no chain.
Peter Smythe, for appreciating good bowls and good trails, and for having an Aussie accent.
Chris Essex, for going high and doing tabletops.
Loren Lyftogt, for casually being one of the best riders in Vancouver.
Dirty Dave Myers, for killing it wherever he goes.
Steven van de Kamp, for being a brother who likes to ride bikes.
Frogger, for being great to hang out with.
Ryan Mountain, for being totally radabonzical.
Ryan Hiebert, for doing lots of good looking tail whips and bar spins.
Mat Ridgeway, for tearing bowls apart and doing interesting stunts.
Simon Fugiel, for going really high, really smoothly.
Nick Tingren, for being a cool dude and a good shredder.
Bo Jorgenson, for killing Brookswood park.
Derringer Basaraba, for being one of the most underrated riders in the valley.
Kyle Sokoloski, for riding with me back in the day.
Craig Kost, for the same reason as Kyle.
Dylan King & Trayle Boss, for building the best trails ever and letting me ride them.
Fraser Brown, for being a ginger Mike Aitken.
Jerry Chiu, for being a style cat.
Wade Lajlar, for killing it with a big smile on his face the whole time.
Jason Teet, for being crazy.
Kris & Mitch Faber, for being hilarious.
Mel Gooder, for being the coolest old-schooler around.
Tyler Pulkrabekk, for taking more limbs off his bike while spinning than anyone else.
There's lots more, but it'll get repetitive. Sorry to everyone I left out, you're all rad.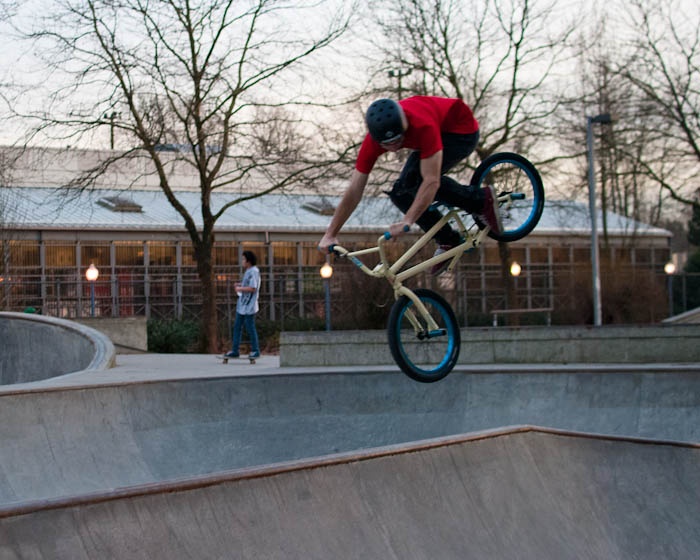 360
What is in your pockets at the moment?
My cell phone, wallet, and my keys.
Who or what are some influences on your life?
#1
would have to be Jesus, for showing me how to live my life, not to mention blessing me with my bicycle riding abilities. My parents are also obviously a massive influence, as are my two brothers and two sisters. I'm pretty sure everyone I've spent time with has influenced me in one way or another.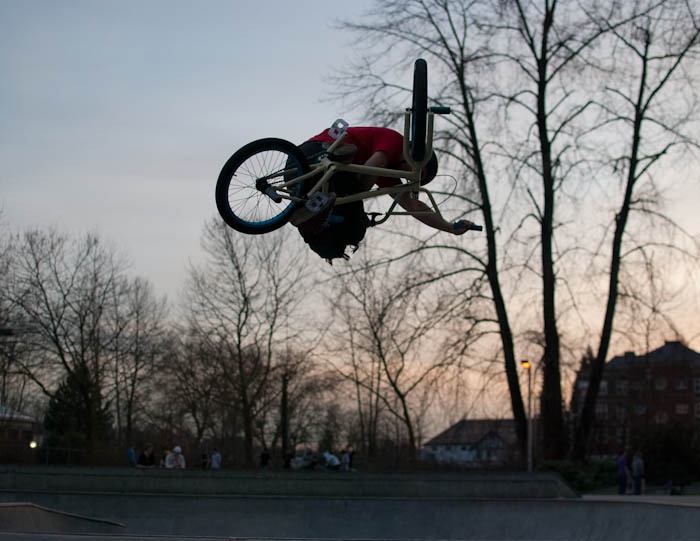 Ultra Clicked Table
Anyone you want to thank?
God, my dad, for teaching me how to ride, mom for not getting too worked up about my dangerous hobby, my brother Steve for riding with me all the time, Robbie for riding with me all the time, Matt & Justin for putting up with me being at their place all the time, all my friends, Paul and Jonathan at Norco for being stoked on me enough to give me the opportunity to ride for them, Dilly and Trayle Boss for the dirt sculptures they build, anyone that gave me gas money, anyone that is/was pumped to ride the igloo with me, Mitchell Kuntz for driving me to Edmonton last year, and anyone that gets more stoked on a good run in a bowl than a line on a foot tall ledge.
Any last words?
Helmets are the new trend for 2010. You heard it here first!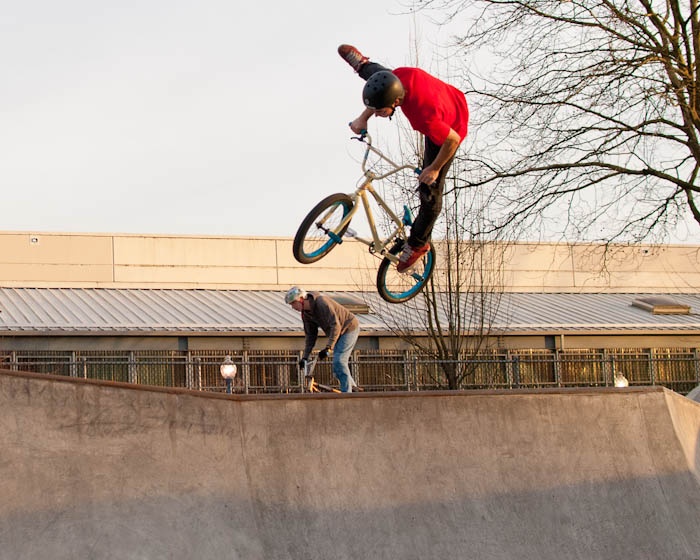 Dog-piss air!
-Ryan Rose