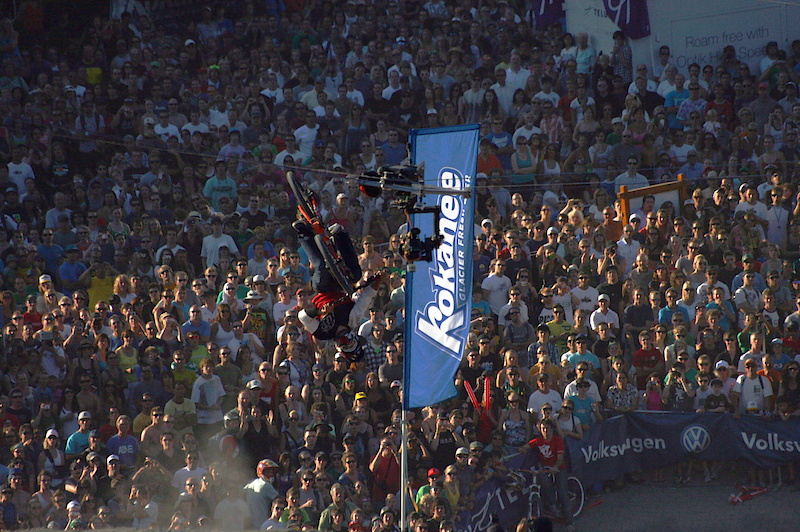 Jaycee Clarkson Photo
After a full day of work trying to sell bikes, building run bikes, and running around trying to make everyone happy, I finally got home grabbed a bite to each and the hype began to build. This wasn't the first year of making the trip to see what I thought was the best show on earth, but it was the first time I was heading up without family or adult supervision. Got hooked up with a deal at the Aava for $25 a night with a few friends and planned to spend the Friday and Saturday night. Got my pre-pack things, tossed them into my buddy Alex's station wagon, and we were on our way.
If you've never driven up to Whistler, or when you have and it wasn't the best day take my advice and the next sunny day, head up around 7 in the evening, take your camera, binoculars and sun glasses because this is the nicest time you could ever drive up. Sea to sky here we come. Made a quick stop in Squamish, or Squampton as some call it, for a few burgers, fries etc. We finish the last bit of the drive on schedule and are happy to be out of the car.
Got into the hotel parking lot at around 9:15 and we were good go. Our buddy with the room checked out bikes, we got everything on our super fancy luggage cart, once that was ready I took the cart to our room. According to our roomie, we were on the same hall as McCaul and some other pros, pretty sick I thought, but anyone could say that. I roll the luggage cart into the room, complete with a few days of cloths, riding gear, $2000 in computers, and another $2500 in photo gear (my whole purpose for being here). It felt pretty good rolling into a hotel since the last trip about a year ago, but if that wasn't good enough as I turned the corner to roll down our hallway towards our room who do I see, none other than Gee Atherton, by himself, hanging out, I'm stoked! I throw out a night chill, 'What's up?' and he mumbles back something I couldn't register mainly because I was too star stricken to think. I push the cart another 5 steps and am greeted by Rachel Athertons riding gear airing-out outside of her room, Redbull helmet and all. I shove the cart into our tiny room with the help of some random girl who I ask to hold the door open because for some reason hotel doors all shut automatically... I walk quickly back to the car where Alex is waiting and say something along the lines of, holy f*** I just said "What's up" to Gee Atherton,(to any non bikers reading this, he is basically the best downhill mountain bike racer in the world, his name is anywhere on world cup headlines and results and if you ride a bike, you know who he is.
With the trip off to a good start we park, unpack, get our stuff organized and grad a few colden ones. After a bit of relaxing we walk the village, theres not much to do in Whistler at night without an ID, but it's really the atmosphere that gets you going. Saw some friends from school, and found out they aren't even staying for the main slope event...? Now were just in our room, hanging out and waiting for the clock to strike just that, the Redbull Joyride.
Though this event was labelled (by the organizers) the "evolution" of slopestyle, the course layout has changed a bit from the first draft and what we as spectators/photographers/filmers were lead to believe. It was mean't to be a layout that a dirt jumper or big mountain rider could both ride, bringing them to a few similar features, but unfortunately that's changed a bit. That being said, were expecting the same old, holy moly event. Huge drops, though not a big as last year, with some 30x40something drops and jumps, but instead building a layout that will encourage the true evolution of the riders allowing them to push the limits. A good example is last nights Best Trick competition where you saw people throwing down and pushing the limits.
So far the weekends gotten off to a good start for me and it can only get better, with 25 degrees and sunny forecasted all weekend, the slope competition should be sick, it always is. But Sunday I get my own chance to ride, and in Whistler, with the trails they have, it's hard to decide which event I'm more excited for.
Keep on reading,
-EB