firefighter56
Member since Dec 17, 2014

Male / 44
Shirley , Indiana
Professional Firefighter
Block user
Recent

Oct 15, 2018 at 14:26
Oct 15, 2018

Selling
Oct 15, 2018 at 14:04
Oct 15, 2018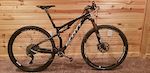 $3000 USD
Awesome 100mm XC race bike, ultra light HMX Scott carbon fiber frame with XTR crank, XTR shifter, XTR derailleur, XTR Race brakes, XTR Rotors 160mm rear and 180mm front, XTR chain, XT 11-42 cassette, Absolute Black 30T oval chain ring, Fizik seat, Syncros carbon bars, Syncros stem, Syncros rear wheel and Bontrager RXL front wheel, Racing Ralph tires set up tubeless, Fox Factory fork, Fox Nude shock both with Scott Twinloc remote. All frame bushings, bearings and bolts replaced less than 10 hrs ago, fork and shock services at same time. Cassette and chain replaced about 15 hrs ago, chain ring has 1 ride on it. It's a mountain bike so it has some scratches and scuffs but nothing major, does have shoe rub on frame and crank. Absolutely no frame damage, and no place that could even look like it might be damaged. Tear on seat was done when the seat was on a road bike, not on this bike. Seat post has been swapped out to the Bontrager ACC Carbon because Syncros post looked like it was cracked at the clamp when I got it so I didn't trust it. The only thing that you'll find on this bike, besides scuffs, is the right brake lever has about 1/2" broken off the end of it. The levers are carbon so I just hit it with some sandpaper and smoothed it out. It does not affect the function or your ability to grab the lever at all. I will include the pedals and the top cap to hold your Garmin. Bike has just been serviced and works flawlessly. No disappointments with this ride, other than your buddies being disappointed that you're so fast now!! I'm only selling it because we are building a new house and I could use the $$. I have other bikes but they aren't worth as much so I'll ride them. Lol

Mar 15, 2016 at 14:23
Mar 15, 2016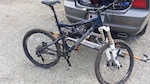 My apologies, you are absolutely correct. I bought this fork and was told that it was 180 mm. I should have checked better myself before buying it. I rode it for about a year thinking that it was 180. Thanks for setting me straight. I had already sold and received payment for it before I saw your post with the link but I had not shipped it yet. I contacted the buyer and told him about the discrepancy and he still wanted it. It is shipped and on its way to Montana now.

Mar 13, 2016 at 17:06
Mar 13, 2016

Selling
Mar 12, 2016 at 19:04
Mar 12, 2016

Mar 12, 2016 at 18:54
Mar 12, 2016

Selling
Mar 12, 2016 at 18:53
Mar 12, 2016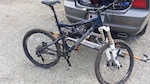 $500 USD
Selling my bombproof wheels since I switched to a 29er. These are black ISO Chris King hubs laces with black DT Swiss spokes to black Mavic 819 hoops. They are straight and true with no damage. They do have the occasional scratch from riding but no major gouges or marks. The front is currently a 20mm thru axle and the rear is set up as a 9mm QR. If you know CK hubs you know that can be changed. If these don't sell I'll have the hubs laced to a new set of 29er hoops. I would entertain trades for a similar 29" wheelset. I can send better pictures but these are all I have at the moment. Cassette and rotors not included. Can have tires if you want, they are about shot. Set up tubeless. Doug
Load more...