frybi
Member since Jun 28, 2010

Male / 29
Fernie , British Columbia
i snowboard, bike, skateboard and love music!
Block user
Recent
Selling
Sep 2, 2010 at 20:42
Sep 2, 2010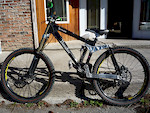 $600 CAD
2003 Banshee Scream. This bike is indestructible, I have only owned it for two months and i'm sad to see it go but i'm moving and cant take it with me. It is a beast of a downhill bike it can take any think you throw at it! Not 100% on all the modifications due to buying it second hand but I will try to answer any questions the best I can. No delivery/pick up only. No trades (unless its a big bag of cash).
Selling
Jul 6, 2010 at 11:17
Jul 6, 2010
$500 CAD
Mint condtion scott bike for sale. I has been modified to a dirt jump bike with single speed and only a rear break. It is very light which makes it a great peadel. lookin for a quick sale as i need cash to pay rent! any queations or if you want to take a look at it please contact me on here or at or call/text 250-430-3135. thanks No trades No delivery
Jun 28, 2010 at 20:44
Jun 28, 2010
Load more...