furiousstyles
Member since Apr 28, 2009

O+
Male / 39
Salt Lake City , Utah
Lived throughout the 4 corners. Also snowboard
Block user
Recent

May 23, 2023 at 19:04
May 23, 2023

Selling
May 23, 2023 at 19:03
May 23, 2023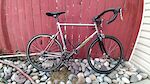 $900 USD
Super cool old school road bike. Originally a time trial bike, but modified to a modern road bike. Super unique in that it runs 650c wheels (that is different than 650b or 27.5). It also has track dropouts so you could make a super cool singlespeed or fixie with it. You could get a 700c in the rear, but not the front with the current fork We bought it from a friend a few years back, but it's not getting enough love. My wife was going to make it an ultralight singlespeed/fixie but that never happened. Geo: 54 CT- top of ST (51cm to center of TT) 54cm actual top tube. Best fit for around 5'7" give ouorr take a couple inches. I maxxed it out at 5'10" Specs: Chris King Headset EWS carbon fork FSA Carbon cranks Full Dura-ace brakes/shifters/derailleurs DT Swiss 240 Hugi hubs laced to Velocity deep V aluminum rims Continental Gator Skin 25mm tires WTB saddle 18.76 pounds as seen. The thorn resistant tires add some weight. Only issue is the handlebar tape could be replaced. Open to reasonable offers. Cash, Paypal, Venmo Only. Or would also trade for small/medium titanium mountain, cross, or gravel bike/frame with disc brakes. Will ship via BikeFlights at your expense.

Selling
May 3, 2023 at 9:20
May 3, 2023
$200 USD
Looking for a mid-school U-Turn style fork, like a Pike but open to model. These were the forks with adjustable travel on the fly. Needs to be 26 or 27.5" wheels, 20 thru-axle, and a straight 1 1/8" steer tube. Condition just needs to be functional with everything working, but doesn't have to be pretty. But white colored lowers would be a big bonus. Let me know what you have and I may have stuff to trade.

Apr 20, 2023 at 13:11
Apr 20, 2023

Selling
Apr 20, 2023 at 13:10
Apr 20, 2023

Apr 17, 2023 at 13:43
Apr 17, 2023

Selling
Apr 17, 2023 at 13:42
Apr 17, 2023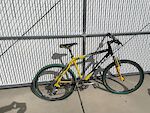 $4200 USD
Selling off my pack of Durango Yetis as a whole lot! Perfect to flip, or just give a massive boost to your collection! Please read these details closely! I am offering my entire pack of 2 complete Durango Yeti bikes, 1 Durango Yeti near complete project, 1 Durango Bike Works project, 2 Yeti T-shirts, and 1 Yeti Carhartt jacket as a wholesale lot. Do not ask if I'll part out the lot- if no takers on the lot, I'll eventually create new ads for separate bikes in a month or two, but not before. Also, shipping 4 bikes via Bikeflights would end up costing $5-600 and be a pain in the butt to go find all those boxes so I will not ship! But I will deliver anywhere within a day's drive of Salt Lake City, Utah, USA. So think Denver, Boise, Las Vegas, Reno, Missoula, Durango… I may be compelled to drive further for somewhere with good mountain biking (Bend, Flagstaff, etc.) I live near the SLC airport so you could fly out and U-Haul them home. Or if you want to find a Utah shop that will pack and ship them, I'm happy to drop them off. You would have to coordinate all that. I'm happy to send more detailed pictures or show you on Zoom upon request. If I'm delivering, a deposit will be required. I can accept Paypal, Venmo, or cash. I will consider reasonable offers but I'm not desperate to sell. I'm just going Minimalist and getting (mostly) out of collecting. So definitely no trades. Don't tempt me! Here are the specs: If any of my details look incorrect, let me know and I'll fix. So not to photonuke the ad, go to link to see all pics. Google Drive link has pictures of everything and some reference catalog scans. https://drive.google.com/drive/folders/1--fKz1cUdly1eadVgpxICp7FwUo2v7HB?usp=sharing Yeti pics – Google Drive drive.google.com drive.google.com Clothes: All original Durango era Yeti swag Large Carhartt Yeti jacket great condition XL Yeti shirt great condition L Yet ARC shirt, some stains and small hole Bikes: No cracks, dents, repairs in any of the frames. 19" 1998 Troy Lee Designs Edition AL FRO XT brakes/cranks/shifters/derailleurs, Control Tech stem and post, Rock Shox Judy fork, rare Yeti branded tires, S-Works/Hugi wheelset, Yeti seat. Needs tubes and pedals. 19" 1998 ARC AL Full XT, newer Yeti seat, Chris King Hubs, Manitou SX fork, Syncros stem/post, Michelin and Geax teal tires. Needs Tubes 20" 1992 (could be 91 or 93) PRO FRO steel Cook Bros dogbone cranks, Specialized BB-1 dirt drop bars, Rock Shox Indy fork, Turbo seat with (small tear), XT hubs/derailleurs, Chirs King headset, Suntour bar end shifters, Ringle stem, Farm John/Cousin tires, Tektro brake levers. Needs cable housing, bar tape, and brakes. 20" 1998ish Durango Bike Works. From former pro BMXer turned Yeti welder Rob Rupe who split out on his own. Azonic stem, Race Face bars, Machine Tech Brakes, Rhino Racing (Dean OEM) hubs, Caramba Cranks w/ TNT bolts, U.S.E. Seatpost, Panaracer Fire XC tires. Needs: brake levers, cable hangers, cables/housing, chainring, tubes, gears and whatnot.

Apr 3, 2023 at 14:46
Apr 3, 2023

Apr 2, 2023 at 7:52
Apr 2, 2023

Mar 20, 2023 at 18:44
Mar 20, 2023
Remy Metailler & 'Nrml Mtber' Get Techy in Sedona
Did Remy crunch more crypto and keep the video of it up to preserve his Insta SEO whilst giving only a half-assed "sorry I was caught" apology? Will he post another view of it in a couple more weeks for the Likes? Should a Pro and his crew have the most basic understanding of how to mountain bike in a place before they go?
Load more...