gkabush
Member since May 1, 2014

Male
Squamish , British Columbia
IG: geoffkabush
Block user
Supported Regions

Hornby Island
via
HIMBA
Recent

Jul 10, 2020 at 17:43
Jul 10, 2020
29.7 km - 02:03 - 15 achievements - 2 badges

Jul 9, 2020 at 23:20
Jul 9, 2020
32.7 km - 02:14 - 7 achievements - 1 badges

Jul 8, 2020 at 16:51
Jul 8, 2020
28.3 km - 01:50 - 8 achievements

Jul 7, 2020 at 10:05
Jul 7, 2020
24.1 km - 01:35 - 8 achievements - 2 badges

Jul 6, 2020 at 18:55
Jul 6, 2020
24.0 km - 01:29 - 5 achievements

Jul 5, 2020 at 21:31
Jul 5, 2020
39.8 km - 01:51 - 3 achievements - 1 badges

Selling
Jun 2, 2020 at 14:23
Jun 2, 2020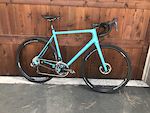 $4500 USD
XL OPEN UP in Special Edition Yeti Turquoise. Dura-Ace Di2 175mm cranks, 50/34 with Stages R side Powermeter, 11-30 Ultegra Cassette 44cm PRO Vibe aluminum bars, Vibe carbon seatpost, 110mm stem, new Turnix saddle Stan's NoTubes Carbon Grail CB7 wheelset. New 40c Maxxis Ramblers New Lizard Skins DSP bar tape Enduro Bearing Ceramic BB. XTR pedals. Finally selling my first one of these beautiful bikes. The original do-it-all adventure bike for road, gravel, and even funner if you put on some 27.5 x 2.1 wheels and MTB tires. Possible option to sell with additional 27.5 Valor wheelset if interested. All the parts are in great or new condition as I have replaced recently or along the way. Some cosmetic chips on the underside of chainstay from chainslap before I started fully taping. Right rear axle area has a little cosmetic scraping that I touched up as see in photos. Other than that it is looking pretty mint. Let me know if you have any questions.

Selling
May 25, 2020 at 13:24
May 25, 2020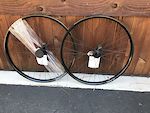 $400 USD
Brand new set of pre-release Stans Sentry MK3 I never got to use. No graphics. Stans Neo 32H hubset, 6 bolt, Sapim Force spokes. Shimano 11 speed freehub. ***Wheels are currently located in Truckee, California****

Selling
May 25, 2020 at 13:17
May 25, 2020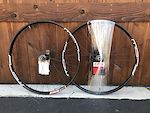 $500 USD
Brand new set of 27.5 wheels. XTR hbs, Stans Flow MK3 rim, Sapim Force spokes **Located in Truckee, California at the moment**

Selling
Apr 29, 2020 at 15:37
Apr 29, 2020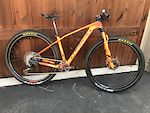 $3500 USD
2019 Orbea Alma Custom race bike. Professionally maintained. - Shimano XTR M9100 12 speed, race brakes, 10-51 cassette, derailleur, shifter - Shimano MT900 170mm crank, 36t chainring, with Stages Powermeter included - Fox Factory SC32 100mm fork w/ remote lockout - Stan's Podium SRD carbon wheels built with XTR rear/Stans Neo Ultimate front hubs, 160mm Freeza Rotors, new Maxxis 2.25 Aspen 170tpi special race tires - RaceFace 60mm Turbine Stem, 700mm Next Carbon bar, seatpost - Prologo carbon saddle - ESI Foam Grips Excellent condition as this bike was hardly ridden and raced only once or twice. **Located in Truckee, California**
Load more...