gregnbishop
Member since Sep 22, 2011

Brampton , Ontario
Block user
Recent

May 27, 2020 at 14:19
May 27, 2020

May 19, 2020 at 16:35
May 19, 2020

Nov 7, 2019 at 20:07
Nov 7, 2019

Oct 10, 2019 at 13:10
Oct 10, 2019
5.3 km - 00:28 - 1 achievements

Sep 7, 2019 at 14:14
Sep 7, 2019

Selling
Sep 7, 2019 at 14:12
Sep 7, 2019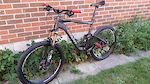 $1400 CAD
Giant Trance X XL $1600 Bomber 26er Lots of km's on this bike, but maintained and upgraded as needed. Literally the frame, seatpost and crank arms are the only stock items. New this season: Rear swing arm All suspension bearings (Enduro) Stan's XCR disc wheels with TR XCR hubs (red!) front and back Monarch RL rear shock Shimano XT chain Shimano XT cassette Shimano XT front shifter Shimano XT brakes and levers, front and back Front and rear cables and housing Spank Spoon handle bar Derailleur hanger All three individual chain rings Other upgrades include: Fox Talas 130 - 150mm fork Headset inners Specialized Butcher and Ground Control tires Shimano XTR rear shifter Shimano XTR rear derailleur Shimano XTR front derailleur Raceface Chester pedals (red!) Poison Spyder grips (red!) Enduro bottom bracket assembly Easton havoc stem That's not enough for you?! I'll throw in two new unused Specialized Ground Control tires, a handful of unused tubes if you don't like tubeless and a Giant Contact dropper post. Post works fine and has low km's but to be completely honest I would suggest you upgrade the trigger (first generation) as it's a pita to set up and is somewhat out of date. If the ad is up, it is still available. Please don't pm asking if it is available then ghost. You will be ignored. Serious offers will be considered, but understand what I'm asking is less than I've spent on parts this summer. Low ballers will be ignored.

Aug 31, 2019 at 9:12
Aug 31, 2019

Aug 23, 2019 at 8:10
Aug 23, 2019

Selling
Aug 23, 2019 at 8:09
Aug 23, 2019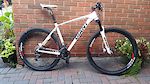 $500 CAD
Will need new tires soon and the chain has some wear from sitting in storage, and is priced accordingly. It is tuned up plus has a new front shifter cable and is ready to roll. Full specs here https://www.bikepedia.com/QuickBike/BikeSpecs.aspx?item=24632

Selling
Aug 23, 2019 at 8:05
Aug 23, 2019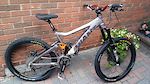 $800 CAD
Bombproof downhill bike. Upgraded rear shock (Fox DHX RC4) with roughly 50 km's on it. Front fork serviced by Marzocchi roughly 50 km's ago also. Frame is in pretty damn good condition for an older dh bike. Tires have plenty of life left. Upgraded handlebar, and comes with beater Spank Spikes pedals (likely first generation).
Load more...