imstuckatwork
Member since Jan 25, 2012

Male / 47
Orange , California
Block user
Recent

Sep 23, 2016 at 20:43
Sep 23, 2016

Sep 23, 2016 at 20:32
Sep 23, 2016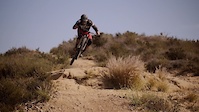 Nicely done. Other than taking the b line on Bobcat... Just kidding, the old high line is old school freeride and doesn't flow at all. (Also, I got scraped up pretty good on that b line last weekend) you doubled the whoops on Chutes? Dang. I've ridden that trail ~500 times over 18 years. I broke my tailbone, cracked a helmet and on various iterations of that trail. Never ever thought to double the whoops.

Jan 25, 2012 at 7:54
Jan 25, 2012
Gee Atherton rides the GT Fury
I finally got a day off and I was planning on riding San Juan. For some reason I'm now thinking Laguna. Nicely ridden and well shot.
Load more...