joe1989
Member since Mar 1, 2006

Male / 32
Issaquah , Washington
I like shredding the gnar gnar with bikey
Block user
Recent

Jun 8, 2022 at 22:40
Jun 8, 2022

Jun 4, 2022 at 20:47
Jun 4, 2022

Selling
Jun 4, 2022 at 20:46
Jun 4, 2022
$100 USD
This is a rockshox lyric coil rc2dh converted to 100mm with argyle internals. Has xxx firm pink spring so it's super stiff for dirt jumps. The conversion is pretty redneck but it rides well. I'm 210 and it's plenty stiff enough. If you're under 150 you probably won't even budge this fork. Pretty beat up looking but its good for a cheap dj fork or for a skatepark or steet fork that u can beat on and not care about wrecking. It's basically an Argyle rc but with 35mm Stanchions instead of steel 32mm so it won't bend. I converted this fork after bending my 5th argyle rc CSU. Been riding This thing for 3 years and it's still solid. Straight 1 1/8 steer tube 7" long. Hit me up if you have any questions. Only reason I'm selling is because I decided to fork out the cash for a new z1 dj after getting a new job.

May 1, 2022 at 22:05
May 1, 2022

Selling
May 1, 2022 at 21:56
May 1, 2022

May 1, 2022 at 21:43
May 1, 2022

Selling
May 1, 2022 at 21:41
May 1, 2022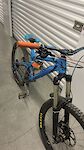 $1600 USD
Medium 2013 Banshee Darkside with a burly mini dh style build. I bought the frame second hand a few years ago and it only had a handful of rides on it. I then built it up with mostly dh parts as a mini dh bike that can still pedal okay. It's a super fun bike but I mainly just road my darkside which feels super similar to this thing just a bit heavier and more travel. Probably like 25 rides on it in total... Build includes a totem coil, mtx wheels, dvo jade shock, etc... The bearings have 3 rides on them and the fork was just serviced at the same time as well. The frame can take 27.5 with different drop outs available from banshee and rumor is that a totem can take a 27.5 as well but never tried it. I would prefer local pick up in the issaquah, wa area but am open to shipping. Let me know if you have any questions.

Jan 23, 2022 at 19:27
Jan 23, 2022

Selling
Jan 23, 2022 at 19:25
Jan 23, 2022
$100 USD
I bought this frame a few years back because I got bored and needed a winter project. Road it 4 times and then it sat in my garage for a few years. Barely ridden. Only a few marks from cable rub by previous owner. The bearings are perfect and it's ready to build up as a cheap entry level pedal bike. It is outdated geo wise but still fun and has lots of life left in it. It is missing derailer hanger as I some how lost it. Available online for 10 bucks. I have some other cheap parts for it if u want as well. Also compression knob on shock is gone but it still works fine. It also has random stickers on it. Not a transition lol.. Priced to sell More info about frame.. https://www.bikeradar.com/news/intense-unveil-their-new-spider-2-trail-mountain-bike/

Jan 18, 2022 at 20:42
Jan 18, 2022
Load more...