jqwan
Member since Oct 2, 2012

Male / 30
Vancouver , British Columbia
Block user
Recent

Sep 18, 2020 at 18:34
Sep 18, 2020

Aug 15, 2020 at 15:38
Aug 15, 2020

Aug 5, 2020 at 8:44
Aug 5, 2020

Night Ride
56.1 km - 03:40 - 11 achievements - 5 badges

Jul 31, 2020 at 8:59
Jul 31, 2020

Selling
Jul 31, 2020 at 8:56
Jul 31, 2020
$4800 CAD
Selling my Tarmac SL6 56cm. This is the best deal online right now. It's 6.7kg according my my shop scales. This has a new frame from a warranty replacement, so new frame, fork, seat post, ceramic speed BB and headset. Plus a bag of parts to make it mechanical shifting, headset spacers and two seat posts, 20mm offset and 0mm offset. Otherwise the build is used but a great spec.EE Cycleworks brakes, Easton carbon cranks, 53-39 chainrings, 11-32 cassette and SRAM Red Etap w/ ceramic pulley wheels, S-Works Romin saddle, the wheels are Fulcrum alloy wheels for every day riding. The condition of the parts are good, chainrings are recent. One of the shifters is scuffed from a few years back but everything works. Includes SRAM batter charger of course. Just put on new cables which are the lighter link style brake cables. So it's a fresh build and ready to go. Photo shows extra items for the bike included.

May 25, 2020 at 18:00
May 25, 2020

Selling
May 25, 2020 at 17:58
May 25, 2020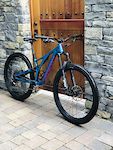 $2999 CAD
Selling my GF's Stumpjumper trail bike. The bike is in excellent condition as she mainly rides on the road. It's a super fun bike and gave her a ton more confidence when it came to riding MTB. Very few marks on the frame as it's been taped since new. Tyres are set up tubeless and are in great shape with tons of life left. Just had new pads front and rear as well as a new chain and a fork service at the end of last fall before winter storage, so it's ready to go for the whole season. Spec here: https://www.specialized.com/ca/en/womens-stumpjumper-st-comp-alloy-29--12-speed/p/157623?color=236410-157623
Load more...