kooahara
Member since Apr 27, 2008

Male / 41
Vancouver , British Columbia
Block user
Recent

Sep 13, 2020 at 12:48
Sep 13, 2020

Selling
Sep 13, 2020 at 12:48
Sep 13, 2020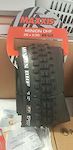 $49 CAD
Brand new never used Maxxis Minion DHF 2.3 (looks almost like. 2.4) 3C max terra TR EXO, $49

Sep 9, 2020 at 11:36
Sep 9, 2020
First Ride: 2021 Rocky Mountain Altitude - More Travel, More Options
Smart of them to consolidate and to offer the 29 in larger sizes for taller guys/girls. To your point re BC trails I still think the Evil Offering is still a great do almost everything bike though and can be found on sale with a new one coming out. Throw on 140, 150 or 160 fork, go push coil on the rear if you want to, 30lbs and can pedal. Works for most trails that aren't bike park in BC.

Sep 6, 2020 at 16:22
Sep 6, 2020

Sep 5, 2020 at 17:38
Sep 5, 2020

Aug 31, 2020 at 13:41
Aug 31, 2020

Selling
Aug 6, 2020 at 18:29
Aug 6, 2020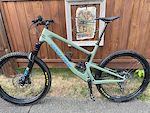 $5699 CAD
Bought in July, basically brand new ($6,800+tax new+$450 in add-ons, $7,590). Full ride wrap, which kept it in amazing shape. One scrape, ridewrap took the brunt. Could deliver to whistler, Squamish, Vancouver, Kamloops, okanagan, Kootenays, and Saskatoon Lifetime frame warranty; I haven't registered it yet. 6 feet or taller you should probably be on an XL (large will be too small with new geometry and steep seat tube) I've been pretty impressed with the GX coming from a decade of X01. Added: -New rear cushcore $150 -New front Assagai $100 (I didn't like the stock tire and sold it) -full ride wrap including fork, professionally applied, $200+ Build description: https://m.vitalmtb.com/product/guide/Bikes,3/Santa-Cruz/Bronson-Carbon-C-S,28343

Jul 30, 2020 at 12:36
Jul 30, 2020

Selling
Jul 29, 2020 at 9:57
Jul 29, 2020

Selling
Jul 29, 2020 at 0:35
Jul 29, 2020
Load more...