kylechs5
Member since Mar 31, 2007

O+
Male / 30
Boise , Idaho
i have fun anytime im on my bike
Block user
Recent
Aug 4, 2022 at 12:13
Aug 4, 2022
Selling
Aug 4, 2022 at 12:12
Aug 4, 2022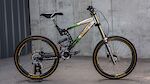 $1800 USD
I am selling this mint condition 2003 Rocky Mountain RM7 Wade Simmons edition. I found it a few years ago under a tarp in a warehouse lot sale of old bikes. It was covered in dust, but was pretty much new old stock. I ended up replacing the seat because the foam had rotted and installed an Azonic Love Seat. The tires and grips are still original and the bike feels and rides like new. I have had it in the shop as a wall hanger and a part of my retro collection. I am trying to downsize a few things and am starting to sell off a few of my retro bikes. I am asking 1900 obo for this one and can ship anywhere in the US and potentially outside of the country as well if the shipping costs make sense with it fully insured. Let me know if you have any questions.
Aug 4, 2022 at 11:16
Aug 4, 2022
Selling
Aug 4, 2022 at 11:11
Aug 4, 2022
May 20, 2021 at 12:41
May 20, 2021
Selling
May 20, 2021 at 12:40
May 20, 2021
Jan 18, 2021 at 22:38
Jan 18, 2021
Opinion: How True is the 'Dudes Who Shred' vs 'YouTubers' Meme?
It's been pretty interesting & eye opening to read through some of these comments and I think I may have a little perspective to add so here it goes haha. In direct response to the meme, it seems like there is a massive misunderstanding when it comes to how and why companies are supporting different types of ambassadors, especially through Covid. What a lot of the shredders who are upset don't realize is that many companies operate with several "buckets" of support and budget each year. They will have the general marketing budget which is then segmented into things like events and product launches, content creation, athlete support, and grassroots sponsorship (discounted products for up and coming ambassadors). With everything that happened in 2020 companies are in a weird place. They aren't able to plan and coordinate events like they have in the past, they aren't sure how to plan video shoots and photo shoots with athletes like they have in the past, especially who to hire to shoot the athletes, what the travel will be like etc..., they don't know how much extra product they will have on hand to help support large race teams which can burn through a ton of parts each year and all of these things have created an environment where a lot of the brands have pulled back spending on traditional marketing and instead decided to put some of that money into the content creation bucket. For a lot of companies, hiring an athlete or ambassador who can film and edit videos on their own, take photos, respond to their audience, go through less product, and continue to fulfill their obligations, even if some of the key bike events don't happen this year, makes a lot of sense and is a little easier for a marketing manager to justify to the people at the top of the companies. Does this mean it's the "right" thing to do? No, it doesn't. I think loyalty between brands and riders goes a long way. And to be honest, I haven't heard of any of my personal friends who were actively in a contract get dropped. I have heard of a lot of people who's contract ended getting a reduced offer or a lack of an offer. Which I still hate to hear. Is this a permanent change? In my opinion no. From what I've heard once the supply chain is caught back up, travel gets easier, and companies can actually plan things like events, and big video and photo shoots there will be a lot of support on the table for shredders. I hope this sheds a little light on why you may be hearing some disgruntled industry vets speaking up. If everyone was still getting paid the same you wouldn't be hearing this conversation, YouTube is such a different demographic than the standard racer/shredder crowd and their should be room for both sides to thrive. My girlfriend April and I have been making YouTube videos this year and our audience is 65% over the age of 34 and about 13% female. When I was using Instagram more heavily a few years ago the following I had was 80% under 29 years old and 1% female. When you are talking about how to target those two distinctly different demographics companies will use distinctly different methods of marketing and the budgets are coming from two totally different buckets. There should be room for everyone if we continue to support each other and grow the Industry in a sustainable way. If people are enjoying the content and finding some value in it regardless of whether it's coming from a shredder or a more relatable rider then in my opinion it's a good thing. A lot of people have been struggling this year and sometimes watching a friendly face take you for a run down a fun trail is all someone needs to brighten their day, regardless of how fast they ride. Sorry for the novel haha. Just wanted to share a little different perspective since I have kind of seen both sides of the aisle. Sincerely, Kyle Warner
Mar 9, 2020 at 7:29
Mar 9, 2020
Added 20 photos
Nov 22, 2019 at 16:27
Nov 22, 2019
Oct 29, 2019 at 14:24
Oct 29, 2019
Load more...