Silverstar and Beowulf
Vernon sits at the north end of Okanagan Lake in the British Columbia Interior. Vernon's origins are farming; it benefits from being situated on a thoroughfare along the Okanagan Valley in bucolic lake country. Vernon's rolling terrain and warm sunny climate make both travel and farming easy in the area; a characteristic of terrain which also makes for choice trail building. There is diverse mountain biking and an enormous trail system (200kms approx) in the North Okanagan/Vernon area.
Silver Star's bike park is considered a destination of choice for
downhill mountain
bikers throughout North America, consistently being voted among the top three offerings in the continent. With Silver Star's expansion into the epic cross country realm with the
Beowulf trail
and their proximity to
Sovereign Lakes
cross country area (also in the confusingly named Silver Star Provincial park), Silver Star alone has no shortage of riding choices.
---
---
We had the privilege of riding Beowulf with Cam and Claudia Sorensen, Cam is the Bike Park Manager of Silver Star Resort as well as main trail designer for the park and the new cross-country Beowulf trail. He also put in a fair amount of volunteer time on some of the more tech trails in the Vernon area (
Big Ed
and
Hammered Cow
to name just two). Cam and Claudia gave us a preview of the 35 km long Beowulf. We bypassed and also cut short some sections as the trail is still in progress but nearing completion for an official opening in summer of 2017.
Beowulf at Silver Star
Beowulf (the trail) is a 35 km loop to be fully completed in summer of 2017. The trail starts in Silver Star's subalpine and winds through three different bio-geo-climatic zones - an entirely appropriate way to showcase the diversity of terrain. Beowulf is also an Old English epic poem set in Scandinavia.
From wiki -
Beowulf, a hero of the Geats, comes to the aid of Hrothgar, the king of the Danes, whose mead hall in Heorot has been under attack by a monster known as Grendel. After Beowulf slays him, Grendel's mother attacks the hall and is then also defeated. Victorious, Beowulf goes home to Geatland (Götaland in modern Sweden) and later becomes king of the Geats. After a period of fifty years has passed, Beowulf defeats a dragon, but is fatally wounded in the battle. After his death, his attendants cremate his body and erect a tower on a headland in his memory.
Consider this your biking cultural moment.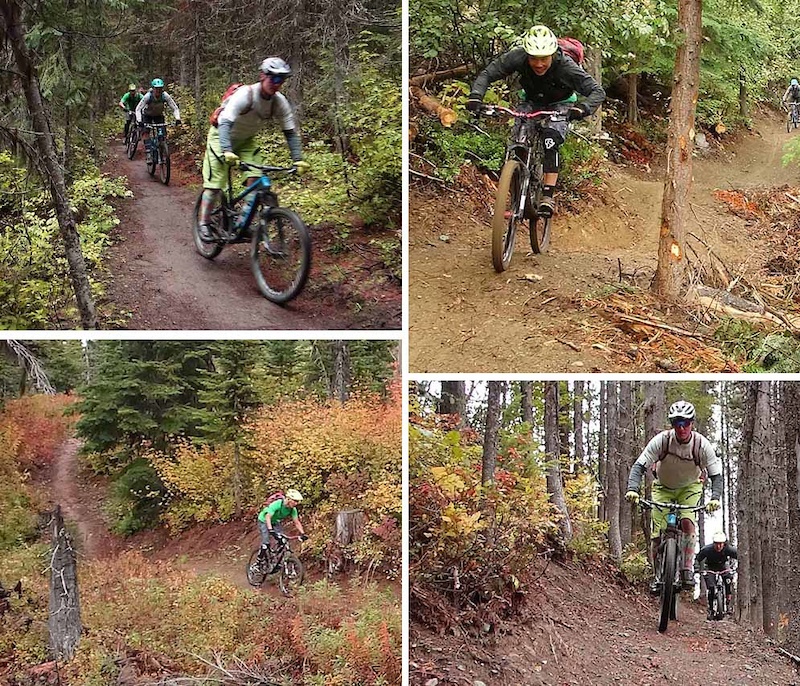 Beating the rains to ride the Beowulf trail with Cam and Claudia. Beautifully routed and well-constructed trail with fun pumps and rollers for grade reversals to shed the water (going to get a lot of snow and rain here in the subalpine portion). Some portions of trails are two years old already; the pine needles are freshly reloaming the trail bed.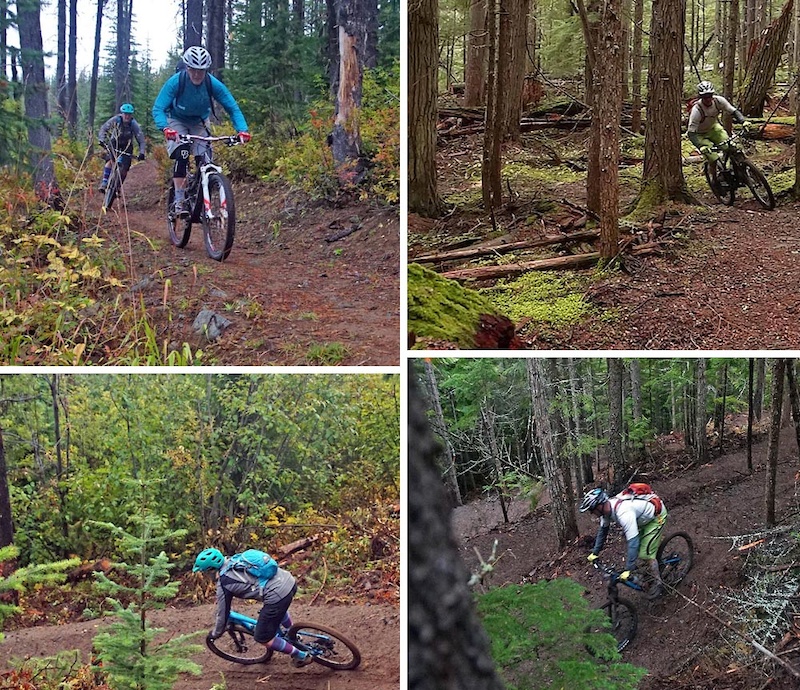 As you descend you cross into a pine then a cedar forest with organic loam imparting more natural suspension. There's quite the challenge in routing some sections especially given the variety of soil and vegetation but it should be a destination trail when completed
Silver Star Bike Park
Following our morning ride on Beowulf on our first day we were going to ride the Bike Park in the afternoon, but rains and wind came in strong. Instead we hung out in the village and enjoyed the hot tub at the Snowbird Lodge. The next day the weather broke for the better so we took advantage of the rental fleet's carbon Pivot Phoenix and carbon Devinci Wilson and slayed bike park blue runs. Now a bit slippery following the rains but still running tremendously well.
---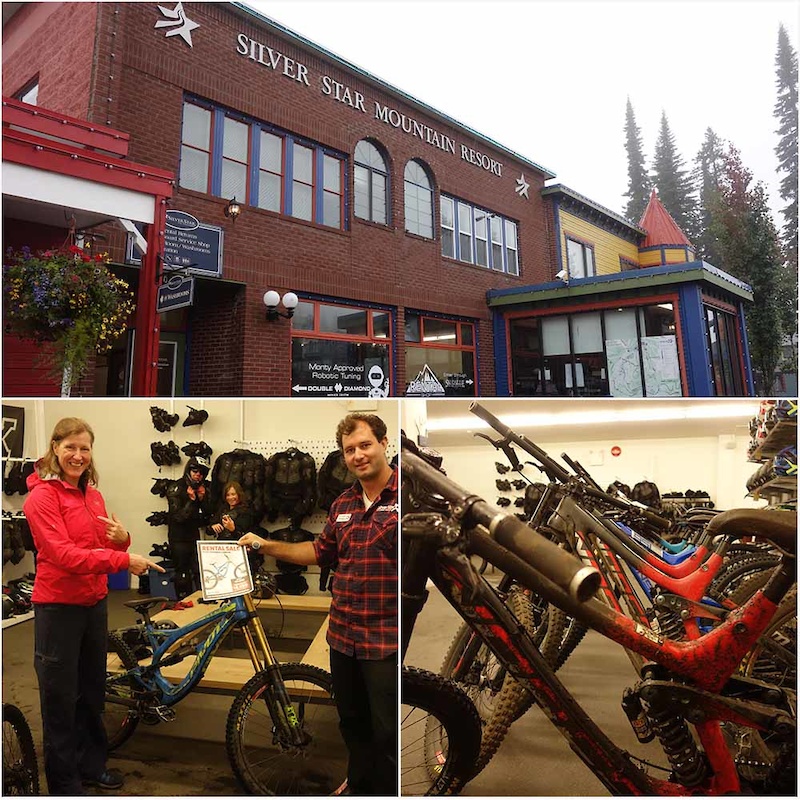 The rental shop where they have carbon Phoenix Pivots, Devinci Wilsons, and Norco Aurums. All for sale at the end of the season!
Predator Ridge
Closer to Vernon there is a resort run by
Predator Ridge
a business that is actively promoting tourism in the area. While their focus is golf and real estate, they are well aware that a viable community must offer other activities and exceptionally aware that cycling is a rapidly growing tourism and recreational activity; something which draws visitors to the area
Predator Ridge has found the road and mountain biking religion and hasn't just paid lip service to support the sport. Notably Predator paid to build a trail from their resort area to the
Ellison Provincial Park
trails. This
Ellison Connector trail
is professionally built by Cam Sorensen and allows you to avoid a circuitous drive through Vernon and connecting to the cross country Ellison trails.
Another plus for Predator is their close proximity to
Kalamalka Provincial Park
in the little town of Coldstream (only 25 minutes away). Kal Lake trails offer a bewildering choice of almost 100 trails on which you are allowed to ride. Diversity includes the Epic Pali Gap trail to create a 30+km epic with a 1000m singletrack climb to shorter scenic grassland riding overlooking the blue waters of Kalamalka Lake. More on Kal Lake riding in the next segment.
A note that the public trails are maintained by the North Okanagan Cycling Society -
NOCS
- Feel free to donate if you enjoy their trails!
Donate directly
or donate through
Trailforks
if you use this service to plan for your trips.
---
Accommodations
While at Silver Star we stayed at the
Snowbird Lodge
. This location is perfect for biking. We stayed right on the mountain with views of the ski and bike park area. It has secure bike lockers with a bike wash station; a hot tub in on the Patio and was so close to everything that, if we wanted to, could fire a potato cannon and hit people wandering through the village.
As we were two couples and a dog we had two adjoining rooms with their own well-equipped kitchen and bathrooms. Snowbird Lodge has exceptional value for the location.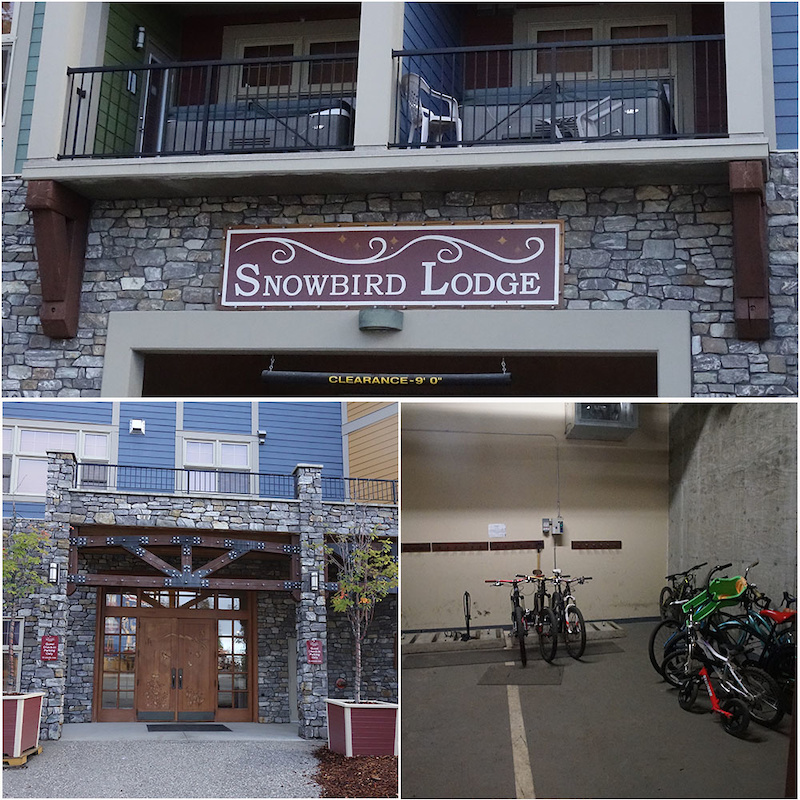 Outside and bike storage.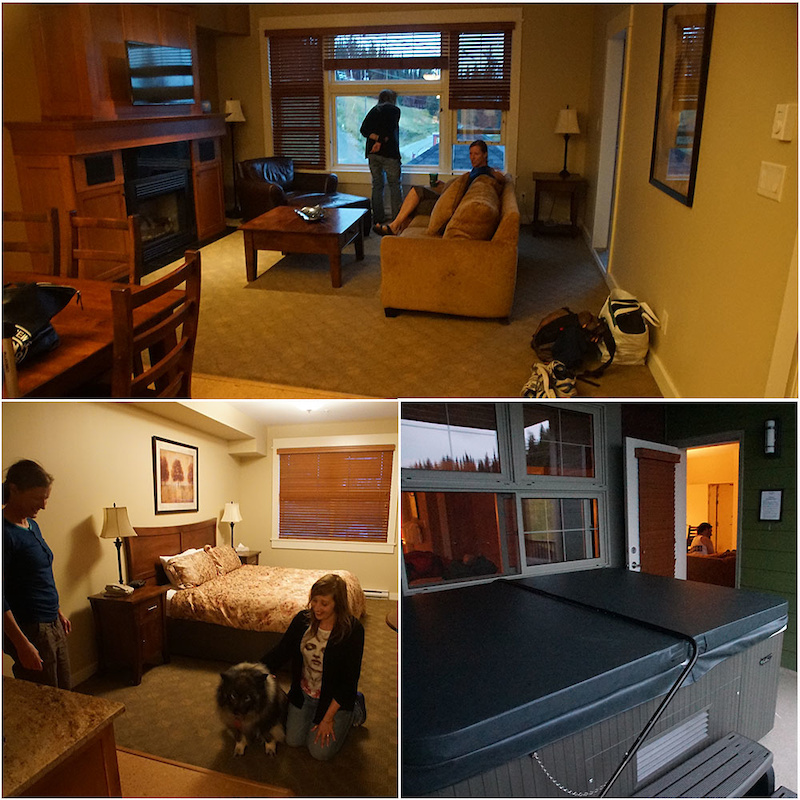 Rooms and Hot Tub - also dog friendly.
Food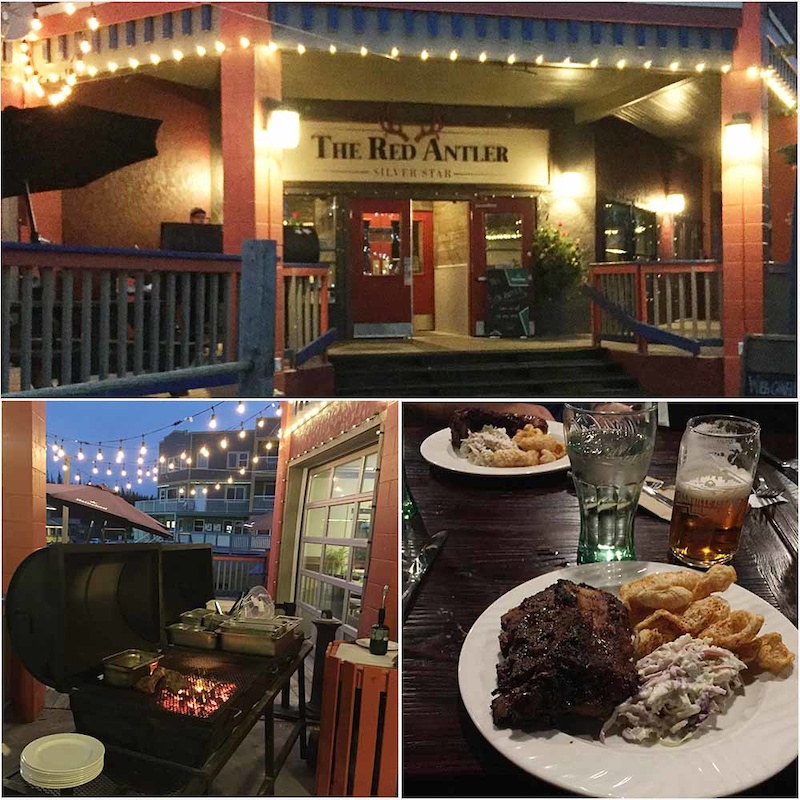 Dinner at Red Antler - slow cooked ribs! So good we ordered seconds.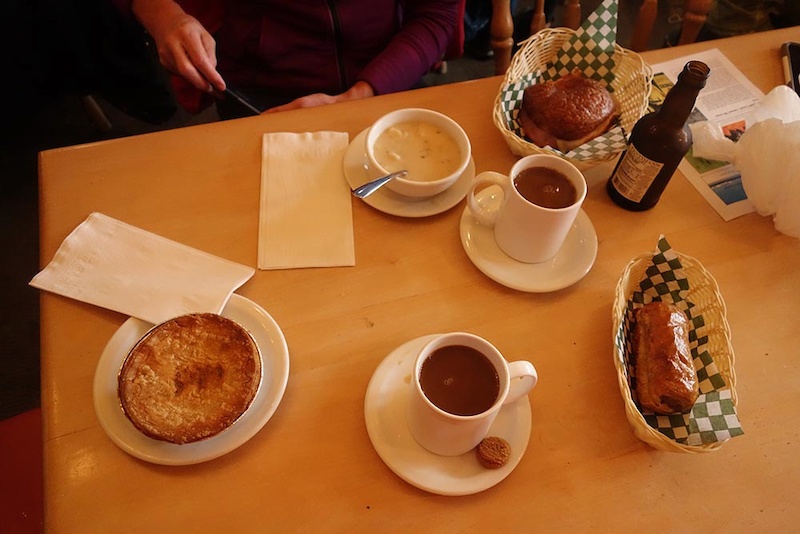 Lunch at Bugaboos Bakery and Cafe
Other Activities
Silver Star Bike Park and the village area had plenty to do for non-mountain bikers. Another couple with us took their dog for a nice walk along village hiking trails. Then one of the non-mountain biking couples rode his road bike 44km to Predator Ridge (where we stayed the next two days) along the secondary roads. Road riding is very popular in the Vernon area and you can see why. Uncrowded secondary roads and scenic views abound.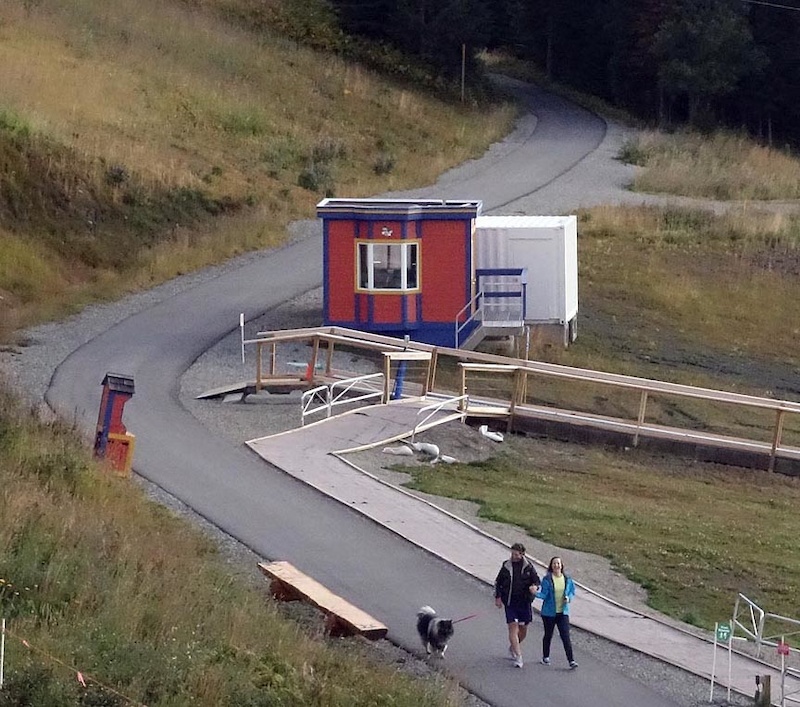 Walking the dog through the Silver Star resort
When to Go
The 
warm season
 lasts from mid June to early September  with an average daily high temperature above
23°C
. The hottest days of the year are in late July, with an average high of 
29°C
 and low of 
14°C
.The 
cold season
 lasts from mid November to late February with an average daily high temperature below
6°C
. The coldest day of the year is early January, with an average low of 
-6°C
 and high of 
-4°C
.
A good time to go is coincidentally when the weather in the coast turns bad. March - May and Sept - Oct can be prime biking months in the North Okanagan. Trails get a bit of rain (but not too much rain); daytime temps are nice but not scorching. The sandy soil of the region soaks up moisture and turns tacky. Rooms, campgrounds, roads and hotels are uncrowded.

Maps from Trailforks
Beowulf - Track is hidden since it is not complete.


Predator Ridge to Ellison Provincial Park



---
MENTIONS:
@leelau
---