vokes
Member since Feb 24, 2004

Male / 53
Kelowna , British Columbia
Block user
Recent

Selling
May 13, 2023 at 17:11
May 13, 2023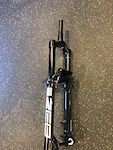 $875 CAD
I have as close to BRAND NEW Zeb 190mm 27.5 fork for sale. I used this for a 29'er wheel conversion to a 27.5 for my wife's bike (yes the other way around). Problem is she is way too light (at 100lbs) and these big travel air forks (Zeb and 38) have too much "ramp up" from the air spring to be used for very light riders. For anybody over 160 lbs, this is a very desirable trait however. ** NOTE: I will be away from May 27-June 10th (so you will not be able to see this bike during those dates) *** It was tuned from brand new last winter by S4 suspension, hence why it has SKF seals. The fork has 4 rides on it (from a 100 lb intermediate rider) and has ZERO scratches or marks of any kind. Coated with thick 3M plastic on the lowers as well and includes Rockshox fender. *** If you find a lower price, I'll match it. So no lowballs please. I'll ship in country only, but you will incur the costs. Please serious inquiries only ... thanks :)

Apr 23, 2023 at 19:10
Apr 23, 2023

Selling
Apr 23, 2023 at 19:09
Apr 23, 2023
$3050 CAD
I have a SHOWROOM condition Commencal Supreme V3 DH bike for sale that I built last year from a brand new frameset up. This bike was used by my wife (very small rider) for 3 months last summer riding blue flow trails at Silverstar (as my daughter was learning to ride) ** NOTE: I will be away from May 27-June 10th (so you will not be able to see this bike during those dates) *** Its a 27.5/26 MULLET - custom build - this is NOT a bike where I just threw on a 26" rear wheel and called it a mullet. This was a carefully planned build from a brand new frameset up. So here are the details (read close). The concept behind this build - If your a short in stature rider OR are looking for a DH bike for your son or daughter, best of luck with todays options on the market. They are LONG stretched out models that are not designed for 5ft or shorter riders. This bike IS. I did not just "slap on" a 26" rear wheel. To accommodate the 26" rear wheel I needed to : 1) Use a fork that can be lowered internally. Since I decided to use a DVO Jade rear shock (due to the bladder design that allows it to work better for lighter spring rates), I also went with a DVO Onyx DC fork up front and had it lowered to 180mm (to maintain geometry). BOTH shock and fork were tuned by Suspensionwerx for lighter riders. 2) Installed X01 DH cranks - 165mm 3) Used spacer in shock travel to reduce to 180 mm (stock is 190). Therefore both front and back are 180mm travel Here are the Part Specs (many brand new just added) : 1) Fork - DVO Onyx DC - custom tuned by suspensionwerx - has custom OTT cap as well 2) Shock DVO Jade 3) Brakes - SRAM Code R - brand new PADS installed 4) Rotors - TRP 2.3 mm - brand new (200mm front / 180mm back) 5) Headset - Cane Creek VISCOSET - steering stabilizer headset - perfect for kids to hold a line 6) Wheels - Raceface Turbine R front (27.5) - Spank Spike 33 rear (26) 7) Shifter - Shimano ZEE 7 speed - Derailleur with ONEUP DH spacer 8) Crankset - SRAM X01 Carbon 9) DVO front fender and custom rear fender (to protect wheel spray against shock) 10) Hope 50 mm DH stem with Nukeproof YOUTH bars 11) OneUp composite pedals (included) Bike is completely wrapped in 3M plastic - no areas left unprotected. This bike was sold stock at over 39.4 lbs without pedals !! -- THIS BUILD is 36.6 with pedals (with far superior parts than what the bike came with stock) There are ZERO scratches, no damage or dings (you know the ones that NEVER affect performance - famous PB selling line). Wheels are perfectly true. Bike has never been dropped or shuttled. OK so all I ask 1) SERIOUS offers only - please don't send me a message asking questions unrelated to the purchase (thanks ahead of time for this) 2) No I will not sell wheelset or additional parts separate 3) Will I "hold" the bike for you ... sure ... send me a $200 deposit and I'll consider it. Show up and decide not to buy the bike, I'll give your $200 back. Do not show up, and I'll keep the $$$ and relist. Sorry if your one of those PB'er who always "wants" to buy stuff, but never actually follows through .. I am not interested in dealing with you. 4) Will I trade straight up for your 2001 Balfa BB7 ... mmmm ... tempting but no thanks. Goes for other bikes as well (including play stations, drum kits, or other beat up bikes) 5) Will I ship it to your "client" overseas who is really interested .... OK ... let me think about it (0.00001 seconds later - NO) 6) Will I accept offers over the messaging - no - if your serious you will want to look at this bike - as local pickup only. Thats it ... look forward to discussing with serious buyers :) ... thanks for making it this far reading.

Selling
Apr 3, 2023 at 18:10
Apr 3, 2023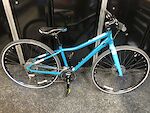 $250 CAD
My wifes very low hour Norco Indie Bike is up for sale. These bike sell new for 3X this price now, and the part spec is basically identical Perfect condition .. size XS Looking for a small bike for you daughter (of if your shorter in stature, this is a great option). At a price that wont break the bank if one of Kelowna's finest citizens steals it (hoping this never happens of course) Local pickup only please Thanks

Selling
Mar 29, 2023 at 15:49
Mar 29, 2023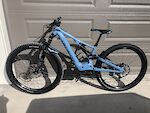 $5500 CAD
I have an absolutely amazing condition Custom 2020 Specialized Levo for sale. This is my wife's bike she bought to ride around with my daughter and to work. . If your a small rider, than this may be the ticket for you. This bike has been meticulously maintained. No "usual scratches" or dents or dings. Wheels are 100% true. Bike is completely coated in 3M plastic. Has always been stored indoors in a heated room (to maintain battery life and status) Custom parts including: *** I have lots of parts, when I bought this I took many off, hence why some are brand new zero hour. 1) Rear wheel and Cassette are BRAND NEW - zero hours. No worn out hub or cassette to be found on this bike. Brand new. 2) Tires - Butcher Front (29), Eliminator rear 29 - again brand new 3) Rockshox Lyrik select fork 4) Rockshox Superdeluxe select air rear shock with MEGNEG can upgrade (excellent for lighter riders) 5) Raceface Next carbon handlebars and Turbine stem 6) Oneup 150mm dropper post (allows for FULL insertion into frame - great for short riders). Specialized makes great bikes .. BUT seat posts .. not so much. The stock version stack height protrudes 30mm from the frame making it challenging for short riders. The one up sits flush. 7) SDG womens saddle ** pedals not included (left on if you want to test ride) 1275 KM and 100% battery health. If your looking for a spectacular condition e-bike, that was ridden by a 105 lb female rider and NEVER abused in the least ... you have found it. If you want to come and have a look maybe try it out for a quick spin (assuming you want to buy it of course) than by all means do All I ask: 1) Serious inquiries only - I wont respond to buyers without genuine interest. 2) I will not ship the bike 3) First come first serve - will not hold the bike unless you give me a deposit. If you show up and change your mind, I'll refund your money. If you elect not to show up, I'll keep your money. Tired of "holding" stuff for PB buyers and then they do not show up 4) No trades Thanks for making it this far reading :)

Selling
Mar 27, 2023 at 19:08
Mar 27, 2023

Selling
Mar 24, 2023 at 17:31
Mar 24, 2023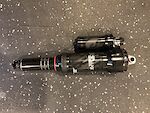 $350 CAD
I have a brand new zero hour Rockshox Super Deluxe ULTIMATE air shock for sale. Bought it last year as an alternate option for a bike I just sold - Commencal FRS. This bike was designed around being able to use coil OR air shocks (flip chip in shock mount) but I ended up keeping a coil shock mounted and never used this one. Since I sold the bike, I am now selling the extra shock Cheers Serious offers only please :)

Mar 24, 2023 at 17:20
Mar 24, 2023

Selling
Mar 24, 2023 at 17:19
Mar 24, 2023

Selling
Mar 5, 2023 at 15:05
Mar 5, 2023
Load more...