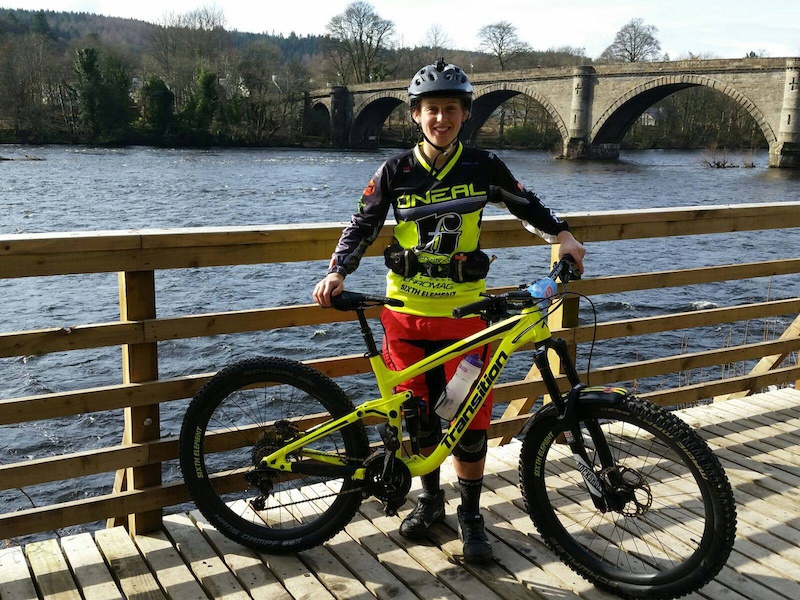 To my surprise, Bex's first experience of Downhill was on a family holiday in Fort William. Following two seasons of Downhill and three seasons of Enduro, Bex has proved herself to be a force to be reckoned with after taking the win at the Steel City Downhill Race. In a field 73 women strong, Bex's drive to win was more intense than ever.
Also taking the overall title of the PMBA Enduro Series in 2015, Bex is raising the bar this year with the goal of a top 10 overall in the Enduro World Series.
I'll kick things off with your family holiday to Fort William. That must have been a steep learning curve? Did you ride bikes at all before that or was it straight in at the deep end?
Before our family holiday to Fort Bill you wouldn't have caught me riding bikes, in fact, you couldn't make me ride bikes, I used to hate them - getting dragged around reservoirs, hating life and having tantrums. Then when I found out you could get a lift to the top of the hills I was all over it, loved it! Fort William was a pretty steep learn curve for sure, I think it took us about 30 minutes a run, but I was determined to ride all the way down and chase my brother!
After taking the overall series win at the Pearce Cycles Downhill Series in 2013, you seemed to get the hang of things fairly quickly?
Yeah, straight away I was hooked. After my first race in October 2010 I knew that it was something that I was going to get into, I never realised it would take over my life, though. When I look back, at the time I don't think I even let myself think about racing on the world circuit. I'm pretty realistic and took one step at a time but I'm still amazed how quickly I've got to where I am now. 7 years ago you couldn't pay me to ride a bike, and now I have my sights set on making a career out of it!
Shortly after you made the change to Enduro. What brought that about? Was it a new challenge or something you felt you would enjoy more?
So I raced DH on a trail bike anyway, so I had the bike for it so I gave a race a go and loved it. The thought of standing around in an uplift queue for hours and riding for about 40 minutes over a whole weekend, and on one track, is so unappealing now. I like to get home from a race weekend and feel like I have poured concrete down my trousers--heavy legs! Enduro can take you to some pretty cool places and I quite like the feeling of riding semi-blind and having moments where you are so close to binning a whole day's worth of work.
You took the top spot at the Steel City Downhill race last year. What was that like as an event to be taking part in? I've heard nothing but good things about it!
So I turned up to the woods and to see hundreds of people out supporting, having a blast and drinking from a bar in the woods was mint, a little bit different to when I normally pop down there for a spin! To have such a big field of women was great and I really wanted to win; it had been on my mind for weeks running up to the race, so when I got there it was quite a big deal for me - I was hungry! I think everyone will agree that it's such a cool, one-off event and not to be missed. Hopefully I'll be back again to race this year.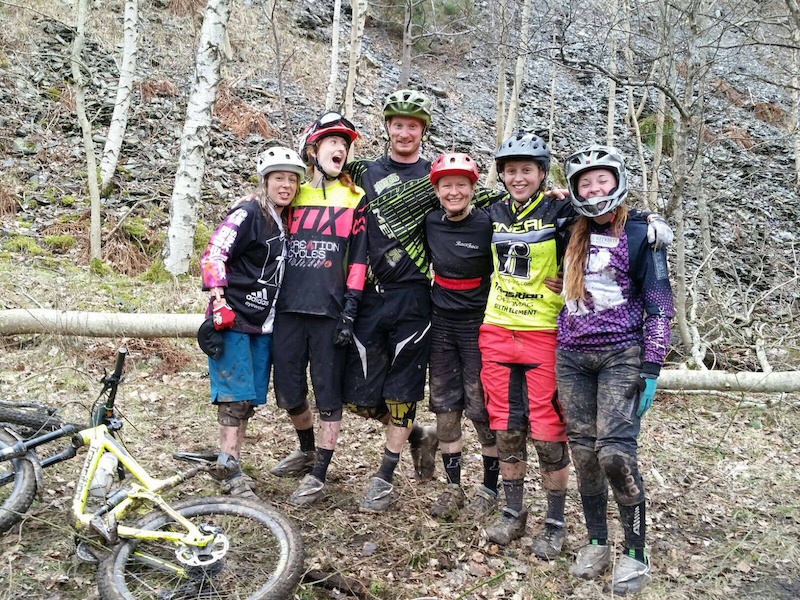 That brings me to this upcoming season and your big group of sponsors and highlighting the support you are getting from Transition. How are you finding your Transition Patrol so far?
Same amazing frame, new colour--couldn't be happier. I absolutely loved the Patrol last year and for Transition to be able to continue the support for me is great. To be able to come into a season and not have to get used to a completely new bike/geometry is one less stress. I can just carry on playing. It's a perfect race bike, point it downhill and it's in its element and then point it uphill and it will take you to the top again!
With your sponsors such as Chromag and Sixth Element Wheels, have any changes been made to the standard Transition Patrol?
Yeah, this year my race bike has a few bits of carbon on it now. I've been really interested in trying carbon bars and wheels as I've always thought surely it makes no difference other than your bank balance. I've been so lucky to have to opportunity to try Chromag carbon bars and Sixth Element carbon rims; other than being a hell of a lot lighter they feel much stronger/stiffer than aluminium. Having the same frame as last year really makes the component upgrades noticeable.
With the Enduro World Series starting off in March in Valdivia, Chile and the eighth and final round in October in Finale Ligure, Italy, what round are you looking forward to most out of the eight?
I think I'm looking forward to rounds one and two (Chile/Argentina) because I have so much excitement and loads of expectations; I just want to get into the swing of it now and race again. Also, visiting Chile is something I've always wanted to do because most of my Dad's side of the family are from there, hence the surname… BARAONA. It will be quite special because my Dad has never met some of his sisters so to be there for that too will be pretty amazing.
Would you say Chile matches your riding style?
I have no idea what to expect from the riding! I've looked at what the tracks are like but it's hard to be sure from videos exactly what the terrain is like. I'm just making sure I am as ready as I can be and looking forward to more than just the riding - it looks like such a beautiful place.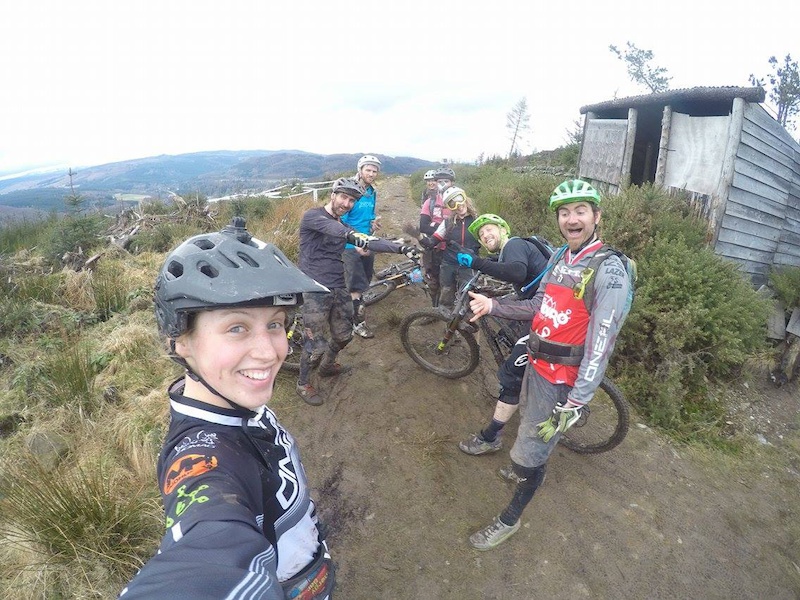 From watching the One Of The Lads videos by Caldwell Visuals, your riding seems very 'All or Nothing'. Is this a style you maintain throughout your racing or do you change it slightly?
Yeah I'm not the prettiest rider to watch, my style is to the point. I ride to go as fast as I can, to win races. I always envy riders with natural steezy style but really I'm quite happy knowing that my riding has one objective, speed. One thing I have noticed about my riding is that, however hard I try, unless I am between race tape and hear the beeps before my race run, I can't replicate how fast I ride in a race run. Like I'll practice with people and hold them up, or struggle to stay with them, but them come to the results and my times always surprise me and others. I think it all comes from my natural competitive streak, I think this is what can take me far in this game.
From what you've told me, you've got the next few seasons planned out. What are you planning for this season and beyond?
This season is all about getting onto the world circuit, learning the ropes and meeting the EWS family. There will be a lot of lessons learnt I'm sure. It is also a chance to travel with my bike, it's not something I've really done before and I think my riding will improve so much from all the new places the EWS visits.
Next season (2017) I plan to learn from all my "first year mistakes" and compete with the top 5 EWS riders. If the chance to finish university and ride professionally comes along then I would grab it with both hands. In my head I have big plans for where I want to get to in the EWS, it is all achievable-- give me about 5 years.
I'll finish with a question about the ever-present subject of women and mountain biking. With a growing group of women taking their racing more seriously, what do you think needs to be done to get more women racing and even just riding bikes at all? And any tips for those thinking about trying enduro this season?
There's been a big push for women in MTB, I've certainly noticed over the last 6 years of riding that the numbers are going up. I think it is great that there is more participation and I always like it when the numbers at races are above 20. I think women getting into MTB need to remember that we will never be like the men, so don't try to be. You will develop your skills, maybe a little slower but if you're having fun then BINGO, happy days, keep riding.
I'd recommend grass roots races, like the PMBA, for women wanting to give racing a go for the first time. It's a really chilled vibe and they have now started doing "womens fun" category so the less competitive female riders.
One thing I would like to see, and actually I think it is happening more and more now-a-days, is more females in the factory teams. It always surprises me when a big team doesn't have a woman on their team- a bizarre marketing strategy!
---
MENTIONS:
@TransitionBikeCompany
/
@Chromagbikes
---