mike-e
Member since Apr 6, 2002

Male / 51
Coquitlam , British Columbia
Block user
Recent

Aug 25, 2020 at 13:29
Aug 25, 2020

Selling
Aug 25, 2020 at 13:27
Aug 25, 2020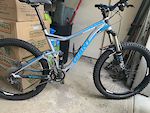 $2100 CAD
Excellent condition Trance 1. Size Large. XT drivetrain. SLX brakes.....just bled and I have 4 sets of new pads for it Chromag handlebar. New Schwalbe tires. 2.3 Nobby Nic rear. 2.6 Magic Mary front. Hardly ridden. I'm moving this Thursday, so if it doesn't have to get moved that'd be great. Come and get it!!

Jun 26, 2020 at 14:40
Jun 26, 2020

Apr 16, 2020 at 5:58
Apr 16, 2020

Mar 29, 2020 at 18:11
Mar 29, 2020

Selling
Mar 29, 2020 at 18:10
Mar 29, 2020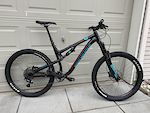 $2100 CAD
Fantastic condition Altitude Size Large Hardly used FrameFORM™ Alloy. Full Sealed Cartridge Bearings. Press Fit BB. Internal Cable Routing. 2-Bolt ISCG05 Tabs. RIDE-9™ Adjustable Geometry + Suspension Rate SizesXS - S - M - L - XL ForkRockShox 2018 Yari RC 160mm Front Travel160 mm ShockRockShox Deluxe RT Rear Travel150 mm HeadsetFSA Orbit NO.57E StemRocky Mountain 35 AM HandlebarRace Face Chester 780mm GripsRocky Mountain Lock On Light BrakesSram Level 180mm Brake LeversSram Level ShiftersSram NX Front DerailleurRocky Mountain Spirit Guide Rear DerailleurSram NX Cranks & ChainringsRace Face Aeffect Cinch 32T Steel Bottom BracketRace Face BB92 CassetteSram PG-1130 11-42T ChainSram PC-1110 Front HubRocky Mountain Sealed Boost 15mm Rear HubSram MTH 746 Boost 148mm SpokesWTB 2.0 RimsSun Düroc 30 Tubeless Compatible - Tape / Valves / Sealant Not Incl TiresMaxxis Minion DHF WT EXO Tubeless Ready 27.5 x 2.5/Maxxis Minion DHR II WT EXO Tubeless Ready 27.5 x 2.4 SeatpostRace Face Aeffect Dropper 30.9mm SaddleWTB Volt Race

Oct 31, 2019 at 16:23
Oct 31, 2019

Oct 31, 2019 at 12:58
Oct 31, 2019
Tariffs Lifted on Carbon Frames Under $600 Entering USA
So....in this current "climate change frenzy" let's do this: 1) Contract out a carbon frame to a country that is the largest polluter on the planet who only cares about one thing: a dollar 2) Put that frame onto a ship that is, let's just call it, "less than emissions friendly" The argument that domestically made carbon frames would be 'way too costly' because of all the 'tooling up' costs has been debunked by Guerlla Gravity Bikes and it's $2450 full carbon frame with shock. Now, I am by no means a 'climate nazi' but I am doing everything I can to limit my footprint. End of that story. If I was looking for a carbon frame I could guarantee that I'd only be looking at a domestically built one. Less choice, yes, but I doubt I would end up with a 'sub-par' design as most bikes these days are designed so a dummy like me couldn't really tell the difference between 'suspension design A or B'. If I'm smiling at the end of ride = success.

Oct 5, 2019 at 17:44
Oct 5, 2019

Selling
Oct 5, 2019 at 17:43
Oct 5, 2019
Load more...