nimblerider
Member since Nov 30, 2013

Male / 51
Bend , Oregon
Block user
Recent

Sep 17, 2020 at 20:48
Sep 17, 2020

Selling
Sep 17, 2020 at 20:46
Sep 17, 2020

Selling
Sep 17, 2020 at 19:50
Sep 17, 2020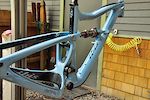 $2500 USD
Ibis Ripley 2020 Frame. With Cane Creek 40 Headset and Bottom Bracket, Shimano XT I got the bike in May of this year. I rode it about 15 to 20 times. 3 to 4 hour rides. I need a longer travel bike so I am selling. Their are no scratch's on frame expect where the rear tire is close to the frame and a very tiny paint chip just above the hanger. I'll have more photos up in a few days. I can be contacted by email only. I may be slow to answer emails, but I will get back to you ASAP. I will be leaving Oregon at the end Sept and heading to Colorado. Maybe I can deliver it personally.

Sep 15, 2020 at 13:50
Sep 15, 2020

Selling
Sep 15, 2020 at 13:49
Sep 15, 2020

Oct 1, 2018 at 10:52
Oct 1, 2018

Selling
Oct 1, 2018 at 10:51
Oct 1, 2018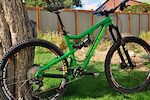 $2200 USD
The shock was serviced last April and the fork " a Pike " was done last Aug. I added the air spring from the new 2019 Lyric, which it has improved the small bump compliance. I also have the Fox Float CTD boost valve, that only has two rides on it after a Fox factory service. It will be included. All the bearings were replaced last winter and the front and rear tires only have three rides on them. Brakes were bled last Aug and new cable & housing on shift. The bike is very clean. Their are some small scratches on the rear triangle. Fork: Rock Shox Pike RCT3 150mm Shock: Cane Creek DB Stans rims, Flow. with Chris King hubs. Minion DHF and Aggressor on rear. KS lev 125mm Dropper with wolf tooth lever. Enve RSR handle bars, 760mm Shimano XT brakes and 1x11 XT drive-train 30t front ring , 42 cass.

Oct 20, 2014 at 13:52
Oct 20, 2014

Oct 20, 2014 at 11:47
Oct 20, 2014

Selling
Oct 20, 2014 at 11:43
Oct 20, 2014
$4900 USD
Rock Shox Pike RTC3 160mm.. Fox ctd kashima coat.. Brakes: XT.. Shifters: XT Front Derail: XT.. Rear Derail: XTR w/clutch.. Chain: XT.. Cassette: XT 11-36.. Cranks: XT 2x.. Rotors 180mm front 160mm rear; XT Ice Tech rotors.. Headset: Cane Creek 40.. Stem: Black Thomson 70m.. Handlebars: ENVE RSR.. Wheels: Stans Flow EX.. Hubs: Chris King.. Dropper Post: KS Lev 125m Everything on bike was new when I built the bike up at the end of June 2014. I have over-hauled all pivots and serviced the ring drive on the Chris King Hubs. Bike is ready to ride. And I have an extra Bontrager XR4 tire that comes with the bike. Bike has not a scratch on it. Just some paint chips under the bottom bracket. After all I did ride it.. Never crashed. I am starting a job overseas and I can not take it with me. So I must pass on this great bike. If you are serious about the bike, email me and I can give you my number or send me yours and I'll call. Thanks for looking..
Load more...